Ms. Shobana Kamineni, Vice Chairperson, Apollo Hospitals has been appointed as the first woman President of the Confederation of Indian Industry
Posted by Apollo Hospitals | 30 Apr,2017
As members of a pioneering organization, we have always been at the forefront to improve the wellbeing of our great nation and persevered to address the challenges faced by it. This perseverance is perceived in every realm of our existence. Whether it is through our hospitals, pharmacies, clinics, health insurance, social initiatives or our participation to shape health policy in the country, our aim has constantly been to accelerate positive change. As part of this endeavour, we are proud to have partnered and steered various industry bodies and institutions and worked closely with the central and state governments. This wide-ranging engagement has ensured that the solutions that India offers are holistic, realistic and include the voice and the will of all stakeholders.
One such industry body that Apollo Hospitals has actively supported is the Confederation of Indian Industry (CII). Founded in 1895, CII's primary goal has been to develop Indian industry and to ensure that government and society as a whole, understand both the needs of industry and its contribution to the nation's wellbeing. Over the years, leaders at the helm of CII have been able to anticipate changes in the economic environment identify emerging challenges and evolve action-solutions for the nation's growth and development.
Over the past several years, Ms. Shobana Kamineni, our Vice Chairperson, has been working closely with the CII. In recognition of her dedication, diligence and contribution, on 29th April 2017, in a landmark development, CII appointed her as its first lady President since its inception in 1895. This momentous milestone is a great honour for the Apollo family. Ms. Shobana has indeed set an example for all of us, especially our women citizens, and proven that glass ceilings can be shattered.
We extend our heartiest congratulations to her as she leads CII to make India a truly inclusive economy and a healthier country.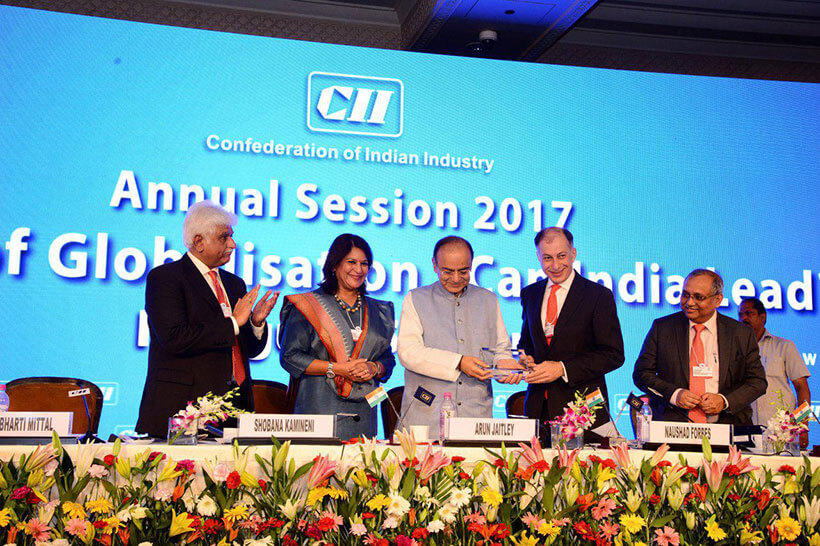 Posted by:
Apollo Hospitals
30 Apr,2017
Get the best of health related stories delivered to your inbox.
Apollo Health City, Hyderabad adjudged as the Best Medical Tourism Hospital in India by the Government of India ! ...
Date: 23 Nov,2020
Apollo Main Hospital,Chennai, competed in the National Business Excellence (BE) Star Award organized by the Confed...
Date: 23 Nov,2020
Apollo Hospitals Group was recognized for its outstanding contribution to Medical Value Travel with the FICCI Medi...
Date: 03 Jun,2020