Ms. Sangita Reddy, Joint Managing Director, Apollo Hospitals received an honorary Doctorate from Macquarie University, Australia
Posted by Apollo Hospitals | 06 Sep,2017
Macquarie University is Australia's only University-led academic Health Sciences Centre. The conferral was to recognize Ms. Sangita Reddy's untiring efforts and resolute commitment to bring transformative changes in Indian healthcare, development of Health IT in India and championing manifold initiatives both in India and abroad.
Along with the conferral, Macquarie University and Apollo Hospitals have today celebrated the launch of their strategic collaboration that will facilitate long-term, mutually beneficial academic exchanges between the two organizations. As part of this collaboration, Students from Macquarie's four-year graduate-entry Doctor of Medicine program, the Macquarie MD, will complete five months of clinical learning at the Apollo Hospital in Hyderabad as part of their degree.
Dr. Prathap C. Reddy, Chairman-Founder, Apollo Hospitals who was present at the event said "We're moving more and more towards a world without borders. Here at Apollo, we're so much more than an Indian community, we're a global community, and anything we can do which adds value to that, is important to us. We have the infrastructure and people to help deliver and create global doctors and are pleased to be working with Macquarie on their innovative new MD program. The benefits for the students are numerous, for example the disease profiles of the two countries are completely different, providing students with an enriching learning experience. We also treat more than half a million patients a year here at Apollo, so the quantity and breadth of the clinical cases we have will be unlike those that the students will experience in Australia."
Professor S Bruce Dowton, Vice-Chancellor Macquarie University commented "We are incredibly proud to be working with Apollo Hospital. In looking at international collaborations, we sought partners who share similar value sets, and who provide a quality and patient-centered model of care for our students to learn within. Apollo's long-standing experience in the delivery of medical training, underpinned by its commitment to the achievement of excellence in clinical care made it the perfect partner for our MD program."
Recognizing the value of international learning, the program features extended quality-assured clinical experiences abroad for all students, including core clinical placements and selective opportunities at the Apollo Hospital in Hyderabad in addition to clinical placements in Sydney: at MQ Health, the Northern Sydney Local Health District (primarily within the Royal North Shore Hospital) and the MindSpo Clinic.
The Macquarie MD program has received formal approval and accreditation from the Australian Medical Council (AMC) and Medical Board of Australia (MBA). The AMC, who visited Apollo Hospitals earlier this year, commended the clinical learning opportunities available at Apollo Hospital, and the commitment of the hospital's clinicians and administration to facilitate the student experience during this rotation.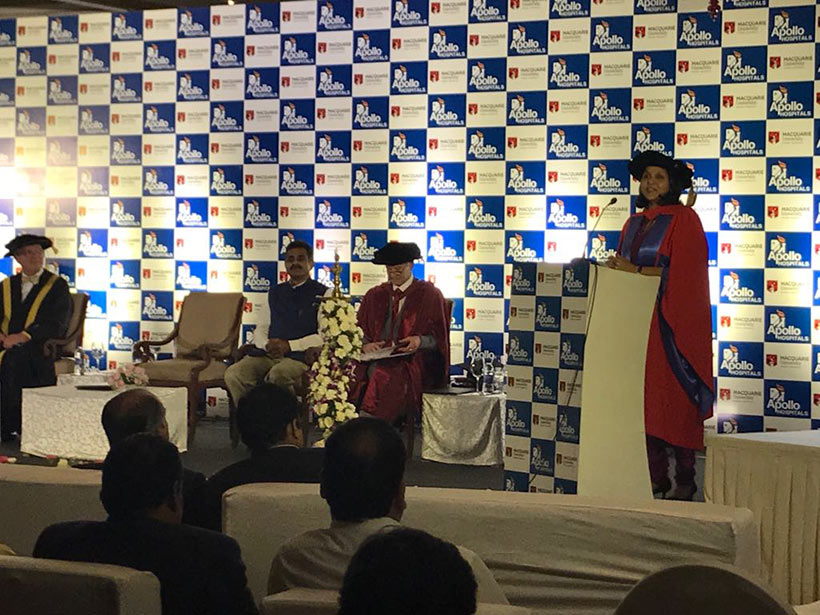 Posted by:
Apollo Hospitals
06 Sep,2017
Get the best of health related stories delivered to your inbox.
Apollo Health City, Hyderabad adjudged as the Best Medical Tourism Hospital in India by the Government of India ! ...
Date: 23 Nov,2020
Apollo Main Hospital,Chennai, competed in the National Business Excellence (BE) Star Award organized by the Confed...
Date: 23 Nov,2020
Apollo Hospitals Group was recognized for its outstanding contribution to Medical Value Travel with the FICCI Medi...
Date: 03 Jun,2020