Ms. K Kavitha, MP releases a book on cancer survivors – "I am a Survivor" authored by Dr. Vijay Anand Reddy, Oncologist, Apollo Hospitals, Hyderabad
Posted by Apollo Hospitals | 24 Aug,2017
"I AM A SURVIVOR", a compendium of real life and awe-inspiring stories of courageous cancer survivors, authored by renowned Oncologist and Director, Dr Vijay Anand Reddy, and published by Penguin, was formally released. Member of Parliament, Ms. K. Kavitha, released the book, at a program attended by Dr. G. N. Rao, Founder & Chairperson, LV Prasad Eye Institute, Cricketer Mr. VVS Laxman, Ms. Sangita Reddy, Joint Managing Director, Apollo Hospitals and the author Dr. Vijay Anand Reddy.
Dr Vijay Anand Reddy, a cancer specialist with immense faith in his ability to provide succour to cancer patients, had the daunting task of conveying the bad word 'cancer' to patients and their near and dear ones. This pronouncement invariably led the patients to a sense of deep remorse, depression and a feeling of dejection with life. This desperate state of the patients seemed to haunt him to no end. He knew that most cancers are treatable with the advances in medicine and what was needed from the patient was the ability to be remain unfazed and to bravely combat it. His experience in treating such patients made him sure that a positive frame of mind could mitigate the trauma and help conquer cancer. He had no readymade solutions on how to impress upon the patients in their moment of immense despair, the need to maintain composure and battle it out with a tough frame of mind. He also realised that no amount of counselling, consoling and attempts to boost their spirit by the doctor, helps to allay their pain beyond a point. It was during such attempts to counsel patients that he realised the need to pen the experiences of some of the warriors of cancer, who could successfully decimate the disease and are a true inspiration to every cancer patient. It took Dr Vijay Anand Reddy, aided by his wife Dr. Sashi, over 3 years of toil, involving most evenings and late nights, after a busy practice through the day, to compile "I AM A SURVIVOR." Dr Reddy, dedicated the book to his brave patients and his mother Mrs. Damayanthi Devi, whom he lost recently.
"I AM A SURVIVOR" shares powerful voices and stories of hope and inspiration of 108 cancer survivors. The book gives the readers a rare insight into the courageous and heartfelt voyage of these patients, the initial helplessness and a despondent state of mind, how they recovered from the jolt they experienced on hearing the dreaded word cancer, picked up the pieces of their lives from scratch and gradually transformed into incredibly strong cancer survivors.
The book is replete with the stories of several bravehearts who proved without doubt that cancer which is thought to be invincible, can be vanquished with sheer will power.
Here is the gist of a few stories, which transformed from heart wrenching saga to a happy outcome.
A young lady walks into my clinic with fear and despair and pleads, "Doctor, please cure my disease and make me live till my children's education is done." Not only her children's education is done but her children are married and she is joyfully playing with her grandchildren!
A 25-year-old man walks in and says, "Doctor uncle – I just started my job! I have so many aspirations to fulfil and have to take care of my parents. Please do something. I want to live! I do not want to die!". He is happily living with his wife and children and also taking care of his parents.
A young 14-year-old girl walks into the clinic along with her mother. "Doctor uncle – everyone in the family is crying! Am I going to die? Am I going to lose my leg? Is there no treatment to make me come out of this?" She has gone through the treatment and emerged victorious! Also, she has her legs intact. She is now pursuing her Fashion designing dream!
A 33-year-old lady diagnosed of breast cancer was unstoppably crying and says," I thought of committing suicide yesterday doctor. I do not want to undergo this horrifying and torturing cancer treatment. Any way I am going to die."
Narrating his experiences and what went into compiling this book, Dr Vijay Anand Reddy said, "There are several such emotional touching and powerful stories seen and felt throughout my career. They start losing the battle before they actually begin to fight. I thought there should be some way to deal with this fear from cancer diagnosis, treatment and fear of not getting cured! When a doctor says to a patient that everything will be fine, it doesn't appeal to the patient so much. When it comes from a patient who has gone through this journey successfully, it works wonders. It certainly has a significant impact on the newly diagnosed patient. Keeping this in mind I started talking to patients who come to my office even after they are cured for many years if they would agree to sharing their journey. Normally, the answer is often no! But most of my patients were kind and brave enough to share their stories. I also started a club called the Freedom from Cancer club where cured patients are made members. These members are already helping our patients on treatment on a regular basis.
In conclusion Dr Vijay Anand Reddy added "What Cancer Cannot Do – It cannot cripple love, It cannot shatter hope, It cannot corrode faith, It cannot silence courage, It cannot invade the soul, It cannot steal eternal life, It cannot conquer the spirit."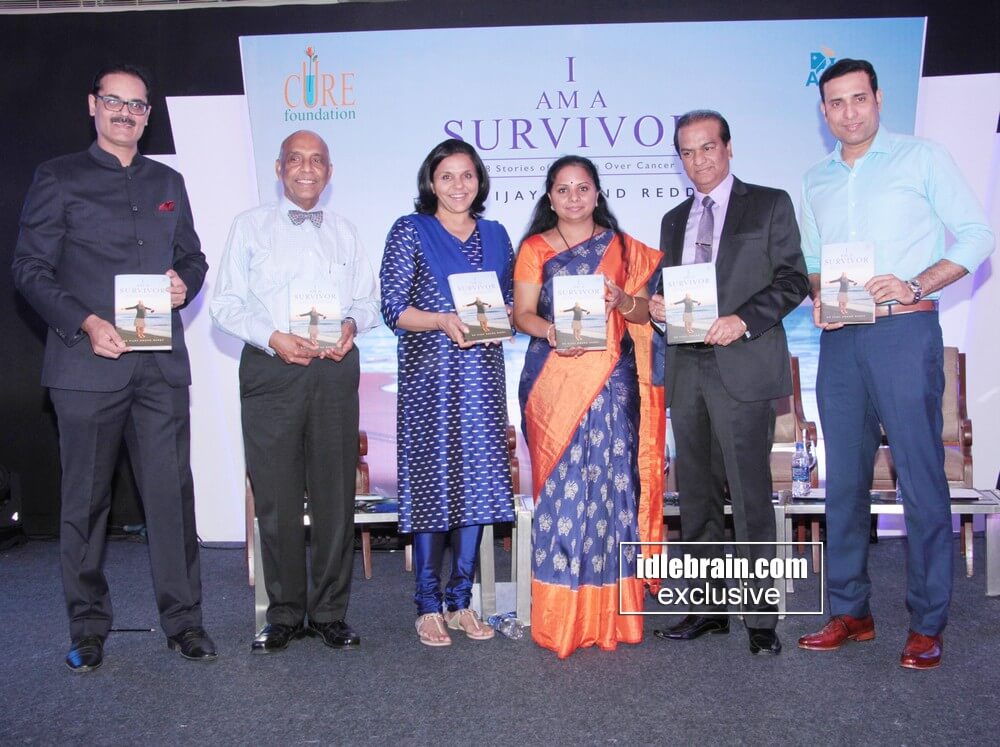 Posted by:
Apollo Hospitals
24 Aug,2017
Get the best of health related stories delivered to your inbox.
Management of Aortic Aneurysm & Dissection Surgery Conclave 2022 was organized by Apollo Hospitals in Chennai. The co...
Date: 02 Nov,2022
Apollo Proton Cancer Centre (APCC) conducted its 2nd Apollo Annual Proton Practicum from May 20-22, 2022. Over 700 pa...
Date: 04 Jun,2022
Apollo Cancer Centres proudly launched the "The Power to fight Breast Cancer is in Your Hands" campaign, which ill...
Date: 02 Apr,2021