Indraprastha Apollo Hospitals, Delhi successfully performed a liver transplant on 2 children suffering from Crigler Najjar Syndrome
Posted by Apollo Hospitals | 07 Feb,2017
In Crigler Najjar Syndrome, an essential enzyme GT is absent in the liver at birth. This deficiency results in toxic form of bilirubin to rise in the blood to a very high level, which can cross into the brain and produce irreversible complications. To prevent brain damage and hearing loss from this condition, phototherapy (treatment by the use of special light) is needed for 14 – 16 hours a day.
As children grow older, their skin gets thickened and the light penetration decreases making phototherapy less effective. For most of 24 hours, children need to remain under the phototherapy unit, bearing the intense light and the heat for survival. The persistent yellow colour of their eyes and skin begins to bother children over time. Their quality of life suffers as normal activities are severely curtailed. Liver transplant is the only permanent cure for this condition and takes away the need to spend 14 – 16 hours every day under phototherapy.
Two children, 13 year old Master Khalid Mohammad from UAE and 4 year old Master Abdul Ahad from Pakistan with Criggler Najjar Syndrome recently underwent a liver transplant at Indraprastha Apollo Hospital, Delhi. Khalid received a part of his father's liver and Ahad received 30% of his mother's liver. Master Ayanveer Singh from Kapurthala suffering from Criggler Najjar Syndrome underwent a liver transplant in March 2016 with this mother donating a third of her liver.
According to Dr Anupam Sibal, Group medical Director, Apollo Hospitals Group and Senior Pediatric Gastroenterologist and Hepatologist, Indraprastha Apollo Hospitals, said, "With the new liver both children have received the enzyme they were not born with and their eyes are pearly white. They have finally bid adieu to their constant companion – the phototherapy unit. We have now performed more than 2800 liver transplants in patients from India and 40 countries. We are privileged to have earned the trust of so many patients over the last 18 years, ever since we performed the first successful liver transplant in India in 1998."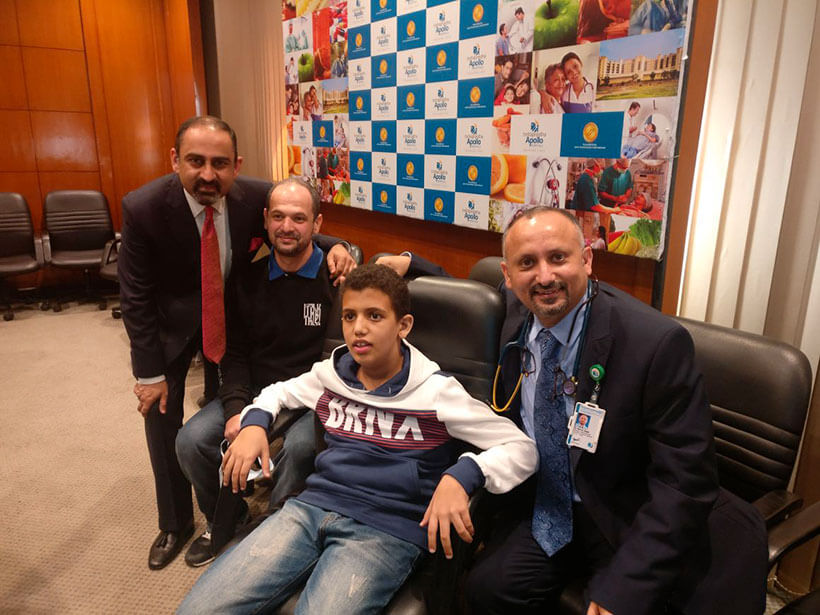 Posted by:
Apollo Hospitals
07 Feb,2017
Get the best of health related stories delivered to your inbox.
A 28-year-old man, a citizen of Oman, was successfully treated for left knee deformity at Indraprastha Apollo Hospita...
Date: 08 Feb,2023
Adding another feather to its cap, Apollo Hospitals, Seshadripuram, Bangalore brings in India's very first prostate c...
Date: 23 Jan,2023
Mr. Vinod K Patel and Mr. Md Mansoor underwent successful liver transplants at Apollomedics Hospital Lucknow. Relativ...
Date: 23 Jan,2023