For the first time in Tamil Nadu, an 8-year-old boy's knee joint and limb was saved from bone cancer by using 3D Printing Technology at the Apollo Proton Cancer Centre.
Posted by Apollo Hospitals | 01 Mar,2022
For the first time in Tamil Nadu, Apollo Proton Cancer Centre has successfully performed a 3D printing technique to save the knee joint and limb of an 8-year-old boy suffering from bone cancer. The family of Master Akhilan from Madurai (Ramanathapuram) approached Apollo Proton Cancer Centre where he was diagnosed with non-metastatic osteosarcoma of his left proximal tibia.
In the procedure, the bone containing the tumor was sterilized with a single fraction of radiation to kill the tumor cells and the same bone was re-implanted. Owing to the small piece of bone remaining proximally, a 3D printed customized plate was designed which ensured near perfect reduction and stabilization of the bone.The surgery was performed by an experienced team led by Dr. Vishnu Ramanujan, Consultant, Orthopaedic Oncology& Dr RadhakrishnanSatheesan, Senior Consultant- Paediatric Surgeryand Dr Srinivas Chillukuri, Senior Consultant- Radiation Oncology(Paediatric) at Apollo Proton Cancer Centre in January 2022. The patient is recovering and will be able to ride a bicycle again in a few months.
Read more about how Apollo Proton Cancer Center used novel technique to save an 8-year-old boy's knee joint and limb.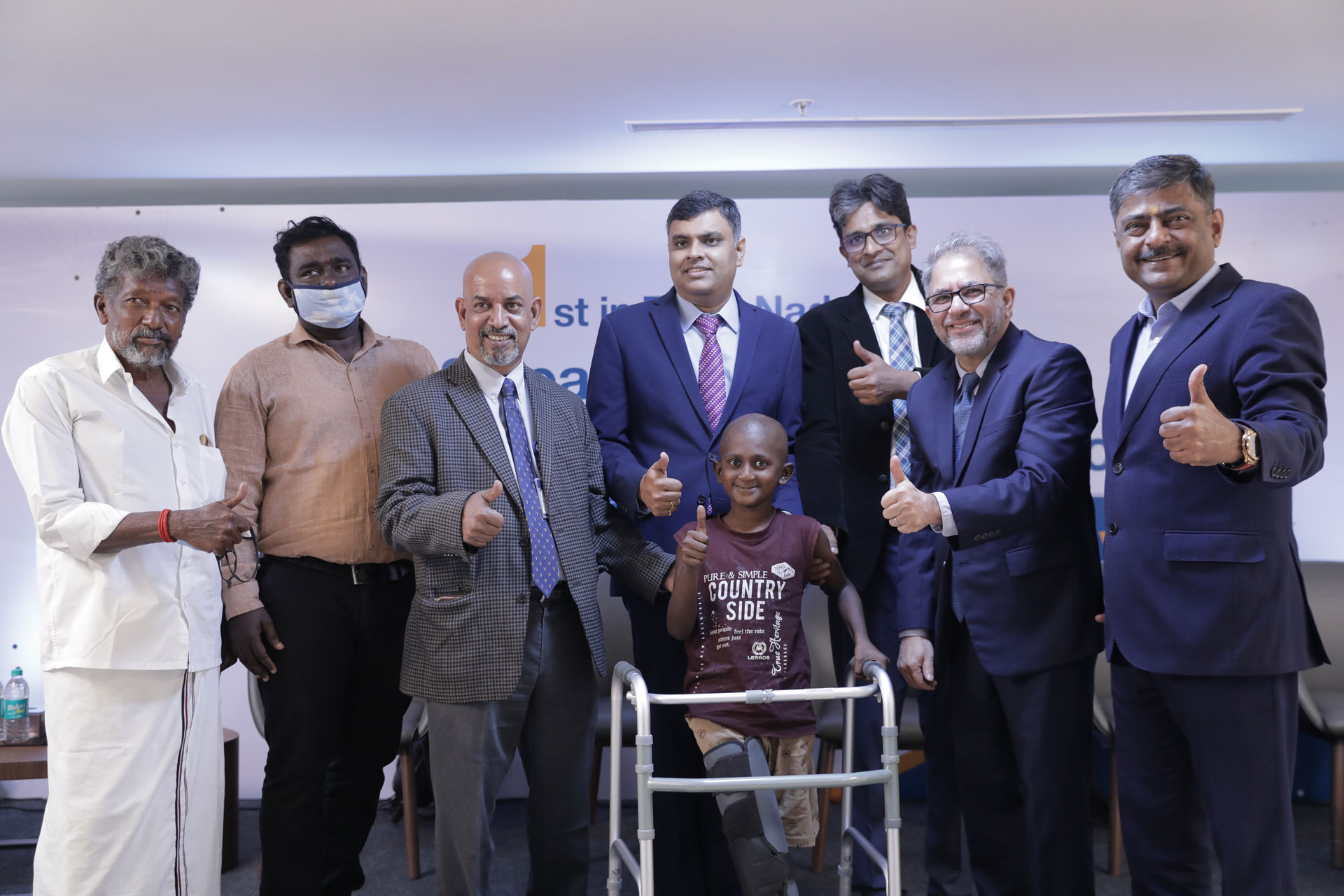 Posted by:
Apollo Hospitals
01 Mar,2022
Get the best of health related stories delivered to your inbox.
Apollo Hospitals, Navi Mumbai, a leading tertiary care hospital, successfully performed a laminectomy with removal of...
Date: 30 Jun,2022
A rare case of congenital heart disease, 3-month-old Baby Priyansh was successfully operated at Indraprastha Apollo H...
Date: 21 Jun,2022
In a rare feat, the Surgical Transplant team at Apollo BGS Hospitals, Mysuru performed a Pediatric Liver Transplantat...
Date: 21 Jun,2022