For the first time in Eastern India, Apollo Multispeciality Hospitals, Kolkata has introduced Bronchial Thermoplasty to treat severe asthma.
Posted by Apollo Hospitals | 26 Apr,2022
For the first time in Eastern India, Apollo Multispecialty Hospitals, Kolkata has launched Bronchial Thermoplasty, a painless procedure for effective treatment of severe asthma. The treatment uses a catheter, which is inserted through the windpipe to deliver heat. This heat is targeted to the smooth muscles of the lungs so that they shrink and can't get tightened to cause asthma symptoms anymore. The procedure typically needs three sittings with a gap of three weeks between each sitting.
Bronchial Thermoplasty was performed at Apollo Multispeciality Hospitals, Kolkata, on two patients on March 14, 2022. Post-procedure, the patients are stable.
Dr Debraj Jash, Consultant Pulmonologist at Apollo Multispecialty Hospitals Kolkata, who performed both the procedures, said, "In India, a significant proportion of the population suffers from severe asthma. As a result, Bronchial Thermoplasty is an effective treatment for non-allergic asthma. It was a real challenge to introduce this procedure in the eastern part of the country."
About 300 million people in the world suffer from asthma out of which about 5-10% people are the ones who get hospitalized due the severity of the disease. If the problem persists for such patients even after using inhaler with correct medicines and procedure for 2-3 months, then they need to go for Pulmonary Function Test. If either of IGE or Eosinophil is low in the result, only then they can go for this treatment.
Dr Sushil Agarwal, Consultant Pulmonologist, Apollo Multispecialty Hospitals Kolkata said, "Internationally, Bronchial Thermoplasty is a huge saviour for severe asthma patients and we hope that it's the same here. Post Bronchial Thermoplasty people are relieved and get back to normal life without regular asthma attacks disrupting their schedule."
On the occasion of the launch of the procedure, Mr Rana Dasgupta, CEO-Eastern Region, Apollo Hospitals Group, said, "Apollo Multispeciality Hospitals, Kolkata, continues to be the leader in bringing in new technologies and performing path-breaking procedures. Our committed clinicians, with the help of this state-of-the-art technology, would help many asthma patients."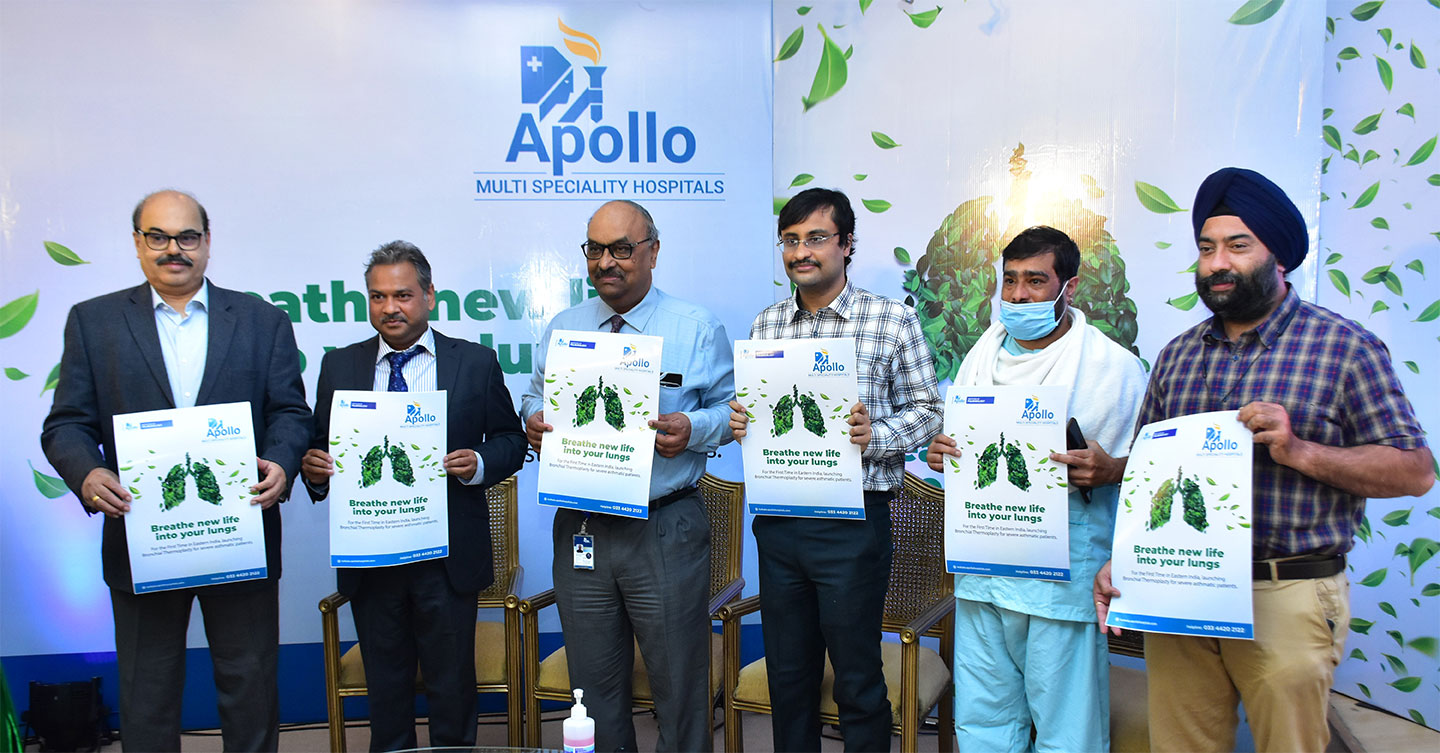 Posted by:
Apollo Hospitals
26 Apr,2022
Get the best of health related stories delivered to your inbox.
Adding another feather to its cap, Apollo Hospitals, Seshadripuram, Bangalore brings in India's very first prostate c...
Date: 23 Jan,2023
Mr. Vinod K Patel and Mr. Md Mansoor underwent successful liver transplants at Apollomedics Hospital Lucknow. Relativ...
Date: 23 Jan,2023
In a rare case of esophageal diverticulum, a 59-year-old man from Yangon, Myanmar underwent a successful robot assist...
Date: 12 Jan,2023