Eastern India's first Robotic Renal Transplant was successfully performed on a 25-year-old patient at Apollo Multispecialty Hospitals, Kolkata.
Posted by Apollo Hospitals | 18 Apr,2022
Apollo Multispecialty Hospitals Kolkata brings complete Robotic Renal Transplant for the first time to Eastern India. In a conventional kidney transplant, the donor's kidney is placed in the lower abdomen of the recipient by making an 8-10 inch cut, while the robotic transplant involves only a 1-2 inch cut and a few keyhole incisions for access into the abdomen.
A 25-year-old patient was suffering from Chronic Kidney Disease and was on dialysis for a long time. After finding a suitable match, the patient underwent robotic renal transplant last week under Dr Vinay Mahindra in Apollo Multispeciality Hospitals, Kolkata.
Benefits of Robotic Kidney Transplant
Decreased chances of complications as compared to open surgery, especially in immunocompromised and end-stage renal disease patients.
Safer and more efficacious for obese patients who are otherwise not recommended for transplants.
Minimal invasive surgery helps in reduced

blood loss
hospital stays
pain
postoperative complication rate
recovery time
surgical scars
The whole procedure of Robotic Kidney Transplant involves the doctor sitting on the console with the monitor displaying the inside of the abdomen and the robotic arms assisting the doctor for operating. One of the arms holds a high magnification 3D camera which is inserted into the abdomen through one of the key holes and provides a high-definition, magnified (12×), 3-D view of the surgical site. The other mechanical arms have surgical instruments attached to it that are designed to mimic the movement of the human hands and wrists.
Dr Vinay Mahendra, Consultant Urology & Robotic Surgeon, Apollo Multispeciality Hospitals, Kolkata who carried out the procedure along with the team of doctors said, "The primary benefit of Robotic surgery for transplant is that it involves minor incisions and hence recovery is faster with much lesser complications. It also comes with less pain and lesser or no chance of infection as the incision is much smaller than the usual 8-10 inch cut, which requires less hospital stay, early recovery and back to normal life."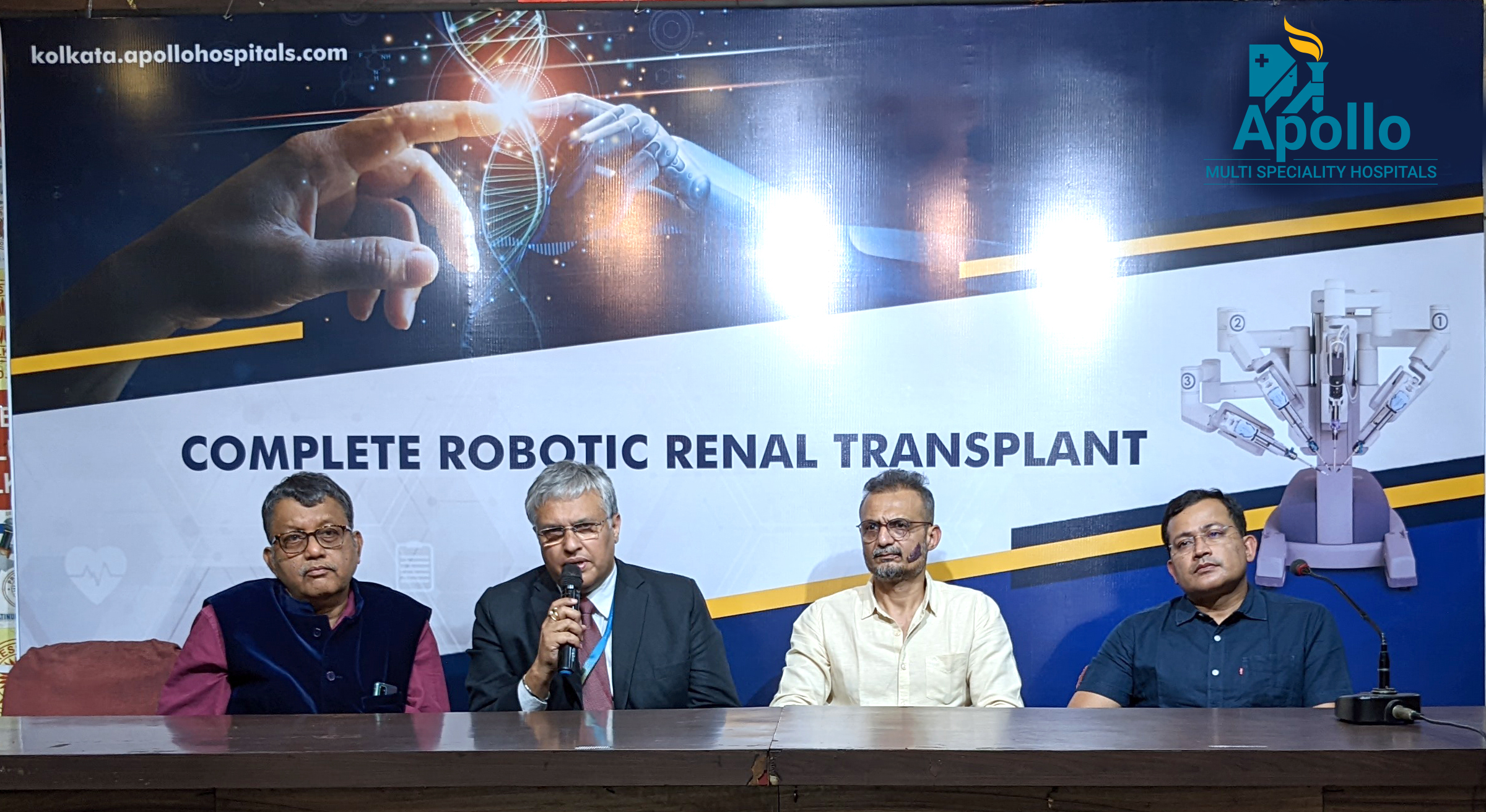 Posted by:
Apollo Hospitals
18 Apr,2022
Get the best of health related stories delivered to your inbox.
In an effort to uphold standards of clinical excellence and elevate standards of care for those with cardiological co...
Date: 06 Nov,2023
In a remarkable medical achievement, Apollo Hospitals Ahmedabad has successfully performed a liver transplant on a 7-...
Date: 16 Oct,2023
Apollo Hospitals is the largest Cardiac care program in India and one of the leading cardiac programs in the world in...
Date: 28 Sep,2023