Conquering Breast Cancer – A Panel Discussion organised by Apollo Cancer Institutes on the occasion of International Women's Day !
Posted by Apollo Hospitals | 13 Mar,2012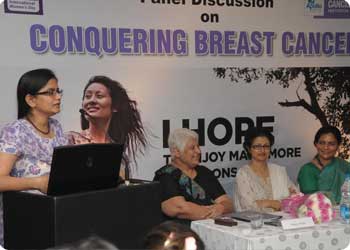 Apollo Cancer Institutes organised a Panel discussion on ""Conquering Breast Cancer"" along with a Breast Cancer Conqueror's meet, a one of its kind event at Chennai on the eve of International Women's Day.
The Panellists included reputed South Indian Film Actor Ms. Gauthami, Dr. Selvi Radhakrishna , Consultant Oncoplastic Breast Surgeon, Apollo Cancer Institutes, Chennai and Ms. Vimmy Deepak, Entrepreneur.
Ms. Preetha Reddy, Managing Director, Apollo Hospitals gave a Special address at the event.The event was moderated by Ms Neerja Mallik, Apollo Cancer Support Group & also one of our Breast Cancer Conquerors.
More than 110 Women from reputed & Elite Women Associations and Ladies Clubs from Chennai, Indian Naval Officer's Women Association & NGOs participated in the discussion.
There were around 20 Breast Cancer Conquerors from Apollo Cancer Hospital, Chennai sharing their experience of fighting the disease.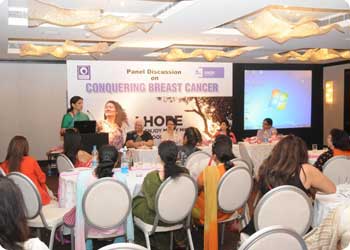 Seven years after she first realised that she had breast cancer, actor Gowthami said that she probably wouldn't have spotted it if it hadn't been for a simple self-examination of her breast. "It's one of the simplest things that can be done, but it could end up making all the difference between life and death,"" she said. Speaking at the panel discussion aimed at reducing breast cancer incidence, the actor looked back at her ordeal with elan. ""A lot of women will get angry when I say this, but it does help to think of it (breast cancer) like it's a little bit of an adventure," she said, and added,"Not that it's any amount of fun, but it's like screaming when you're on a roller coaster – though you're terrified, you scream your head off to beat that fear. Do the same with cancer." Speaking alongside breast cancer survivors from the Apollo Cancer Survivors Support Group and other women from the city, she also said that considering everything a woman had to go through to "get her dues" at every stage in life, "cancer isn't really all that big a deal to face up to. It's about survival, every single time," she enforced.
Pressing on the importance of women examining their breasts for anomalies and lumps themselves, Apollo's consultant breast surgeon Dr Selvi Radhakrishna said that it made a ""huge"" difference when cancer was diagnosed.
"Even in a metropolitan set up, we find with the women who come in with tumours that less than 10 per cent have tumours that are smaller than 1 cm," she said. She also dispelled myths about mammograms and told people that losing a breast was much better than losing lives.
Apollo Hospitals Managing Director, Ms. Preetha Reddy said that they were proud of the awareness that their support group was generating and complimented the cancer survivors present for being an "inspiration".
Posted by:
Apollo Hospitals
13 Mar,2012
Get the best of health related stories delivered to your inbox.
Apollo Hospitals organized the 9th Edition of the International Patient Safety Conference (IPSC) and the 10th Interna...
Date: 22 Feb,2023
Management of Aortic Aneurysm & Dissection Surgery Conclave 2022 was organized by Apollo Hospitals in Chennai. The co...
Date: 02 Nov,2022
Apollo Proton Cancer Centre (APCC) conducted its 2nd Apollo Annual Proton Practicum from May 20-22, 2022. Over 700 pa...
Date: 04 Jun,2022