CME Program on "Robotic Surgery – A New Era in Minimally Invasive Approach"
Posted by Apollo Hospitals | 28 Aug,2013
The doctors of Apollo Hospitals from three with different specialties presented the slideshow enabling the city doctors to understand how robots can be of great help in surgeries.
Dr R Ravikumar, consultant Cardiothoracic surgeon, guided the audience with photographs of patients who had successfully undergone cardiac surgery through robotic applications and just had small incisions on their bodies. The surgeon explained how robotic applications can be used in various cardiac surgeries and even showed videos of a few. Apart from robotic surgery being minimal invasive, it causes less tissue damage, minimal blood loss, less infection, pain and scarring and faster recovery, the surgeon explained.
Dr Meenakshi Sundaram, Gynecologist, gave a presentation on the history and advantages of using robots for operating deep in the pelvis region. "It is the surgeon who controls the robot sitting at the console and they get a 3D vision of the operating area," she clarified.
Screening a video of a hysterectomy, the doctor explained that the movements are precise when operated with robots. It is very useful when removing fibroids from the uterus especially if the patient wants to conceive following it.
The doctor said that robots work at great precision in saving the nerves during cancer surgery. "I have found robotic surgeries to be less painful than laparoscopy," the doctor said.
Dr Ananthakrishnan, consultant Urologist, who has spent three years performing only robotics surgeries, said 86 percent of prostate surgeries are performed by robots in the US. Explaining the various surgeries that could be performed with the help of robots, he informed that kidneys could be saved in case of cancer, if the tumor is up to 8 centimeters, through the less invasive approach.
Prior to the presentation, Dr N Sathyabhama, DMS, Chennai Region, Apollo Hospitals, emphasized the importance of updating oneself with the development in technology in the medical field. She added that there were over 1,000 robots in the US, whereas, there were only 20 in India, among which four were in Apollo.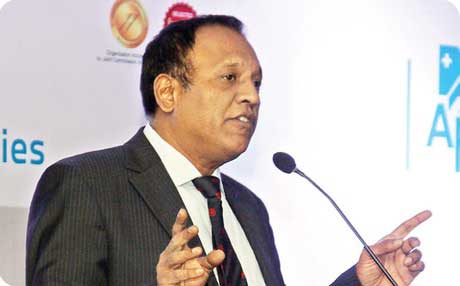 Posted by:
Apollo Hospitals
28 Aug,2013
Get the best of health related stories delivered to your inbox.
Management of Aortic Aneurysm & Dissection Surgery Conclave 2022 was organized by Apollo Hospitals in Chennai. The co...
Date: 02 Nov,2022
Apollo Proton Cancer Centre (APCC) conducted its 2nd Apollo Annual Proton Practicum from May 20-22, 2022. Over 700 pa...
Date: 04 Jun,2022
Apollo Cancer Centres proudly launched the "The Power to fight Breast Cancer is in Your Hands" campaign, which ill...
Date: 02 Apr,2021