Chennai's own Ammukutty and Chellakutty turn one today
Posted by Apollo Hospitals | 18 Feb,2014
Post a 9 month stay in Chennai under the care of clinical experts from Apollo Children's Hospital; mother Grace is elated to take her two sons back home to Kasumulu in Tanzania, tonight where their family eagerly awaits them.
In what can be considered a historical case attempted by an Indian Hospital, Apollo Speciality Hospitals in Vanagaram recently separated Ericana & Eluidi post a marathon surgery of 18 hours conducted by a select team of 20 doctors from the specialties of neurosurgery, plastic surgery, paediatric surgery and paediatric urology was led by Dr. Venkata Sripathi, Senior Consultant Paediatric Urologist, Apollo Children's Hospital and Dr. Roshini Gopinathan, Senior Consultant Plastic Surgeon, Apollo Children's Hospitals.
"The twins saw each other for the first time only three weeks after surgery. It was great to see the twins explore each other- Eluidi took Ericana's fingers and playfully lapped them. Both the twins are boisterous and immensely curious about the environment. They have completely different temperaments. Eluidi is very fond of Tamil film music and loves to 'dance' by wiggling his bottom and rocking back and forth. Ericana is the quieter one and he loves classical music. Their mother Grace also took some time to adjust to taking care of two lively infants. While they are returning home this evening, we look forward to having them back six months from now for surgical procedures on the penis and for colostomy closure. "" added Dr. Sripathi.
Born in a small village called 'Kasumulu' in Tanzania Ericana and Eluidi were referred to Apollo Hospital in Chennai By the Tanzanian Government and have been under the expert care of skilled doctors at Apollo for six months now . Both babies who have been stable and showing signs of a promising and speedy recovery, can now look forward to leading normal lives as two separate individuals back home.
"We see children being born every day at our facilities but to see same children being born again is a miracle. The case of Ericana and Eluidi was both unique and challenging but to know that we played an instrumental role in shaping not just their lives but their future is a great privilege. We are constantly scaling our clinical expertise and grabbing opportunities such as these that demonstrate our prowess as a global destination for affordable yet world class healthcare." said Dr. Prathap C Reddy, Chairman, Apollo Group of Hospitals.
Conjoined twins, though rarely encountered, are seen in one in 200,000 deliveries. However, more than 60% of them are stillborn while 35% of the remaining die within a few days or months of birth due to various causes. Conjoined twins can be joined at the chest, abdomen, back, buttock and head. Fusion at the buttocks (Pygopagus) is very rare and accounts for less than 17% of all conjoined twins.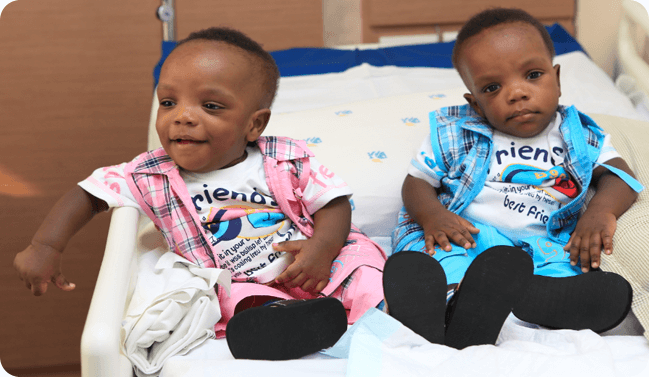 Posted by:
Apollo Hospitals
18 Feb,2014
Get the best of health related stories delivered to your inbox.
Apollo Health City, Hyderabad adjudged as the Best Medical Tourism Hospital in India by the Government of India ! ...
Date: 23 Nov,2020
Apollo Main Hospital,Chennai, competed in the National Business Excellence (BE) Star Award organized by the Confed...
Date: 23 Nov,2020
Apollo Hospitals Group was recognized for its outstanding contribution to Medical Value Travel with the FICCI Medi...
Date: 03 Jun,2020