Asia's first dual implant of MitraClip and TAVR was successfully performed on a 75-year-old Sri Lankan patient at Apollo Hospitals, Chennai.
Posted by Apollo Hospitals | 01 Apr,2022
Apollo Hospitals saw yet another landmark with Asia's first dual implant of MitraClip and Transcatheter Aortic Valve Replacement (TAVR) being performed on the same patient. A 75-year-old male patient from Sri Lanka was admitted at Apollo Hospitals, Chennai in cardiogenic shock with severe Aortic stenosis and Mitral Valve regurgitation. This was further complicated by a cardiac arrest after admission.
This necessitated a milestone procedure of replacing the aortic valve (TAVR) and repairing the mitral valve (MitraClip), which was performed by Dr Sai Satish, Senior Interventional Cardiologist at Apollo Hospitals, Chennai. An additional milestone saw Dr Sai Satish successfully completing 9 TAVRs and 3 MitraClips in a span of 24 hours. All the patients recovered within 48 hours of the procedure.
Dr Prathap C. Reddy, Founder and Chairman, Apollo Hospitals Group said, "It is a matter of great pride that we are achieving new milestones, becoming the first in Asia to perform MitraClip and TAVR procedures in the same patient and also in having the capacity to seamlessly perform such a large number of complex cases in just 24 hours. However, it is more important to celebrate the fact that these procedures are allowing us to save lives of patients who cannot go in for open heart surgery because of high risk due to age and other reasons. These cutting-edge procedures allow patients to return to a quality of life that they used to enjoy before their problems began. This is a testament to our experience and excellence in this domain, with around 70% of all MitraClips in India to date having been performed at Apollo Hospitals."
Read more about Asia's first dual implant of MitraClip and TAVR successfully performed at Apollo Hospitals, Chennai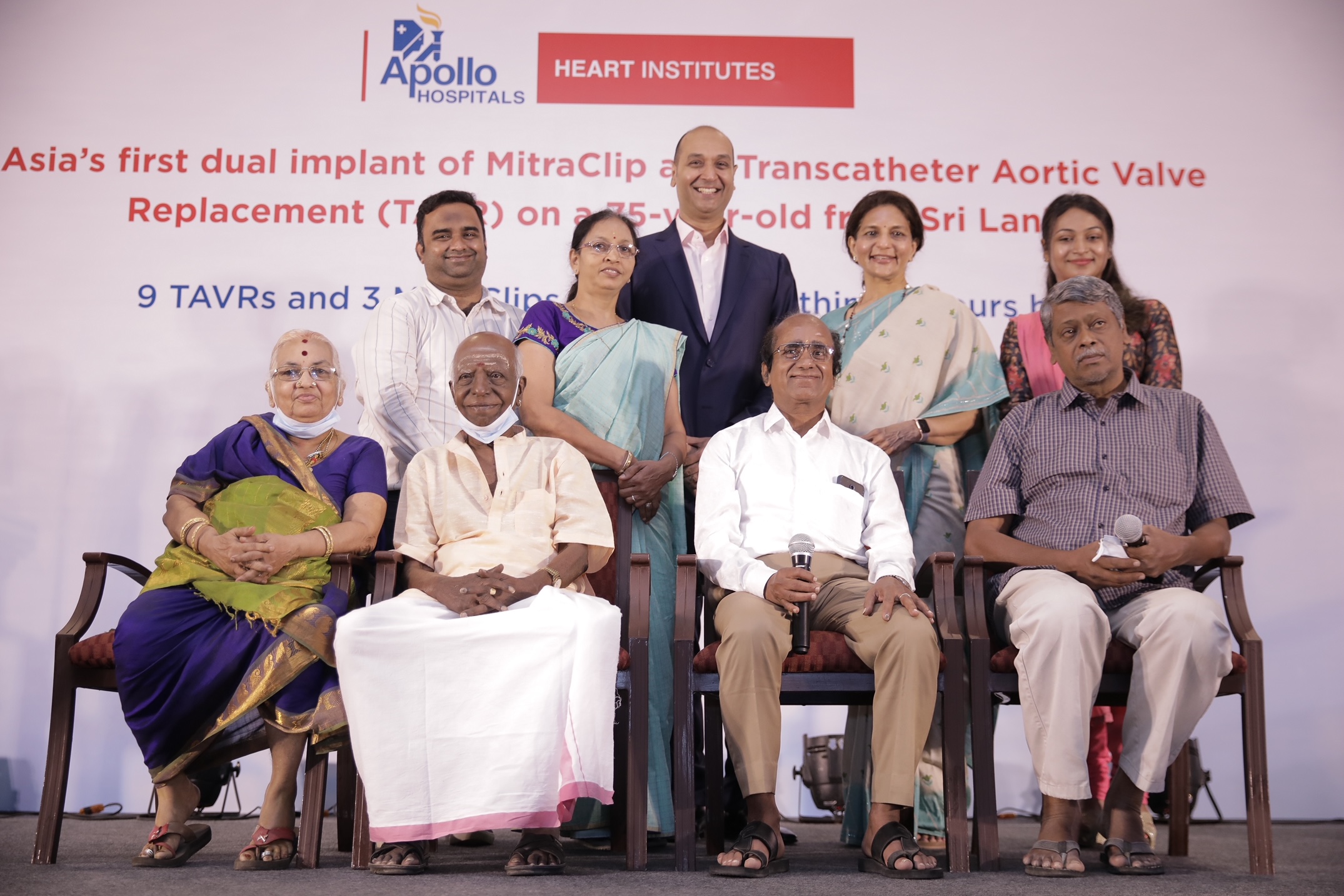 Posted by:
Apollo Hospitals
01 Apr,2022
Get the best of health related stories delivered to your inbox.
A 64-year-old gentleman from Fiji recently Robot-Assisted Total Arterial Bypass Surgery for Triple Vessel Coronary Ar...
Date: 16 Nov,2022
A 60-year-old man, citizen of Nigeria, successfully underwent a high risk and rare surgery for total femur replacemen...
Date: 16 Nov,2022
Apollo Hospitals, Seshadripuram, Bangalore has introduced India's very first Moses 2.0 Laser, an advanced and novel l...
Date: 14 Nov,2022