Apollo Reach Hospitals, Karaikudi – Taking quality healthcare to the heart of India !
Posted by Apollo Hospitals | 26 Dec,2011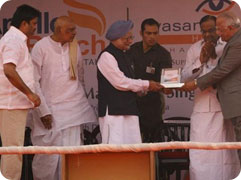 Apollo Reach Hospitals, Karaikudi, was inaugurated on the 26th of December, 2011, by the Hon'ble Prime Minister of India, Dr. Manmohan Singh. The Guests of Honour at the inauguration were Union Minister of Home Affairs, Government of India, Shri P Chidambaram and His Excellency, The Governor of Tamil Nadu, Dr. K. Rosaiah.
Apollo Reach Hospitals, Karaikudi, underlines Apollo's vision to take high quality health care to every corner of our country.
The Heart of India lives in its villages & towns, and only a healthcare model that encompasses all of India is complete, comprehensive and effective.
Apollo Hospitals has revolutionized Indian healthcare for close to three decades. It has driven a long list of pioneering achievements that have been instrumental in India emerging as a global healthcare destination.
Today, Apollo is leading the march to take healthcare to a billion lives. It's a mission that will draw strength from the strong foundation of clinical excellence, expertise and deep experience. Innovative delivery models like telemedicine, mHealth and Reach Hospitals will make it more robust.
We urge the nation for its support to help us take quality healthcare closer to every Indian. A healthy India is a more vibrant India, a more powerful India !
Apollo Reach Hospitals, Karaikudi – powered by the collective expertise of the Apollo Group is a multi-speciality tertiary care hospital with the following features & services :
110-beds

3 state-of-the-art Modular Theatres
Neonatal Intensive Care Unit – 5 Beds with Ventilator (Galileo) & comprehensive state-of-the-art instrumentation
Services in 21 specialities including Cardiology, Cardiothoracic Surgery, Neurosciences, Orthopaedics, Emergency & Critical Care and Preventive Care
24×7 fully functional Emergency Care
Cutting-edge Laboratory & Diagnostic facility and CT Scan
Cath Lab backed by ACLS- Ambulance and Blood product distribution centre, equipped to provide Emergency & Critical Care Services
Endoscopy Suites and Dialysis Services
Comprehensive Health Screening Programs
Posted by:
Apollo Hospitals
26 Dec,2011
Get the best of health related stories delivered to your inbox.
Apollo Hospitals Group has launched its indigenously developed automated, rapid-response patient monitoring system. T...
Date: 02 Nov,2022
Apollo Hospitals Group is to set-up a state-of-the-art tertiary care hospital in partnership with Balmer Healthcare, ...
Date: 05 Sep,2022
A Memorandum of Understanding (MoU) has been signed between Apollo Hospitals Group and Eclipse Group, Africa, to esta...
Date: 05 Sep,2022