Apollo Hospitals performed a successful heart transplant on a young software engineer, suffering from a terminal heart condition
Posted by Apollo Hospitals | 10 Mar,2016
A team of specialists at Apollo Hospitals led by Dr Alla Gopala Krishna Gokhale, Senior Heart & Lung Transplant Surgeon, performed a Heart Transplantation successfully on a 36-year-old man suffering from terminal heart disease. This surgery was done on 26th of February, 2016 and the patient has since recovered and is getting discharged.
The recipient, a software engineer by profession and resident of Hyderabad had to quit his job at Accenture a year back due to heart problem. He was diagnosed to be suffering from dilated cardiomyopathy for last four years, it worsened further for the past eight months and he was virtually confined to home. Vinay was treated by cardiologists for breathing difficulty and hospitalized three times in the last six months for control of heart failure. He was referred to Dr. Gokhale for the possibility of heart transplantation.
When patient came to Apollo Hospitals on 18th January, 2016, he was very critical and needed admission in ICCU under the care of cardiologist Dr. Manoj Agarwal and Dr. Gokhale. He was stabilized and discharged after 10 days to let him join in the birthday celebrations of his one year old child. In the meantime, his name was registered with Jeevandan. His condition remained precarious and had to undergo regular follow ups, while waiting for a heart from a cadaver.
On 25th of February, relations of a young brain dead patient agreed to donate organs at Apollo Hospitals, Jubilee Hills. However, donor blood pressure was low and was put on large doses of medicines to maintain blood pressure and a heart like that is not conducive for transplant. However, intensivists at Apollo Hospitals worked extremely hard overnight to stabilize the heart condition and facilitate usage of the same to save the life of this heart failure patient. Vinay recovered well after transplant and was mobile within 48 hours.
Heart transplantation is a rare operation done for end-stage heart failure. So far in India, only a little over 250 heart transplants are done. Unlike kidney and liver transplantations, awareness about heart transplantation is dismal and many a times donated hearts are going waste. After heart transplantation, most of these patients can lead normal life and carry on with their jobs.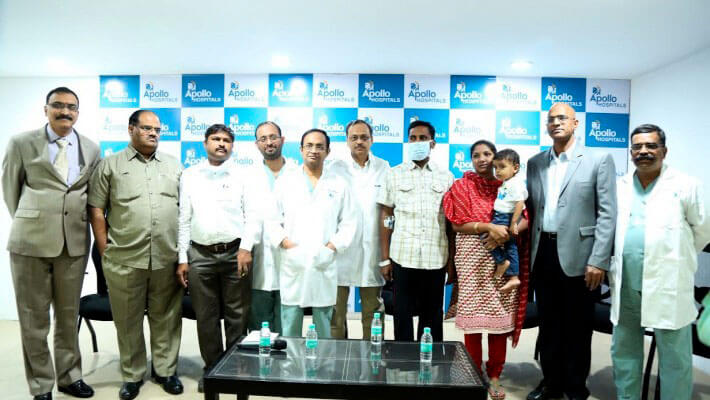 Posted by:
Apollo Hospitals
10 Mar,2016
Get the best of health related stories delivered to your inbox.
Apollo Proton Cancer Centre has successfully performed Asia's first brain bypass surgery on twin 8-year-old children ...
Date: 05 Dec,2022
With a focus on innovating new techniques for the treatment of rare cancer cases, Apollo Cancer Centre, Bangalore, ha...
Date: 05 Dec,2022
A 64-year-old gentleman from Fiji recently Robot-Assisted Total Arterial Bypass Surgery for Triple Vessel Coronary Ar...
Date: 16 Nov,2022