Apollo Hospitals, Navi Mumbai has achieved the milestone of 53 Paediatric Liver Transplants in less than five years.
Posted by Apollo Hospitals | 07 Nov,2022
Apollo Hospitals, Navi Mumbai has announced the completion of 53 life-saving pediatric liver transplant surgeries at a special press conference. The Hospital has undertaken total 170 Liver transplants as on date, of which 34 are Cadaver & 12 are International. The significant landmark was achieved in five years and is a testament to the success of Apollo's Advanced Pediatric Liver Transplant Program in giving a new lease of life to children suffering from end-stage liver disease. The ages of the transplant recipients ranged from a 4-month infant to older children with conditions that included biliary atresia & congenital liver disease leading to liver failure. The pediatric liver transplants included those carried out during the challenging pandemic period and were possible due to the experienced pediatric liver transplant team that followed all necessary global protocols to ensure a safe and uneventful recovery for the transplant recipients.
Apollo Hospitals also announced the expansion of its existing Liver Program within the state of Maharashtra & Gujarat under the Clinical leadership of Prof Darius Mirza, an internationally renowned Hepatobiliary Pancreatic Transplant Surgeon with over 35 years of experience, as Chief Consultant HPB & Liver Transplant Program – Apollo Hospitals Western Region. Prof Darius has been associated with Apollo Hospitals for the past 4 years. He recently transitioned out of Birmingham Children's Hospital UK, where he was a Professor of Hepato-pancreato-biliary Transplant Surgery and was recognized for his outstanding contribution by the European Liver and Intestine Transplant Association. His vast global experience in advanced liver transplant surgery will be of immense benefit to patients in India with end-stage liver disease.
The occasion also saw the announcement of an MoU between Apollo Hospitals, Navi Mumbai and Bombay Hospital that will increase access to Apollo's advanced liver transplant program for patients across the Mumbai Metropolitan Region. The collaboration between the two leading super-specialty hospitals will go a long way in ensuring positive outcomes in liver transplantation for patients with end-stage liver disease. The two institutions would work to build a successful liver transplant program that brings the best of medical expertise and the latest world-class technological advances in liver transplant care to Western India.
Ms. Preetha Reddy, Executive Vice Chairperson, Apollo Hospitals Group said, "It is a proud moment for Apollo as we achieve this milestone of 53 pediatric liver transplants in five years. Apollo performs 15% of India's liver transplants every year and is a pioneer in solid organ transplants. With an experience over 3 decades in transplants, which include 4,051 livers, Apollo Hospitals has served patients from over 50 countries. We continue to attract the best medical talent as is evident with Prof. Darius Mirza coming on board once again to head the HPB and Liver transplant unit. I also welcome the collaboration with Bombay Hospital, it is tie-ups such as these that will help us deliver our services to a larger section of the populace."
Mr. Santosh Marathe, Regional CEO – Western Region, Apollo Hospitals said, "Apollo Hospitals, Navi Mumbai is a JCI accredited 500 beds quaternary care hospital. The Hospital runs a very successful Transplant program covering Liver, Kidney & Heart. The transplant program is led by a multi-disciplinary team of qualified & experienced clinicians having undertaken significant liver & HPB work. Apollo Hospitals, Navi Mumbai has also undertaken efforts to increase organ donation awareness along with extended outbound liver transplants, training the peripheral hospitals into organ retrieval centers. With the expanded clinical team, citizens from Maharashtra & Gujarat will be immensely benefitted. The Bombay Hospital collaboration will further provide a good opportunity to treat patients with end-stage liver failure symptoms"
Prof Darius Mirza, Chief Consultant HPB & Liver Transplant Program – Apollo Hospitals Western Region said, "When I was given the opportunity to develop the liver transplant programme at Apollo Hospitals, I found it the most appropriate center to utilize my expertise of providing a full range of liver transplant care to patients from all age groups and different risk levels"
"The pediatric liver transplant programme at Apollo Hospitals has also seen significant fundraising initiatives through tie-ups with financial-aid programs and NGOs. This allows deserving children from underprivileged strata of society to access the best treatment for their condition. The support also extends to post-transplantation medication support."
Dr. Rajkumar Patil, Director-Medical Services, Bombay Hospital and Medical Research Centre, said, "Started in 1952, Bombay Hospital & Medical Research Centre is a 750 bedded hospital, providing relentless and selfless medical services to the common people for the last 6 decades. Bombay Hospital had been planning for a liver transplant programme and few of the patients registered with us have already undergone treatment at Apollo Hospitals, Navi Mumbai. We are happy to collaborate with Apollo Hospitals for the liver transplant program & this will build internal capability of our clinicians & team."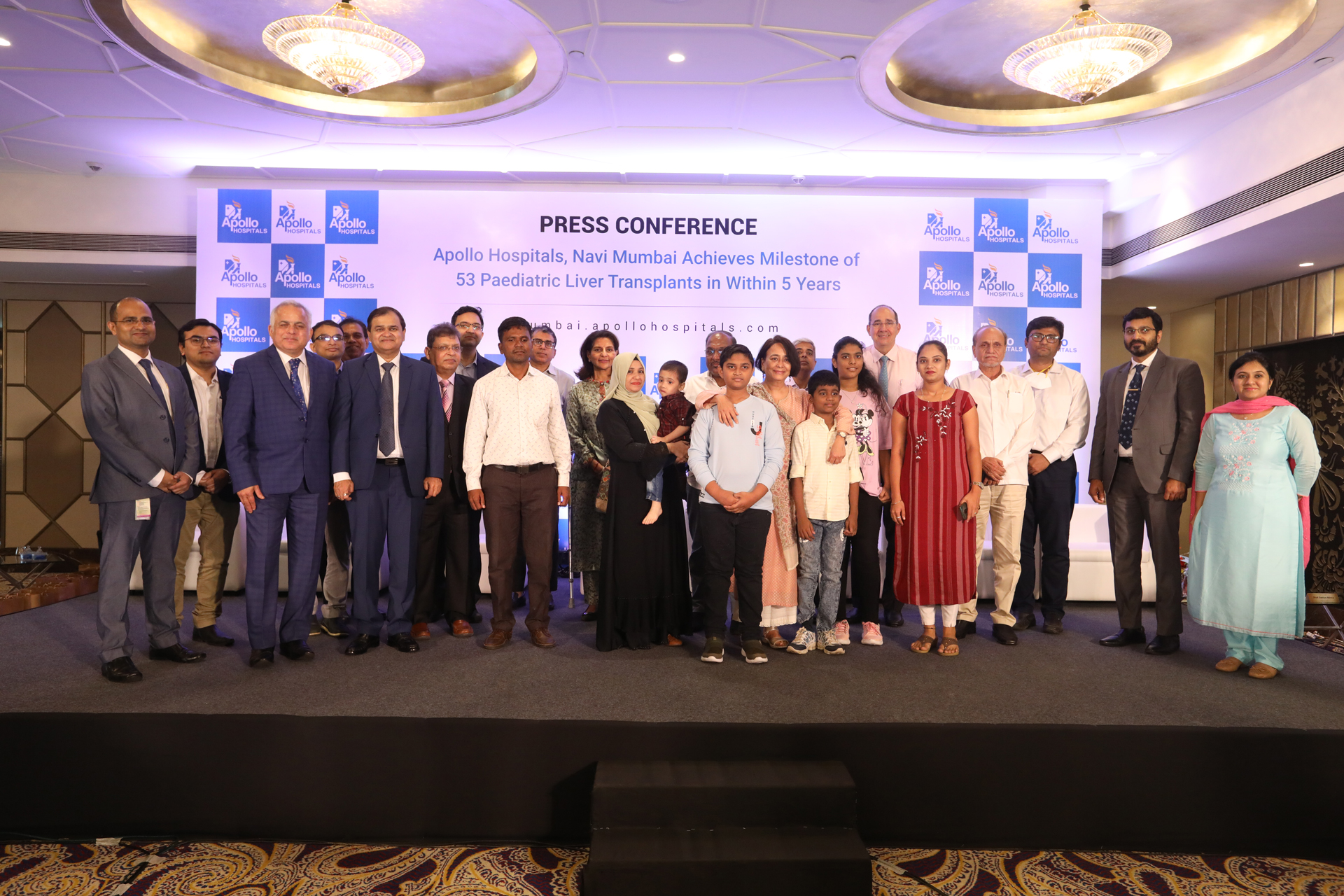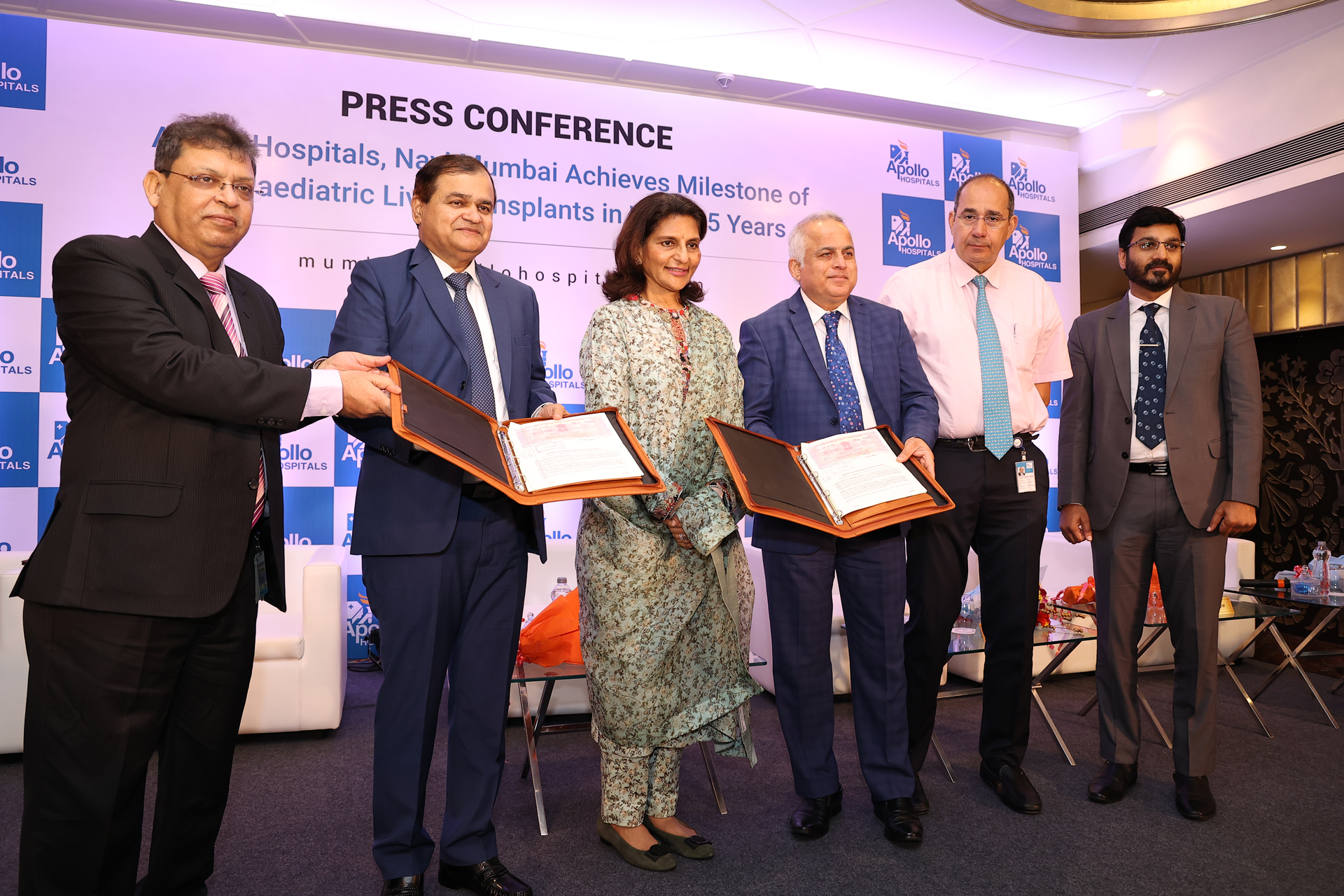 Posted by:
Apollo Hospitals
07 Nov,2022
Get the best of health related stories delivered to your inbox.
Adding another feather to its cap, Apollo Hospitals, Seshadripuram, Bangalore brings in India's very first prostate c...
Date: 23 Jan,2023
Mr. Vinod K Patel and Mr. Md Mansoor underwent successful liver transplants at Apollomedics Hospital Lucknow. Relativ...
Date: 23 Jan,2023
In a rare case of esophageal diverticulum, a 59-year-old man from Yangon, Myanmar underwent a successful robot assist...
Date: 12 Jan,2023