Apollo Hospitals introduces Teleradiology remote consulting and diagnostic services
Posted by Apollo Hospitals | 06 Jan,2014
In yet another feat to take world class healthcare to all in India, leading healthcare provider, Apollo Hospitals today launched a superior remote consulting and diagnostic -Teleradiology services at its Flagship Hospital in Chennai. Inaugurated by Dr. A.P.J Abdul Kalam, Honourable Former President of India, this technology intervention will help patients and diagnostic centres in remote locations to access expert radiologist with their radiology images for expert opinion and get appropriate treatment recommendations. This service will play a very vital role in reducing patient waiting time for diagnosis, treatment commencement and cost.
Teleradiology is an emerging field that has the potential to benefit both patients and healthcare service providers immensely as it helps eliminate distance barriers and improve access to quality health services or information that otherwise are not available in rural and distant communities. They play an invaluable role in emergency and critical care situations especially where moving a patient may be undesirable or not feasible. Not only does this technology lessen the inconvenience and cost of patient transfers but will also help reduce unnecessary travel time for health professionals to multiplex their services beyond boundaries where by improve efficiency and to reduce cost.
"Since three decades we have been innovating on our facilities and introducing new technologies to better healthcare reach and administration. Teleradiology as a technology can transform rural healthcare delivery by empowering both patients and doctors alike. While rural practitioners can gain access to specialist health services and benefit from interactions with consultants and specialists, patients can receive health information and advice from health professionals from the convenience of their homes." said Dr. Prathap C Reddy, Chairman, Apollo hospitals Group.
How the technology works:
An X-Ray, CT, MRI and any clinical images are transferred as loss less DICOM formats to a centralized PACS data centre on a secured mode. These files, including accompanying medical notes, are electronically accessed by expert radiologists at the state of the art Apollo Tele-Radiology Reading centres-ATRC at Apollo hospitals Chennai.
The radiologist in the tertiary care site opens the file and reviews the x-rays, CT, MRI and other clinical images and notes in order to confirm and/or determine a diagnosis at single location with multiple levels of expertise in Radiology sciences.
The file and accompanying medical inferences, recommendations and notes are then electronically reported back to the remote and distant diagnostic centres/hospitals or patients.
The patient is informed of diagnosis without having to meet the radiologist in person. The whole process from the time patient images and parameters captured can be completed in less than 30 to 40 minutes which otherwise takes more than a day or a week depending on the complexity of the patient condition.
Benefits & Advantages of Teleradiology
Without rapid access to medical imaging results, diagnosis and treatment delays would be the norm of the day and the cost of care would be even greater. The advantage of having a Teleradiology group is that it can provide a team of specialized teleradiologists for patients, and moreover, emergency services are also provided effectively, bringing down the waiting time for patients. The Teleradiology group has several specialties and sub-specialties available such as Neuroradiologists, Musculoskeletal radiologists, Abdomen and Pelvic imaging specialists, Woman's imaging specialists and Cardiac radiologists. When the scans are sent to the group, the group assigns the reporting to the specialists, thereby the hospital treating the patient gets the best specialist report in that particular speciality.
Teleradiology allows for trained specialists to be available 24/7 to read patients' images. Teleradiology services allow hospitals to treat patients round the clock. The biggest benefits of Teleradiology are in cost reduction and towards improving the quality of the reports for the patients.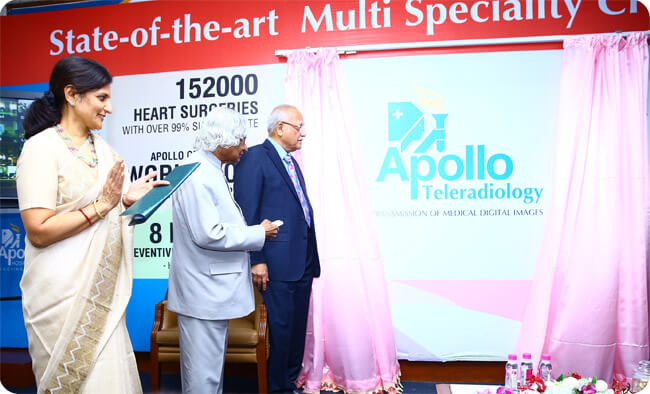 Posted by:
Apollo Hospitals
06 Jan,2014
Get the best of health related stories delivered to your inbox.
Apollo Hospitals Group has launched its indigenously developed automated, rapid-response patient monitoring system. T...
Date: 02 Nov,2022
Apollo Hospitals Group is to set-up a state-of-the-art tertiary care hospital in partnership with Balmer Healthcare, ...
Date: 05 Sep,2022
A Memorandum of Understanding (MoU) has been signed between Apollo Hospitals Group and Eclipse Group, Africa, to esta...
Date: 05 Sep,2022