Apollo Hospitals, Indore has successfully performed Central India's first Renal Denervation Therapy for treating uncontrollable hypertension.
Posted by Apollo Hospitals | 02 Nov,2020
Mr. Elkaaar Singh Rajput, 56-year-old male was diagnosed to have high blood pressure about 11 years back. He consulted many doctors and was taking 8 different medicines in maximal doses every day for controlling his blood pressure. In spite of this, his BP was not under control and was having recurrent weakness in his arms and impending paralysis. He approached Apollo Hospitals, Indore for treatment of his blood pressure. He successfully underwent Renal Denervation procedure on 17th October 2020 performed by the team of doctors comprising of Dr K. Roshan Rao, Dr Sarita Rao, Dr Kshitij Dubey, Dr Vikas Gupta and Dr Shirish Agrawal. This is the first procedure of this kind in Central India and second in the Indian subcontinent.
Read more about how Apollo Hospitals, Indore successfully performed Renal Denervation Therapy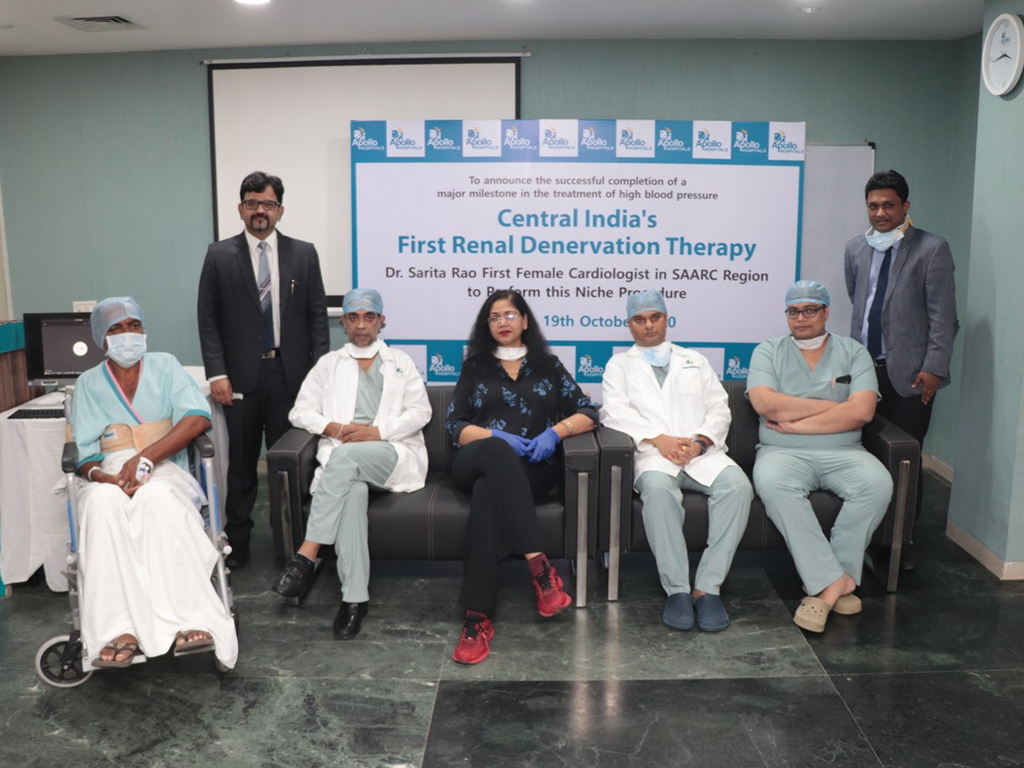 Posted by:
Apollo Hospitals
02 Nov,2020
Get the best of health related stories delivered to your inbox.
Apollo Hospitals, Chennai has successfully performed yet another break-through surgery that transformed a patient'...
Date: 06 May,2021
Apollo Proton Cancer Centre has launched a dedicated Robot-Assisted Cancer Surgery Unit so that it could offer all...
Date: 19 Apr,2021
Apollo Hospitals, Hyderabad has successfully performed a complex combined liver and kidney transplant, using organ...
Date: 19 Apr,2021