Apollo Hospitals, Hyderabad performed a pioneering and complex case of nose implantation through a complex plastic and microsurgery
Posted by Apollo Hospitals | 02 Mar,2017
Doctors at Apollo Hospitals, Jubilee Hills, performed a rare case of nose implantation on a Tanzanian man, recently. Dr Sudhakar Prasad, Senior Consultant Plastic & Cosmetic Surgeon, who performed this surgery, briefed media on implanting a fabricated nose, repaired to function, by painstakingly constructing it using skin, cartilage & blood vessels, from different parts of the body. The Patient, a Tanzanian man, lost his nose in a grievous assault and came to India after exhausting options elsewhere in the last two years since the incident.
The serious assault with knives on the 46-year-old, Mr Sillah Kwahu, in September 2014 in Tanzania, led to defacement with multiple facial injuries and chopping off of the nose completely. He was initially treated at Tanzania. But his continuing ordeal led to him being referred to Dr Sudhakar Prasad at Apollo Hospitals, for further treatment.
Dr Sudhakar Prasad, on evaluating the patient realized the enormous complexity in restoring a proper and functional nose. Normally in such patients the obvious choice of treatment is the famous Indian rhinoplasty technique described by Sushruta. Unfortunately, due to multiple knife injuries on his face, this treatment option was found to be inappropriate and the other regular options were ruled out too one by one.
Dr Sudhakar Prasad falling back on his vast experience of over three decades in plastic and micro surgery, conceived a pioneering and complex procedure to provide lasting relief to the patient. This unique method combined the techniques of plastic surgery and micro vascular surgery. In the initial stage with a combination of patient's forearm skin, cartilage grafts from ears and skin graft, a nose was moulded and cultured on the left forearm. After a suitable healing period, the newly created nose and blood vessels supplying it, were separated from the fore arm and transferred to the face. The blood supply was restored in the face by micro surgically joining the blood vessels of forearm to the blood vessels of the face, using sutures thinner than human hair. The new nose healed in a few weeks' time.
As a final refinement, the nose was sculpted into a much thinner size and some more cartilage from the rib was added to create a good nasal bridge. Now he has a normal nose, in place of the one he lost two years agso.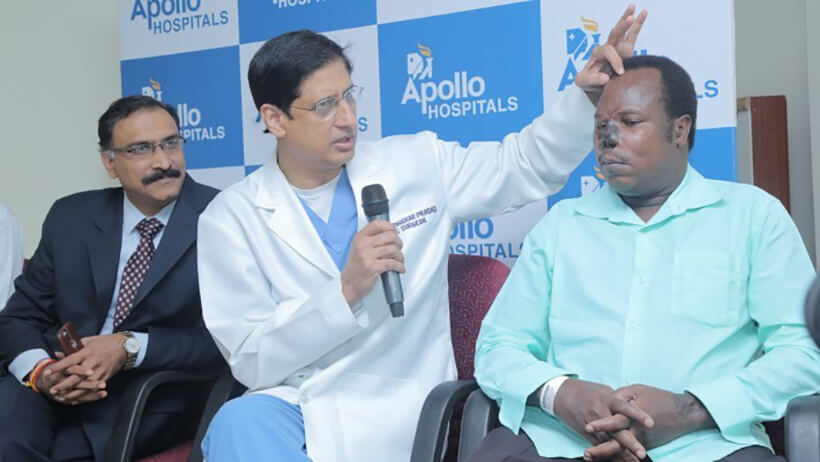 Posted by:
Apollo Hospitals
02 Mar,2017
Get the best of health related stories delivered to your inbox.
A 64-year-old gentleman from Fiji recently Robot-Assisted Total Arterial Bypass Surgery for Triple Vessel Coronary Ar...
Date: 16 Nov,2022
A 60-year-old man, citizen of Nigeria, successfully underwent a high risk and rare surgery for total femur replacemen...
Date: 16 Nov,2022
Apollo Hospitals, Seshadripuram, Bangalore has introduced India's very first Moses 2.0 Laser, an advanced and novel l...
Date: 14 Nov,2022