Apollo Hospitals, Hyderabad has successfully performed combined procedures of Living Donor Liver Transplantation and Coronary Artery Bypass Graft on a patient in a single sitting
Posted by Apollo Hospitals | 10 Jan,2020
Apollo Hospital, Hyderabad has accomplished a rare and complex feat of performing combined procedures of Living Donor Liver Transplantation and Coronary Artery Bypass Graft (CABG) operation, on a patient in a single sitting. The surgery spanning over fourteen hours involved the expertise of multi-speciality teams including Cardiac, Oncology and Liver Transplant.
The 67-year-old male patient from Hyderabad, Mr. Siva Prasad Rao, was suffering from Liver Cirrhosis and Liver cancer. During evaluation for a liver transplant, he was further diagnosed to have significant coronary artery disease with critical blocks in the blood vessels to the heart. The heart disease was found to be significant enough to preclude performing a liver transplant. Coronary stenting was not an option as, after stenting, the liver transplant could not be carried out for 8-12 weeks, and waiting was not an option as the patient's liver cancer could spread during the waiting time. The multidisciplinary team at Apollo Hospitals decided to perform both the operation, Liver transplant and Coronary Artery Bypass at the same time.

The patient's 33-year-old daughter, Mrs. Rohini, came forward to donate a part of her liver. The operations were carried out on December 6th, 2019. CABG was done first followed by Living donor liver transplant. The Living-donor liver transplant is a surgical procedure in which a portion of the liver from a healthy living person, in this case, the patient's daughter was removed and transplanted in the patient. The entire operation took 14 hours to complete. The donor was discharged on 6th Day after the operation and the patient was discharged on 12th day after the operation. Both the patient and the donor are doing fine.
Meticulous planning, carefully timing of the donor and recipient surgery and availing all concerned speciality services when needed, as the recipient had to undergo cardiac bypass surgery first and then followed by a liver transplant, ensured incident-free treatment, says Dr Manish C. Varma.
The treatment rendered for this patient is rarely performed as it is an extremely high-risk case. Performing such cases successfully requires a multidisciplinary approach involving critical medical and surgical specialities, very competent nursing, support staff and excellent hospital infrastructure. The team of Specialists involved in this dual surgery were Dr Manish C. Varma, Senior Consultant and HOD, Liver Transplant and HPB Surgery; Dr Naveen Polavarapu, Consultant, Gastroenterologist and Transplant Hepatologist; Dr Manoj Agarwala, Senior Consultant Cardiologist and Dr Sanjay Kumar Agarwal, Cardiothoracic Surgeon.
Not just in India, even abroad, in the best of the medical centres, a patient in an advanced age coupled with multiple complications like liver cirrhosis, liver cancer and critical blocks in the heart, would have been avoided for further care. But the doctors at Apollo took on the challenge, as they were confident of their expertise and the back-up infrastructure and support at their disposal. This will be recorded in the annals of medical history and will serve as an inspiration for the Indian medical fraternity for generations, says Dr Hari Prasad.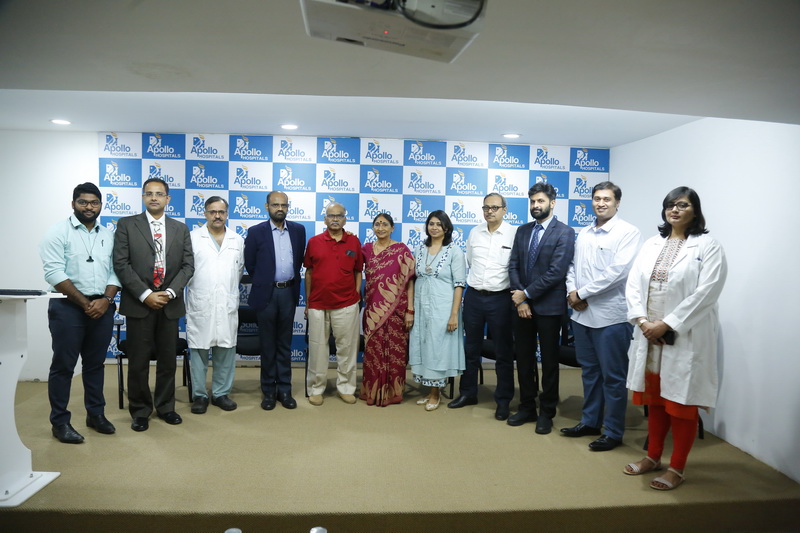 Posted by:
Apollo Hospitals
10 Jan,2020
Get the best of health related stories delivered to your inbox.
A 64-year-old gentleman from Fiji recently Robot-Assisted Total Arterial Bypass Surgery for Triple Vessel Coronary Ar...
Date: 16 Nov,2022
A 60-year-old man, citizen of Nigeria, successfully underwent a high risk and rare surgery for total femur replacemen...
Date: 16 Nov,2022
Apollo Hospitals, Seshadripuram, Bangalore has introduced India's very first Moses 2.0 Laser, an advanced and novel l...
Date: 14 Nov,2022