Apollo Hospitals, Hyderabad has successfully performed a rare paediatric liver transplant on a six-and-a-half-month-old suffering from Biliary Atresia
Posted by Apollo Hospitals | 07 Nov,2016
The Liver Transplant team at Apollo Hospitals, Jubilee Hills, led by Dr Manish C. Varma, Chief Transplant Surgeon performed a critical liver transplant surgery on Master Nitesh who was suffering from Biliary atresia.
Biliary atresia is a congenital liver condition where the bile cannot drain from the liver through the bile ducts to the intestines. Bile helps to digest fats in the body and also carries waste products from the liver to the intestines for excretion. This condition occurs in 1 in 10,000 to 15,000 children. This impairment of the bile flow usually happens due to the bile ducts in the liver being absent or blocked or abnormally narrow resulting in the bile being trapped in the liver eventually leading to liver failure. Initially these children present with jaundice at about 2 weeks after birth. If they are not treated they become malnourished and are easy prey to infections and complications of cirrhosis and a majority of them do not survive beyond 2 years.
Master Nitesh had developed jaundice a few weeks after his birth. After prolonged treatment when jaundice did not subside, they brought him to another Hospital in Hyderabad where they were advised liver transplant as the only cure for his medical condition. It was at this stage, their family and friends strongly advised them to seek the help of the transplant team at Apollo Hospitals. On presentation at Apollo Hospitals, Nitesh was found to be suffering from severe jaundice and had already developed liver cirrhosis. Further, he was just weighing about 5.5 kgs.
Dr Manish Varma said "Nitesh was left with no option but to undergo a liver transplant. These are the patients who pose the biggest challenge for liver transplantation and not many centres in our country are equipped to carry out liver transplant on children smaller than 10 kgs in weight, he points out".
"The baby needed a small part of healthy liver for transplantation. The transplant was carried out on 13th October, 2016, using a small part of his father's liver. The donor (father) was discharged on 6th day after surgery and the baby was discharged after 2 weeks of transplant. There will not be any long term limitations to his growth, learning and life expectancy" says Dr Manish Varma.
The liver transplantation was done by a team of Specialists led by Dr. Manish Varma and included Dr Anand Khakhar, Dr Anand Ramamurthy, Dr L Sasidhar Reddy, Dr Kirubakaran, Dr Manjunath Balasubramaniam, Dr Dinesh Babu and Dr. Ramesh Srinivasan, Pediatric Gastroenterologist.
Liver Transplantation in general and Paediatric Liver Transplantation in specific requires multi-disciplinary approach, advanced infrastructure and well qualified staff who are specialised in dealing with critical paediatric patients. Apart from meticulous surgery, the biggest challenge is the intensive care in the post-operative period. The nutritionists and physiotherapists have a very crucial role to play for a successful outcome. The margin of error in paediatric liver transplant patients is extremely narrow and the medical management has to be coordinated like clockwork.
The Liver Transplant programme at Apollo Hospitals, Hyderabad, has a success rate of over 95%, which is not only the best in India, but also one of the best in the world. With superlative success rates, which speaks of a proficient team and excellent infrastructure, the Liver Transplant Program at Apollo Hospitals, Jubilee Hills, is all equipped to undertake complex endeavours.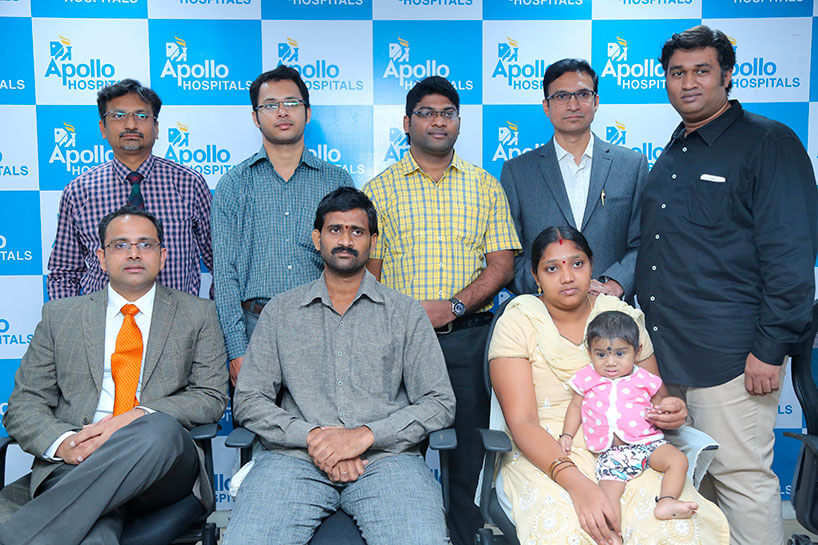 Posted by:
Apollo Hospitals
07 Nov,2016
Get the best of health related stories delivered to your inbox.
Apollo Hospitals continues to spearhead advancements in healthcare by providing accessible and top-quality medical se...
Date: 22 Sep,2023
A 35-year-old woman from Vadodara saved the life of her 6-year-old daughter by donating a part of her liver. The chil...
Date: 06 Sep,2023
Apollo Hospitals, Greams Road, Chennai has successfully performed two novel cardiac procedures on a dialysis patient ...
Date: 14 Aug,2023