Apollo Hospitals has partnered with Godrej HIT to launch India's first online Platelet Donor Community for patients suffering from dengue
Posted by Apollo Hospitals | 10 Jul,2017
In India, dengue has emerged as one of the biggest threats to public health. Last year, more than 1 lakh dengue cases were reported in India with 245 unfortunate dengue deaths. Dengue is an acute viral disease, which is caused by a mosquito bite. It is growing rapidly and continues to take lives of innocent people unabatedly because dengue has no cure and has to be treated symptomatically. While people are aware of the cause of dengue, there is a lack of awareness on how dengue can be cured. Absence of a cure, coupled with lack of awareness leads to a lot of anxiety, driving patients to get admitted the moment they are diagnosed positive.
The dengue virus causes a sharp drop in the platelet count of the patient's blood, triggering internal bleeding and other complications. In rare cases, when the platelet count drops below 20,000/cu.mm, the patient may require an urgent transfusion of platelets. A recent survey carried out by Godrej HIT & Research Now states that 94% of citizens are unaware about the critical level of platelet count below which platelet transfusion is required.
In such a situation, ready availability of a platelet donor becomes critical, as unlike blood, platelets cannot be stored for more than 5 days. However, the Godrej HIT Research Now report also informed that 80% of the citizens are not aware of this important fact.
Understanding the gravity of the situation, Godrej HIT and Apollo Hospitals has taken this bold initiative to educate citizens and build India's first online nation-wide platelet donor community. As part of the initiative, Apollo Hospitals will be providing platelets to critical dengue patients and will manage the 24×7 helpline. Godrej HIT & Apollo Hospitals have been leading multiple community outreach programs. Over the last many years both have been educating masses about mosquito borne diseases and its preventive measures.
On the occasion, Ms. Sangita Reddy, Joint Managing Director, Apollo Hospitals Group said, "Vector borne diseases like dengue are emerging as a threat to public health in India. To address this issue, we at Apollo Hospitals, have tied-up with Godrej HIT to build a platelet donor community. Through this initiative, we are trying to bridge the disparity in awareness and provide ready resources to manage diseases like dengue. Apollo Hospitals has set-up and will manage a 24×7 helpline for patients suffering from dengue. The helpline is available for donors willing to donate their platelets and for donors looking to receive platelets for their treatment. This initiative is aimed towards building a donor community that can help fellow citizens who fall victim to dengue. With Apollo's wide reach, our clinical outcomes and the expertise our doctors we are confident that we will help significantly address the challenge posed by dengue and related fevers."
Sunil Kataria, Business Head-India and SAARC, Godrej Consumer Products Limited (GCPL) said "Dengue has emerged as a serious threat to public health in India. While people are aware that mosquito bites causes dengue, they are unaware of the curative measures, especially about platelets. Our Godrej HIT-Research Now research reveals that 90% citizens are aware that platelets are blood components but a startling 66% believe that platelets are a cure for dengue and 80% believe that platelets can be stored like blood, both of which are factually incorrect! This lack of awareness leads to lot of anxiety among citizens. Hence Godrej HIT has partnered with Apollo Hospitals to build India's first online nation-wide platelet donor community for dengue patients".
He further added "Through this initiative we urge citizens to register as a platelet donor on www.godrejhit.com/trackthebite or on Hit Track the Bite app and help save lives of critical dengue patients. The registration response has been overwhelming and in less than 2 weeks, more than 20,000 citizens have registered as platelet donors. Dengue patients can call on a city-specific 24×7 platelet helpline number across 5 key metros to get platelets. For Delhi NCR, the platelet helpline number is 011-26825565."
Godrej HIT's association with Apollo Hospitals is a multi-channel awareness program. This initiative will drive citizen awareness in 5 key metros to start with.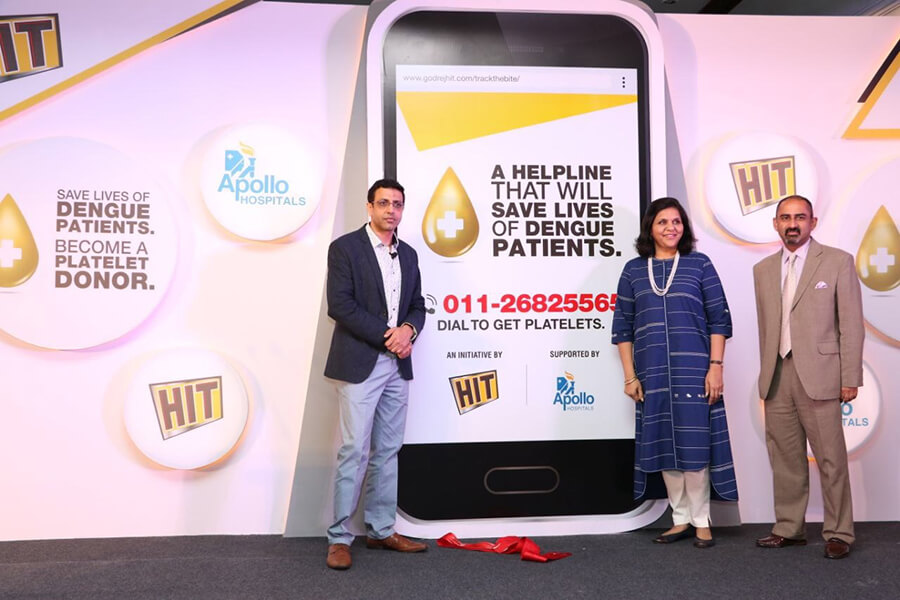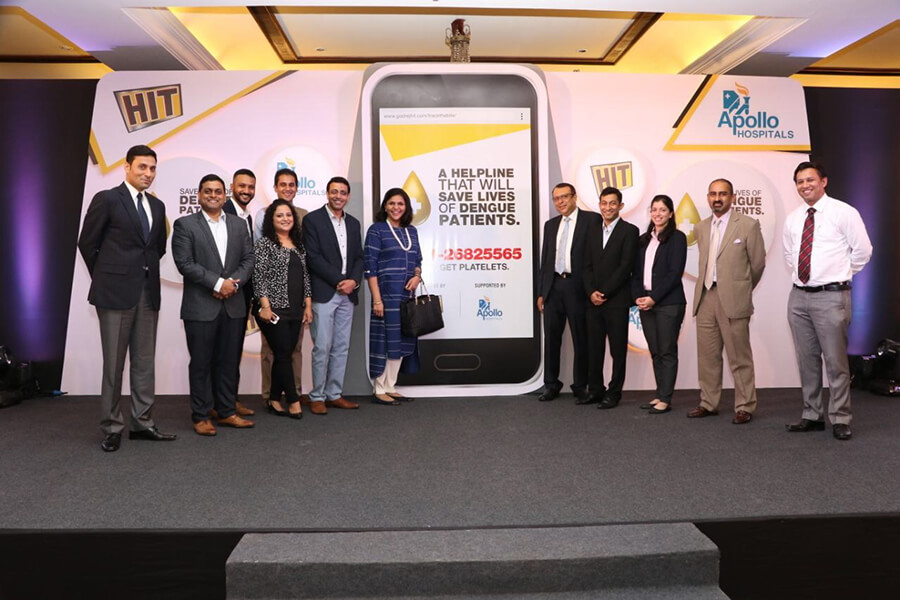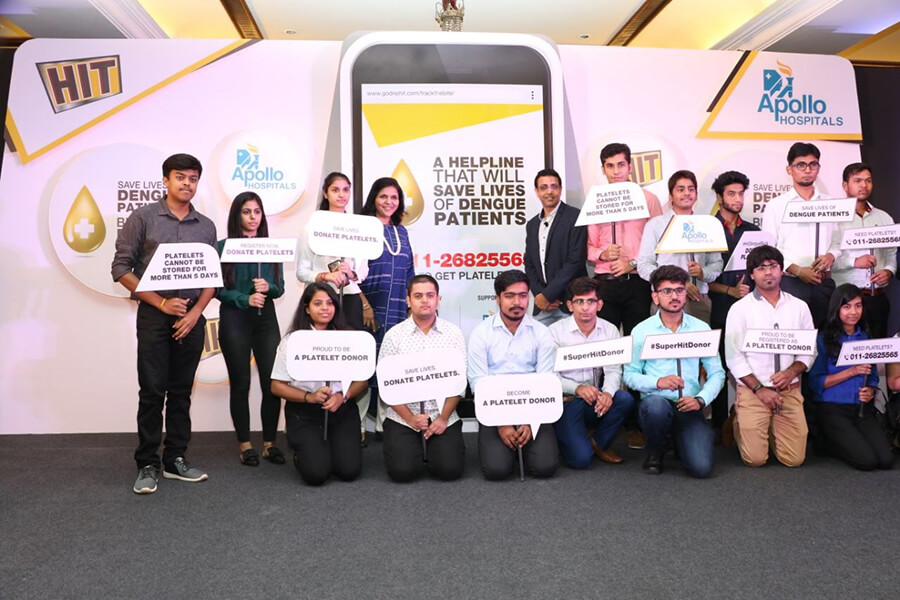 Posted by:
Apollo Hospitals
10 Jul,2017
Get the best of health related stories delivered to your inbox.
Apollo Multispeciality Hospitals Limited, which is a 100% subsidiary of Apollo Hospitals Enterprise Ltd. has acquired...
Date: 28 Sep,2023
Apollo Hospitals has launched India's first Comprehensive Connected Care programme; powered by Apollo's Connected Car...
Date: 06 Sep,2023
Apollo Hospitals has expanded partnership with Google Cloud to put healthcare in the hands of every Indian with Apoll...
Date: 05 Sep,2023