Apollo Hospitals has launched the Healthy Heart Program, India's first Heart disease prevention and reversal Program.
Posted by Apollo Hospitals | 26 Sep,2017
Ahead of World Heart Day, observed on September 29, Apollo Hospitals has launched the Healthy Heart Program, which is tailored to help people who prone to heart diseases and patients already suffering from heart ailments, to arrest and reverse the progress of the disease.
The Healthy Heart Program is a fee-based, annual, personalised heart disease reversal program which at the enrolment stage classifies patients into high or low risk based on a physical screening encompassing 14 important health parameters. Once enrolled, the program includes continuing Healthy heart doctor consultations, four cardiologist-physician consults/year, diet & lifestyle counselling (yoga, micronutrients and meditation) and continuous monitoring by a Customer Relationship Management infrastructure throughout their treatment. The program will be applicable across 60 centres of Apollo Hospitals in India. Persons enrolling in the program are also eligible for a 15% discount for any other interventions that might be required. People undergoing angioplasty or bypass surgery at Apollo Hospitals will be automatically be enrolled into the program free of cost for a year. This is to enhance the outcome of the interventions and prevent recurrence.
Sharing his thoughts on the occasion, Dr. Prathap C. Reddy, Chairman, Apollo Hospitals said, "The demographic dividend that India enjoys is under severe threat from NCDs. Unchecked, this disease burden will take away India's best at their most productive age. Already around 20 percent of heart attacks observed across Apollo Hospitals are in the age group of 25-35 years. With these numbers, it is difficult to guarantee the heart health of young India in the future. Through this initiative, Apollo Hospitals wants to ensure that Indians get the best of counselling and treatment. We want to nurture a Healthy India with a Healthy Heart."
Ms. Sangita Reddy, Joint Managing Director, Apollo Hospitals, says, "In keeping with the spirit of the National Health Policy, the Healthy Heart Program aims at prevention through a comprehensive approach to heart health. Most patients we see today approach the hospital or consult a doctor only when they experience some serious discomfort. This program is developed to engage with patients, as well as those prone to heart disease, well in advance to ensure that they receive all-round consultation and thereby prevent / reverse the possibility of a heart attack."
Dr K Hariprasad, President, Apollo Hospitals Division said, "There is ample global evidence from eminent medical organisations and research studies that show heart disease reversal is a reality. While hospitals in the West are running such programs successfully, unfortunately no such programs existed in India prior to this. Our Healthy Heart program is devised to fill these lacunae and make evidence-based heart disease reversal accessible to common people, outside of a research setting. One of the significant elements of this program is that it makes Cardiologists available to all those who enrol at any time for queries related to heart ailments. Once the patient has enrolled in this program, the Healthy Heart team will offer its complete care and consultation round-the-clock."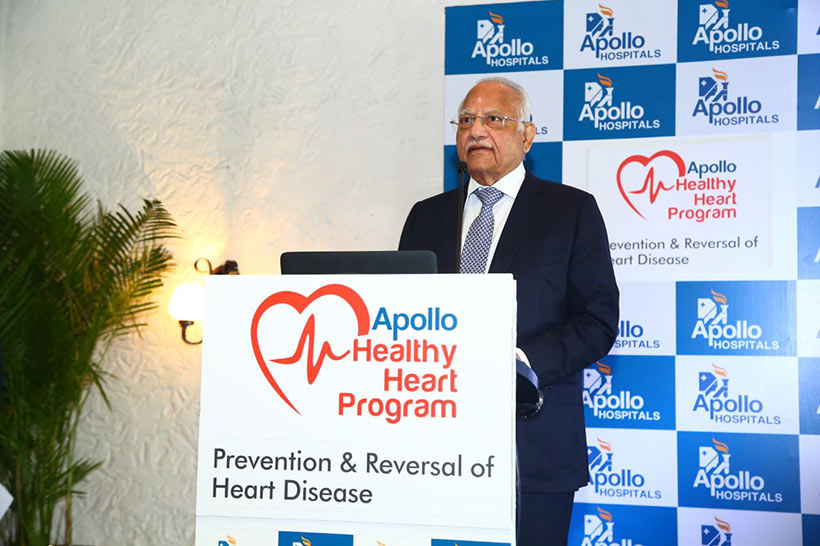 Posted by:
Apollo Hospitals
26 Sep,2017
Get the best of health related stories delivered to your inbox.
Apollo Multispeciality Hospitals Limited, which is a 100% subsidiary of Apollo Hospitals Enterprise Ltd. has acquired...
Date: 28 Sep,2023
Apollo Hospitals has launched India's first Comprehensive Connected Care programme; powered by Apollo's Connected Car...
Date: 06 Sep,2023
Apollo Hospitals has launched a Pan-India expansion of their one-of-a-kind connected care program, Apollo Connect. Wi...
Date: 05 Sep,2023