Apollo Hospitals Group has been honored with a postal stamp for successful completion of 20 million health checks and 36 years of healthcare excellence
Posted by Apollo Hospitals | 18 Feb,2019
The Apollo Hospital Group announced the formal release of a postal stamp on Preventive Healthcare by Shri Banwarilal Purohit, Hon'ble Governor of Tamil Nadu. The commemorative stamp honours and acknowledges the Chairman of Apollo Hospitals; Dr. Prathap C Reddy's pioneering efforts in encouraging preventive healthcare in India.
Shri R Anand, Postmaster General, Chennai City, Ms. Preetha Reddy, Vice Chairperson Apollo Hospitals and Ms. Suneeta Reddy, Managing Director, Apollo Hospitals attended the special occasion at the Raj Bhavan, Chennai
Over thirty-five years ago, in 1983, Dr. Prathap C Reddy had established Apollo Hospitals, India's first corporate hospital to make advanced medical care accessible to all in the nation. Since then, Apollo Hospitals' pioneered innumerable initiatives in healthcare management and amongst them, one was the launch of the 'Master Health Check', which introduced a culture of preventive healthcare into India. Cognizant of the intrinsic value of good health, Dr. Reddy has been empowering and encouraging fellow Indians to live healthy and screen regularly to diagnose disease early, particularly vital to conquer cancer.
Speaking on the occasion, the Hon'ble Governor of Tamil Nadu, Shri Banwarilal Purohit said, "Dr. Reddy and Apollo are synonymous with Healthcare excellence in the world. They excel in end to end healthcare of consumers from 140 plus countries and have many firsts including the recent launch of South East Asia's first ever Proton Cancer Care Therapy centre. Preventive Care was first pioneered in India by Dr Prathap Reddy and today I am happy to commend his dedication to Disease Prevention through this special stamp."
Ms. Preetha Reddy, Vice Chairperson of Apollo Hospitals said "Our Chairman, Dr. Prathap C Reddy's dream is to do all that is needed to ensure that everyone has good health and happiness. His life's objective has been to not just make advanced medical care accessible to patients, but also, to prevent the onset of disease. Apollo's Preventive Healthcare initiatives have been working tirelessly for almost four decades to ensure that his dream is realised. We take pride in having touched 20 million lives through our preventive healthcare endeavours. It is a very significant moment for the entire Apollo family, as a special preventive healthcare commemorative stamp is being released, in recognition of our efforts".
Shri Alok Ojha, Senior Superintendent of Post Offices, congratulated Dr. Prathap C Reddy, Founder and Chairman, Apollo Hospitals Group & his team for successful completion of 20 million health checks & delivering excellence in health services for past 36 years. Such commendable services have set a world record in Preventive Health Checks.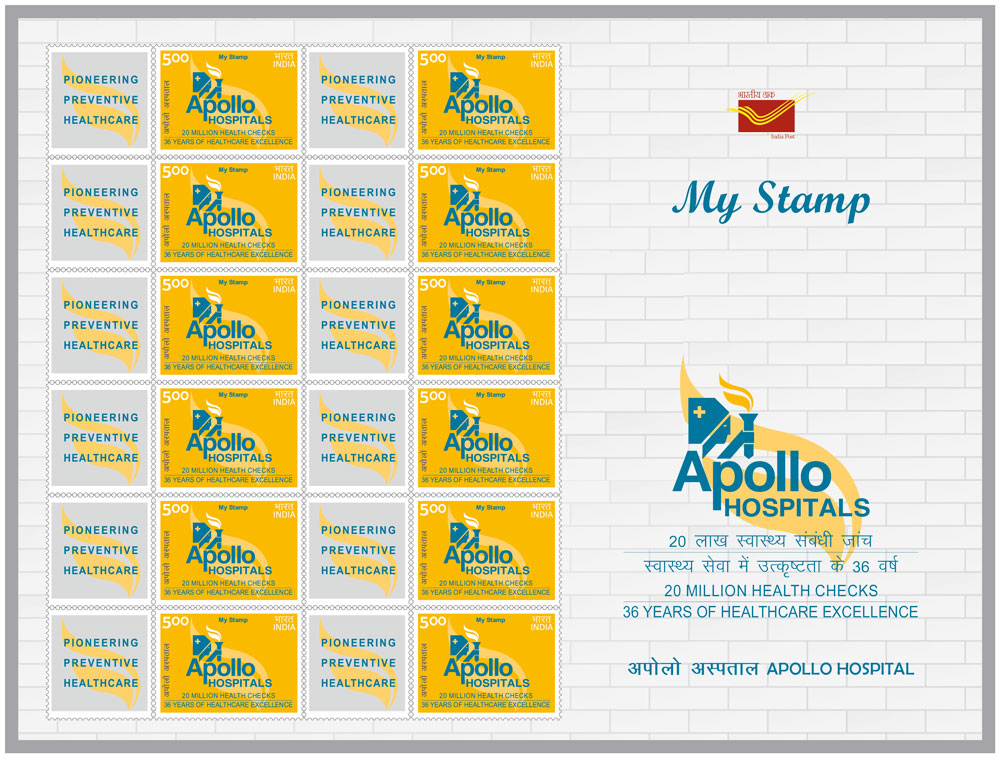 Posted by:
Apollo Hospitals
18 Feb,2019
Get the best of health related stories delivered to your inbox.
Apollo Hospitals Group has launched its indigenously developed automated, rapid-response patient monitoring system. T...
Date: 02 Nov,2022
Apollo Hospitals Group is to set-up a state-of-the-art tertiary care hospital in partnership with Balmer Healthcare, ...
Date: 05 Sep,2022
A Memorandum of Understanding (MoU) has been signed between Apollo Hospitals Group and Eclipse Group, Africa, to esta...
Date: 05 Sep,2022