Apollo Hospitals Group and MCO have partnered for an academic collaboration to conduct a series of health awareness initiatives in UAE
Posted by Apollo Hospitals | 27 Jul,2017
Apollo Hospitals Group announced its exclusive representation in GCC states through its arm, Apollo Middle East consultancy (FZC), registered through Sharjah Free zone. This was announced during a seminar organized by Medetarian Conferences Organizing (MCO) & Apollo Hospitals Group on 28th of July 2017 held at Abu Dhabi. The collaboration will have awareness programs, online second medical opinion service and a SCOLIOSIS awareness helpline number provided by HSMC Clinic (Clinic partner of MCO) in association with Apollo's Institute of Spine Surgery.
Speaking at the occasion, Dr Abu El Khair, CEO of MCO & HSMC Clinic said "We are privileged to have Afro-Asia's largest healthcare provider with us and this is the first of its kind initiative in the region.. In today's world of ever increasing disease burden, such collaboration will help and this way we intend to connect the medical fraternity of UAE & India.
Dr K Hariprasad, Group President-Hospital Division led the Apollo delegation. Speaking at the event, he stated "At Apollo, we believe that healthcare is a shared responsibility and we have been privileged to offer the best of healthcare at affordable prices to the people of this region for over 3 decades. We are delighted to have this health alliance and we would enhance our reach through the Apollo Middle East Consultancy in UAE."
The event was followed by a medical seminar on robotics in spine surgery, common intracranial disorders and recent advances in neurosurgery, infections in arthroplasty treatment, current management in pediatric bone disorders and management of pediatric cerebral palsy.
The Apollo Delegation had Chief Spine Surgeon, Dr. Sajan K Hegde, Senior Consultant Orthopedic Surgeon, Dr. KJ Reddy, Senior Consultant Pediatric Orthopedic Surgeon, Dr. R Sankar and Senior. Consultant Neurosurgeon, Dr. Rahul Lath, Mr. Jithu Jose, Business Head-Middle East & Ms. Shubhra Singhal, Partner – Apollo Middle East Consultancy.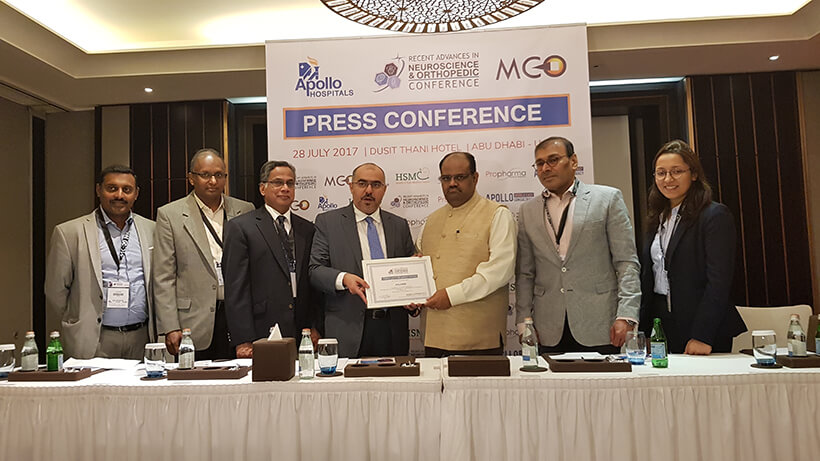 Posted by:
Apollo Hospitals
27 Jul,2017
Get the best of health related stories delivered to your inbox.
Apollo Multispeciality Hospitals Limited, which is a 100% subsidiary of Apollo Hospitals Enterprise Ltd. has acquired...
Date: 28 Sep,2023
Apollo Hospitals has launched India's first Comprehensive Connected Care programme; powered by Apollo's Connected Car...
Date: 06 Sep,2023
Apollo Hospitals has launched a Pan-India expansion of their one-of-a-kind connected care program, Apollo Connect. Wi...
Date: 05 Sep,2023