Apollo Hospitals, Chennai successfully performed a MitraClip procedure on a 41-year-old man who waited for 91 days for a heart transplant.
Posted by Apollo Hospitals | 04 Aug,2021
Apollo Hospitals, has successfully conducted MitraClip implant surgery on a 41-year-old male farmer who had waited for over three months in other hospitals for a heart transplant. The patient was back on his feet within a few days after the procedure, and might not even need a heart transplantation.
Dr. Sai Satish, Senior Interventional Cardiologist, Apollo Hospitals, Chennai said, The MitraClip is a small metal clip with a polyester fabric that is inserted in place to fix the leaky mitral valve, thereby ensuring that the blood flow is in the right direction. It is a globally accepted procedure for patients with heart failure. Patients with moderate to severe or severe primary and secondary mitral regurgitation who are not improving on medical treatment can opt for this minimally invasive solution that offers them a vastly improved quality of life and health.
Read more about the life-saving procedure performed at Apollo Hospitals, Chennai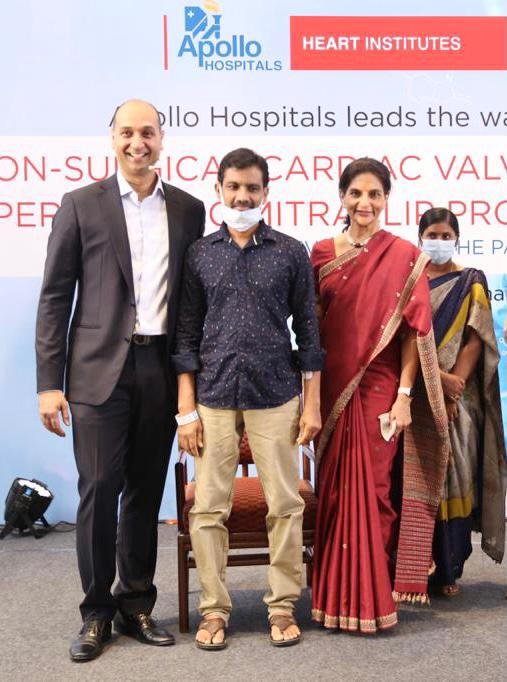 Posted by:
Apollo Hospitals
04 Aug,2021
Get the best of health related stories delivered to your inbox.
Apollo Proton Cancer Centre has successfully performed Asia's first brain bypass surgery on twin 8-year-old children ...
Date: 05 Dec,2022
With a focus on innovating new techniques for the treatment of rare cancer cases, Apollo Cancer Centre, Bangalore, ha...
Date: 05 Dec,2022
A 64-year-old gentleman from Fiji recently Robot-Assisted Total Arterial Bypass Surgery for Triple Vessel Coronary Ar...
Date: 16 Nov,2022