Apollo Hospitals Chennai has successfully performed novel interventional procedures to save four patients with Atrial Fibrillation.
Posted by Apollo Hospitals | 13 Sep,2022
Apollo Hospitals, Chennai has introduced Cryo Balloon Ablation technology, that offers a solution to a complex and common cardiac rhythm disorder called Atrial Fibrillation. Apollo Hospitals Chennai has successfully performed the first Cryo Balloon Ablation in Chennai on a 64-year-old female patient. As a first in India, the hospital also implanted a Left Atrial Appendage Closure (LAAC) Device on a 52-year-old female patient following Cryo Balloon Ablation.
Interventional Cardiologists and Electrophysiologists from Apollo Hospitals have performed minimally invasive procedures on four patients with atrial fibrillation, using the novel Cryo Balloon Ablation technology, and in one patient, a Left Artial Appendage Closure device was also done.
Dr AM Karthigesan, Senior Consultant Cardiologist and Electrophysiologist at the Apollo Hospitals, Chennai said, "Cryo balloon Ablation for AF is a new interventional procedure that is employed to control heart rhythms that are caused by abnormal electrical signals travelling from the pulmonary veins to the atria."
Read more about Cryo Balloon Ablation technology that saved 4 lives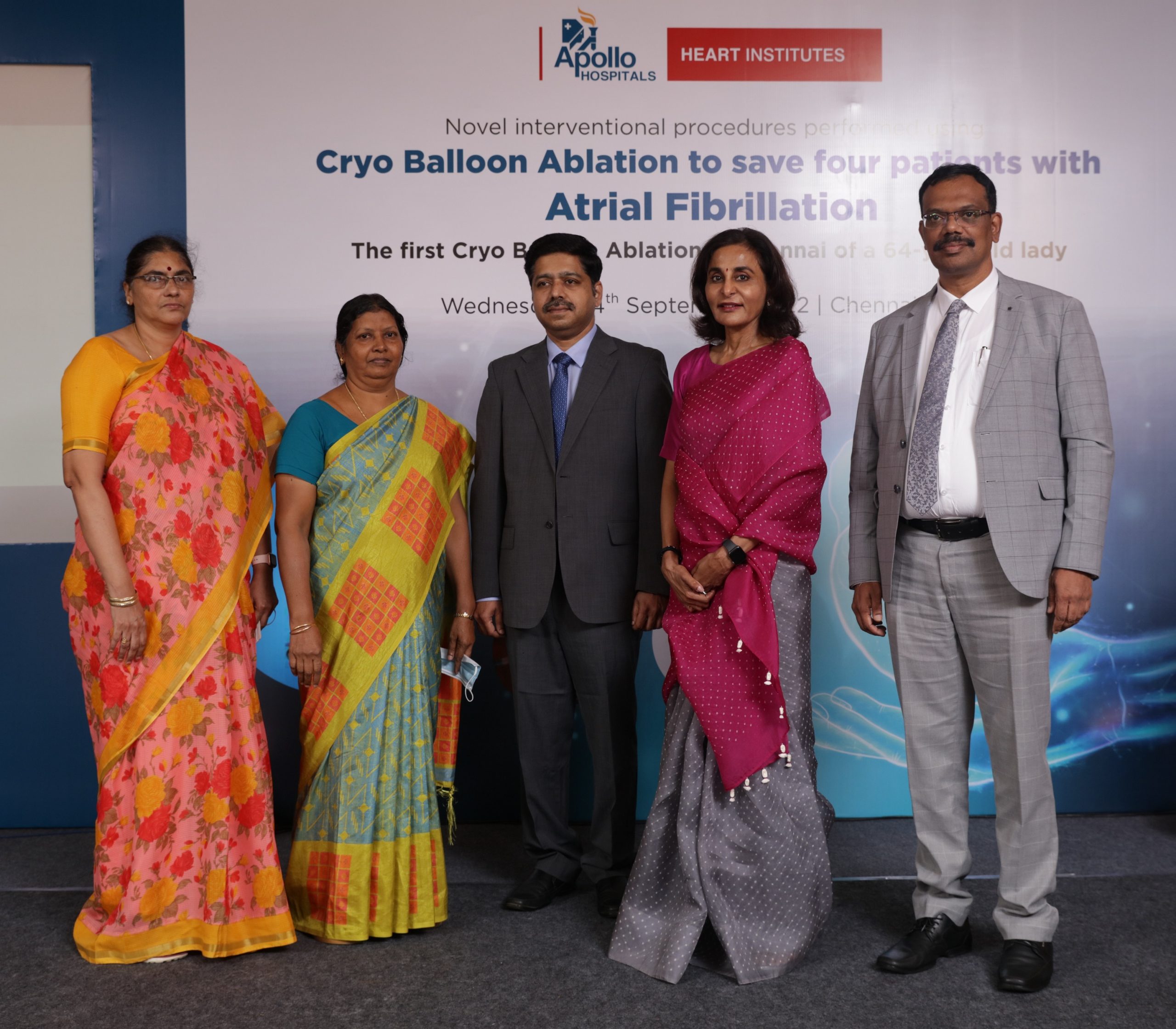 Posted by:
Apollo Hospitals
13 Sep,2022
Get the best of health related stories delivered to your inbox.
In an effort to uphold standards of clinical excellence and elevate standards of care for those with cardiological co...
Date: 06 Nov,2023
In a remarkable medical achievement, Apollo Hospitals Ahmedabad has successfully performed a liver transplant on a 7-...
Date: 16 Oct,2023
Apollo Hospitals is the largest Cardiac care program in India and one of the leading cardiac programs in the world in...
Date: 28 Sep,2023