Apollo Hospitals, Chennai has successfully performed an Arthroscopic Discoid Menicus Saucerization and Repair on a 7-year-old girl using the keyhole technique.
Posted by Apollo Hospitals | 09 Dec,2020
Apollo Hospitals, Chennai has performed yet another innovative procedure that transformed a girl child's life. Dr. Vijay Kishore Reddy and team successfully completed a corrective procedure on a 7-year-old girl who was affected by Discoid lateral meniscal tear, an abnormal condition in children. She had difficulty in sitting down, climbing stairs and playing for the past several months due to severe pain in the knee. She was unable to carry on her day-to-day activities. Recognising the sudden changes in their daughter's walking condition, the worried parents brought her to Apollo Hospitals, Chennai from Guwahati.
Read more about how the doctor at Apollo Hospitals, Chennai treated a child with a rare condition.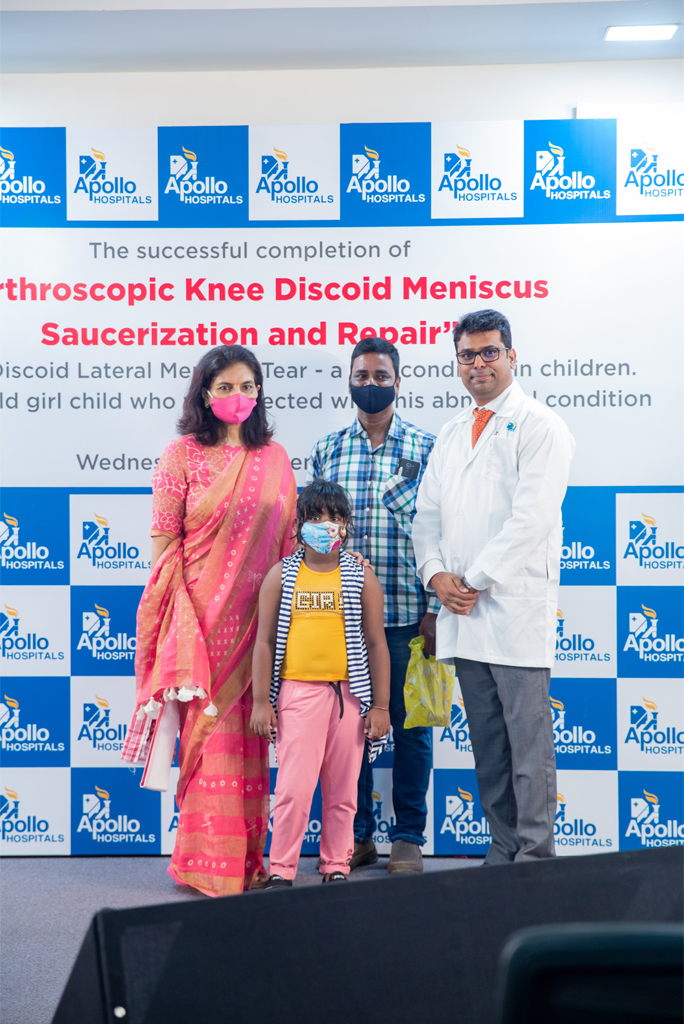 Posted by:
Apollo Hospitals
09 Dec,2020
Get the best of health related stories delivered to your inbox.
A 64-year-old gentleman from Fiji recently Robot-Assisted Total Arterial Bypass Surgery for Triple Vessel Coronary Ar...
Date: 16 Nov,2022
A 60-year-old man, citizen of Nigeria, successfully underwent a high risk and rare surgery for total femur replacemen...
Date: 16 Nov,2022
Apollo Hospitals, Seshadripuram, Bangalore has introduced India's very first Moses 2.0 Laser, an advanced and novel l...
Date: 14 Nov,2022