Apollo Hospitals, Bengaluru performed a Complex Neurointerventional procedure giving a new lease of life to a brain aneurysm patient
Posted by Apollo Hospitals | 06 Jul,2017
A vague symptom of numbness turned out to be a rare case of complex brain aneurysm (a localized, blood-filled balloon-like bulge in the wall of a blood vessel) for 56-year-old Shylaja, a Vijaynagar resident. Feeling sudden weakness and numbness on the left side of her body, she rushed to a neurologist last month, who diagnosed her with brain aneurysm. In her case, of the four arteries pumping blood and glucose from the heart to the brain, two major arteries were blocked and the remaining two which come together to form one artery had worn out due to overburdening.
Although she required an urgent surgery wherein doctors could place a flow diverter (stent) in the artery, they realised it was a risky procedure. Besides, the patient could not afford the expensive stent. Luckily for her, the 2nd annual Congress of the Society of Neuro Vascular Interventions had started in city around the same time. Doctors in Apollo Hospitals, Seshadripuram, who had diagnosed her case discussed it with interventional neuroradiologists at the conference. Help came from Professor Hans Henkes, noted neuroradiologist from Germany, who offered to donate the flow diverters for her. On June 17, the last day of the three-day conference, Apollo doctors – consultant neurologist Dr. J B Agadi, neurosurgeon Dr. Ravi Mohan Rao and interventional neuroradiologist Dr. Sharath Kumar G.G. along with Dr. Henkes performed a 7-hour procedure through a keyhole surgery on her thigh (similar to an angiogram) and successfully treated her by implanting the flow diverters.
Dr. Sharath Kumar said that the case was extremely rare as she had complex brain blood vessel disease. With two major arteries blocked and the remaining two which come together to form one vessel also diseased, the challenge was to treat the diseased vessel. "Even a minor mistake during the surgery due to technical or procedure related complications would be fatal for the patient. If left untreated, multiple aneurysms would burst and kill the patient as well," he said.
Most brain aneurysms cause no symptoms and may only be discovered during tests. An unruptured aneurysm will cause problems by pressing on areas in the brain. When this happens, the person may suffer from severe headaches, blurred vision, changes in speech, and neck pain, depending on what areas of the brain are affected and how bad the aneurysm is. Symptoms of a ruptured brain aneurysm often develop suddenly, the doctor said. The patient has been discharged and is doing fine now.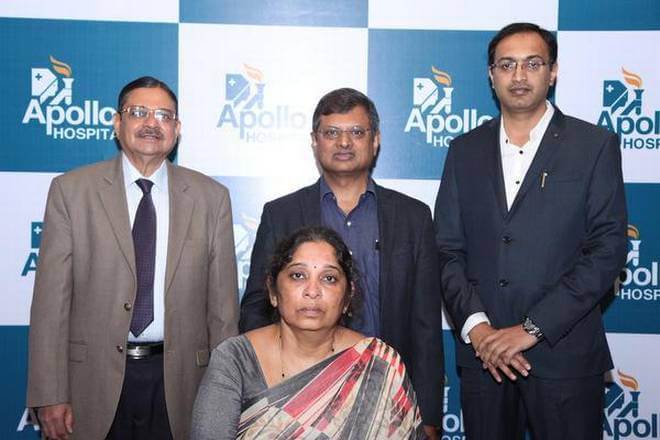 Posted by:
Apollo Hospitals
06 Jul,2017
Get the best of health related stories delivered to your inbox.
Apollo Proton Cancer Centre has successfully performed Asia's first brain bypass surgery on twin 8-year-old children ...
Date: 05 Dec,2022
With a focus on innovating new techniques for the treatment of rare cancer cases, Apollo Cancer Centre, Bangalore, ha...
Date: 05 Dec,2022
A 64-year-old gentleman from Fiji recently Robot-Assisted Total Arterial Bypass Surgery for Triple Vessel Coronary Ar...
Date: 16 Nov,2022