Apollo Hospitals, Bangalore has introduced Robotic Assisted Joint Replacement Program.
Posted by Apollo Hospitals | 23 Nov,2020
Apollo Hospitals, Bangalore, has launched first-of-its-kind knee replacement program, offering specialized partial and total knee replacement care with the use of advanced robotic technology, The Navio Surgical System. The Robotic system has an advanced computed program which relays precise information about the knee with 3D mapping. The use of next generation robotics with smaller incision will result in less pain and lesser blood loss. Precision in bone cutting and better position of implant with alignment gives a near normal knee motion for both total and partial knee replacement.
The program which comes as a package designed for the new normal due to the COVID pandemic, which comprises of home diagnostic tests / assessments, Apollo 24*7 app consultations, and post-surgical home care made available for the patients.
Dr. Prathap C Reddy, Founder and Chairman, Apollo Hospitals Group said, "Osteoarthritis is a rising health concern in India, with a prevalence rate between 22 – 39%. To overcome pain and limitations in mobility of such patients, Joint Replacement is the solution. The outcome of surgeries can be improved by leveraging technology. Today, robotic technology has come a long way, helping perform some of the most complicated surgeries with precision, and Apollo Hospitals has always been at the forefront of using technology in healthcare".
Dr. Sangita Reddy, Joint Managing Director, Apollo Hospitals Group said, "Our vision has always been to bring the most advanced medical technology to India to benefit our patients. We are continuing on this path with the launch of the knee replacement program, assisted by robotic technology. At Apollo Hospitals, the patient is at the center of all our efforts in providing accessible and affordable world-class treatment, and the introduction of the NAVIO surgical system is in furtherance of this objective".
Dr. Sanjay Pai, Senior Consultant, Orthopaedic Surgeon, Apollo Specialty Hospitals at Jayanagar, Bangalore commented, "Today, we need to accept the reality that COVID-19 is here to stay, hence we have developed the robotic assisted total and partial knee replacement programme. The NAVIO surgical system is highly reliable and used in over 500 centers worldwide. One of the major advantages of using robotic technology for total or partial knee replacement surgery is that smaller incisions imply lesser pain and also quick recovery which is definitely the need of the hour in Ortho care. The idea here is to ensure that the patients recover quickly and return to normalcy. Recovery is rapid, with lesser hospitalization, faster mobilization and rehabilitation. Our team of trained nursing professionals will ensure complete care and closed monitoring in the comfort of the patient's home."
Mr. Davison P K, Chief Executive Officer, Apollo Hospitals Karnataka region commented, "The comprehensive knee replacement program we have designed, will now be accessible to patients, especially at times where most of them hesitate to come to the hospital, given the fear of COVID-19. At Apollo, while ensuring absolute safety measures for our patients, we also want to provide care and comfort."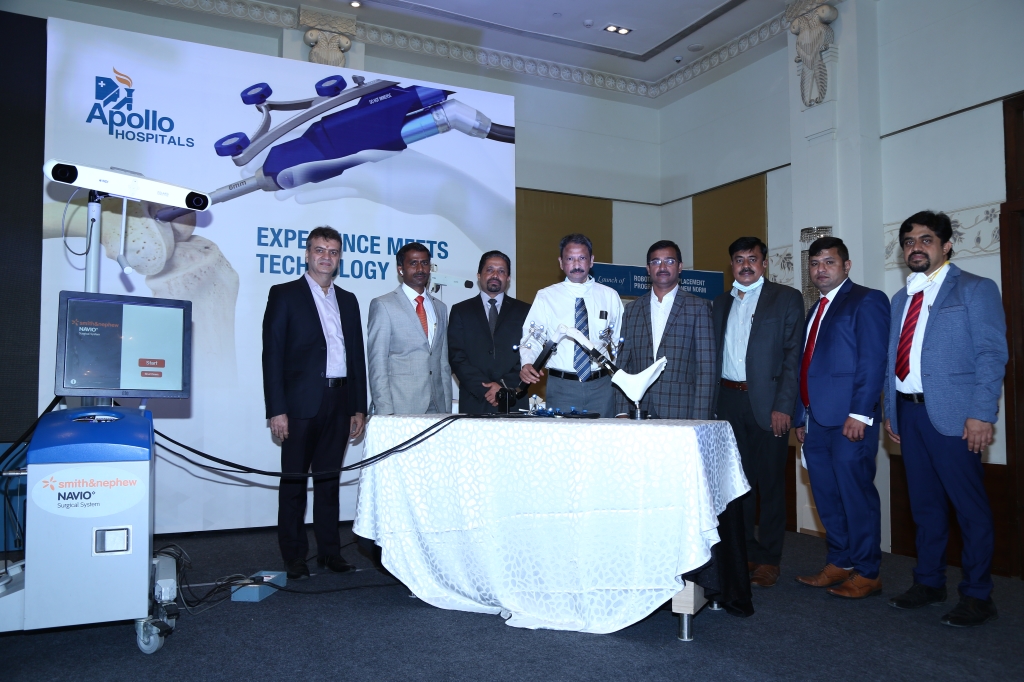 Posted by:
Apollo Hospitals
23 Nov,2020
Get the best of health related stories delivered to your inbox.
Commemorating World Thalassemia Month, Apollo Cancer Centre, Chennai, in association with the Tamil Nadu Government, ...
Date: 05 Jun,2023
Apollo Hospitals, Navi Mumbai has performed 40 successful Bone Marrow Transplants (BMT) with good outcomes in both ad...
Date: 05 Jun,2023
Apollo Hospitals, Chennai, has successfully performed a robotic head-and-neck surgery on a 49-year-old female patient...
Date: 22 May,2023