Apollo Gleneagles Hospitals, Kolkata, launched the back pain clinic to address the health challenges linked with sedentary lifestyle
Posted by Apollo Hospitals | 19 Jul,2016
Apollo Gleneagles Hospitals, Kolkata, is the acknowledged leader in the provision of state-of-the-art medical services in Eastern India. The pioneer of several cutting-edge treatment and care options, the hospital is happy to announce the launch of the Back Pain Clinic – organized especially to address the health challenges associated with a progressively sedentary lifestyle.
With the emergence of an increasingly deskbound daily routine, bereft of regular physical activity and exercises, back pain has assumed almost epidemic proportions in the country. Incorrect posture, excess body weight, improper lifting and a range of diseases and psychological conditions are some of the common causes behind this common complaint, known to affect about 80 per cent of all adults at some point their lifetime. A proper evaluation and diagnosis of the underlying cause, followed by medications, physical therapy and in some case, surgery, therefore constitutes an effective treatment regimen for back aches.
The Back Pain Clinic at Apollo Gleneagles Hospitals, Kolkata, brings together a well-trained and experienced team of multidisciplinary specialists under one roof. Staffed by expert care givers and supported by capable personnel and world-class facilities, the clinic delivers and ensures the best outcomes for patients and their families.
Speaking on the occasion, Dr Rupali Basu, President and CEO ER, Apollo Hospitals Group, India, observed, "At Apollo Gleneagles Hospitals, Kolkata, we are committed towards ensuring the health of the nation. With the number of those suffering from different types of back pain registering an exceptional growth in recent times, our specialized clinic is a positive step in the right direction. We will continue to deliver on more such initiatives, which will only help us transform the entire healthcare paradigm of the country."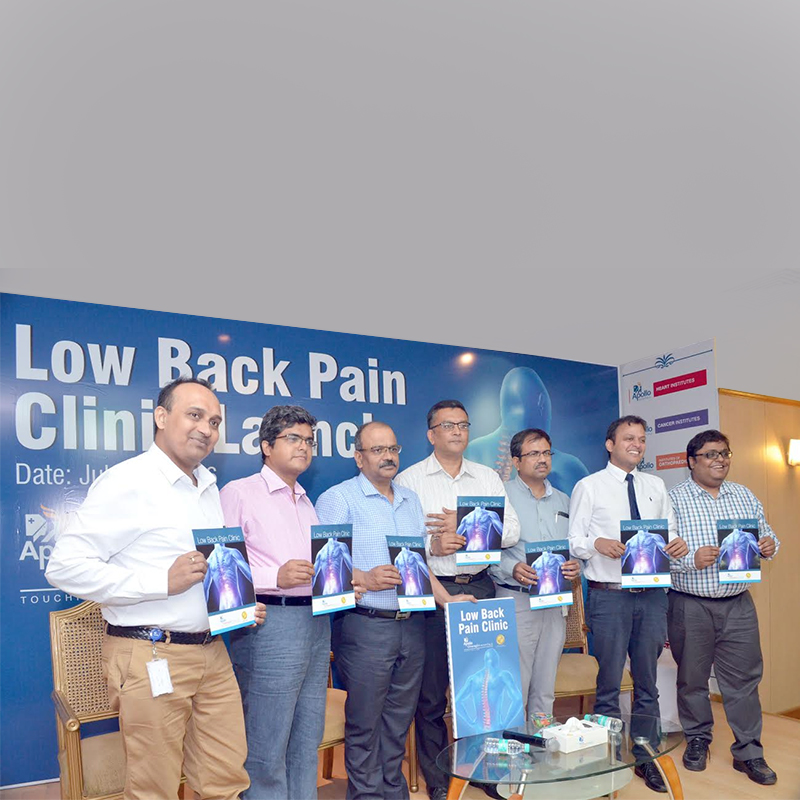 Posted by:
Apollo Hospitals
19 Jul,2016
Get the best of health related stories delivered to your inbox.
Apollo Multispeciality Hospitals Limited, which is a 100% subsidiary of Apollo Hospitals Enterprise Ltd. has acquired...
Date: 28 Sep,2023
Apollo Hospitals has launched India's first Comprehensive Connected Care programme; powered by Apollo's Connected Car...
Date: 06 Sep,2023
Apollo Hospitals has expanded partnership with Google Cloud to put healthcare in the hands of every Indian with Apoll...
Date: 05 Sep,2023