Apollo Gleneagles Hospitals, Kolkata has announced the introduction of Left Atrial Appendage Closure Device
Posted by Apollo Hospitals | 10 Jan,2017
The minute Cardiac plug comes as a boon for patients of atrial fibrillation (irregular heartbeat), who would otherwise have to depend on a regime of blood-thinning medications which come associated with a heightened probability of internal bleeding or major surgery. Dr Raja Nag, Cardiologist, Apollo Gleneagles Hospitals, Kolkata, and his team recently undertook a successful implantation of the device on a recipient from Bangladesh.
Mr Sushil Kumar Dey, the 64 year old recipient from Bangladesh, had presented with complaints of atrial fibrillation about six months ago. A diabetic with complaints of hypertension and obesity, he was advised a course of anti-coagulants (blood-thinners) as a preventive measure against stroke, as a complaint of atrial fibrillation heightened a risk of clot formation, enhancing the probability of a stroke.
However, after a couple of months, he had fresh blood in his stool, indicating internal bleeding. As a result, the anti-coagulant medications had to be stopped. This cessation of medications however, did not signal an end to his problems, and he suffered a stroke about a month ago. The only option available, therefore, was to undergo the implantation of a management device in the left atrial appendage, i.e., the area of the heart from where the clots arise.
The team, under Dr Nag, decided to undertake the implantation of the cardiac plug, and the procedure was undertaken in the Hospital's Digital Catheterization Laboratory on January 06, 2017. The operation, which took less than half an hour, involved the deployment of the device by a catheter inserted through the groin, a process similar to that of an angioplasty. The patient is healthy and is doing well post-deployment of the device. Dr Nag said, "We are happy at the outcomes, and are confident of the continued health and wellbeing of the recipient. This new device represents a key advancement in a cardiologist's armamentarium, and holds out new hope for all patients of atrial fibrillation, including the old and the infirm, who, for a multitude of reasons, may not be amenable to traditional medications or surgical intervention."
Professor (Dr) Rabin Chakraborty, Regional Director and Head, Apollo Gleneagles Heart Institutes, Kolkata, noted, "Our team, led by experienced cardiologists with exposure to some of the best facilities in the world, is well equipped to handle all heart-related emergencies and complex coronary interventions round-the-clock. With three world-class cardiac catheterization labs, electrophysiology and ICD-implantation capabilities, heart-rhythm management facilities, device therapy setup, and state-of-the-art technologies like OCT and IVUS – our team delivers a care regimen that is comparable with the leading global institutions for cardiac care. A strict adherence to international guidelines and standards has helped us deliver better outcomes for our patients – a significant step that has received acknowledgement from the American College of Cardiology, which has recognized us as the first International Centre of Excellence in India."
Speaking on the occasion, Dr Rupali Basu, President and CEO ER, Apollo Hospitals Group, India, observed, "Cardiovascular ailments account for about one in every four deaths in India. In recent years, the scenario has deteriorated to a point where we are faced with a near epidemic of cardiac complaints – complaints that pose a significant challenge to the overall health and wellbeing of the nation. As the leaders of state-of-the-art healthcare in the region, we are happy at this innovative step undertaken by our team of cardiologists, and are confident of introducing more such advancements that help transform the cardiac care paradigm over the coming days. We will continue to enhance and expand our bouquet of services, and lead from the front in the introduction of life-saving innovations that have a major impact on the life and wellbeing of our patients."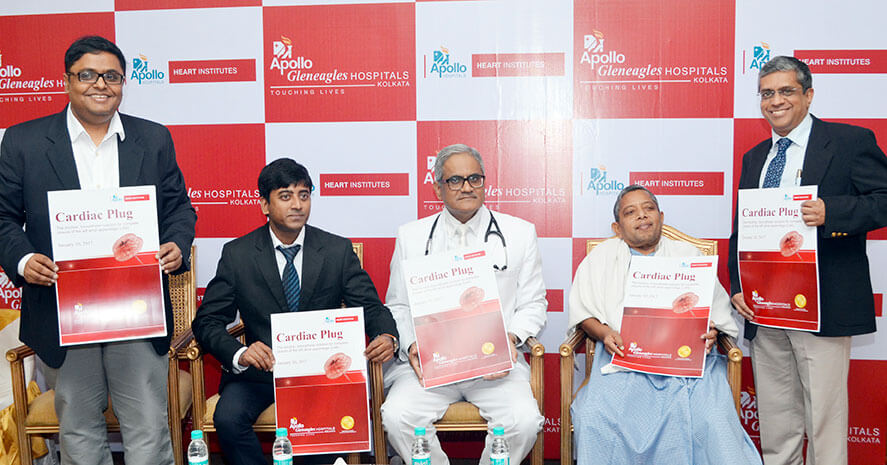 Posted by:
Apollo Hospitals
10 Jan,2017
Get the best of health related stories delivered to your inbox.
Apollo Proton Cancer Centre has successfully performed Asia's first brain bypass surgery on twin 8-year-old children ...
Date: 05 Dec,2022
With a focus on innovating new techniques for the treatment of rare cancer cases, Apollo Cancer Centre, Bangalore, ha...
Date: 05 Dec,2022
A 64-year-old gentleman from Fiji recently Robot-Assisted Total Arterial Bypass Surgery for Triple Vessel Coronary Ar...
Date: 16 Nov,2022