Apollo celebrates the power of Yoga across 55 hospitals on International Yoga Day!
Posted by Apollo Hospitals | 21 Jun,2015
International Yoga day was celebrated across all our 55 hospitals, with over 2500 employees participating in a special Yoga session. "Yoga is a wonderful health system given to us by our gurus and we in India need to appreciate Yoga and the benefits it gives us in keeping ourselves healthy in mind and body", said Chairman Dr. Prathap C Reddy. International Yoga Day is a clear indication of the acceptance of Yoga across the globe. We hope this is will inspire you to add Yoga to your daily routine. Go ahead, get fit and flexible the Yogic way!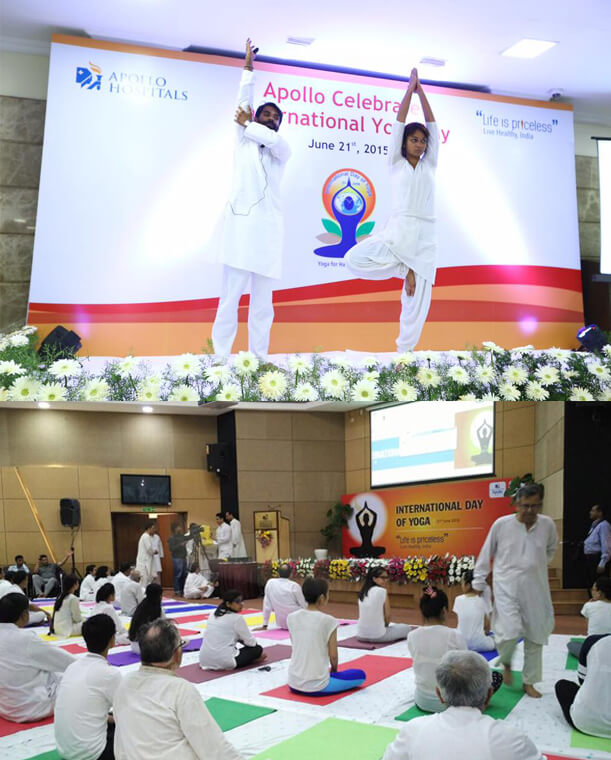 Posted by:
Apollo Hospitals
21 Jun,2015
Get the best of health related stories delivered to your inbox.
Apollo Hospitals organized the 9th Edition of the International Patient Safety Conference (IPSC) and the 10th Interna...
Date: 22 Feb,2023
Management of Aortic Aneurysm & Dissection Surgery Conclave 2022 was organized by Apollo Hospitals in Chennai. The co...
Date: 02 Nov,2022
Apollo Proton Cancer Centre (APCC) conducted its 2nd Apollo Annual Proton Practicum from May 20-22, 2022. Over 700 pa...
Date: 04 Jun,2022