Apollo Adlux Hospitals, Kochi has launched Da Vinci Xi, the 4th generation robotic-assisted surgery system.
Posted by Apollo Hospitals | 03 Aug,2023
Dr. R. Bindu, Minister of Higher Education and Social Justice, Government of Kerala inaugurated the installation of the 4th generation robotic-assisted system (RAS), Da Vinci Xi at Apollo Adlux Hospitals in Kochi. The hospital chain has expanded their RAS network, further yielding better clinical outcomes from their existing robotic-assisted surgery units across the country.
While speaking at the launch event, Dr. R Bindu, Minister of Higher Education, Government of Kerala, said, "I am honoured to inaugurate the installation of one of the most advanced robotic-assisted surgery systems, Da Vinci Xi at Apollo Adlux Hospitals. This ground-breaking technology marks a significant milestone in healthcare advancements, bringing unparalleled precision and safety to surgical procedures. By embracing innovation, Kerala once again proved its commitment to enhancing the quality of healthcare and ensuring our patients receive the best possible outcomes. This remarkable achievement underscores Apollo Adlux's dedication to fostering cutting-edge research and transformative technologies in the field of surgery."
Robotic-assisted surgery is a minimally invasive procedure that helps patients return to their everyday life much faster. The Da Vinci technology, known for its better patient outcomes, is also associated with lesser pain, less blood loss, shorter hospital stays, and even minimal post-operative complications in certain cases. In addition to that, Da Vinci brings across some innovative features including voice and laser guidance systems, a lightweight endoscope, and the same control console and 3D optics system that lets surgeons see into the patients as they operate the device. This system employs tiny instruments that mimic the movements of a human hand but with a wider range of motion. Surgeons benefit from the system's built-in tremor-filtration technology, which enables precise, smooth maneuvering of each instrument. These benefits go a long way in enabling the surgeon and care teams in providing life-enhancing care for their patients.
"We are proud to introduce the revolutionary Da Vinci Xi robotic system at Apollo Adlux Hospitals. This remarkable technology represents a new era in surgical excellence, empowering our highly skilled team of surgeons to perform complex procedures with unprecedented precision and control. With its advanced capabilities and enhanced visualization, the Da Vinci Xi will elevate the standards of patient care, enabling faster recovery times, reduced complications, and improved surgical outcomes. We are excited about the tremendous impact this state-of-the-art robotic system will have in transforming the future of surgery." – Mr. Sudheesan Puzhekadavil, MD, Apollo Adlux Hospitals.
This installation will help get better clinical outcomes across multiple surgeries that are performed at the Departments of Gynaecology, Surgical Gastroenterology and Urology. Over 90% of patients can return home on the same day of surgery, ensuring a swift recovery period.
"We are thrilled to launch one of the most advanced RAS systems, Da Vinci Xi by US based Intuitive, at Apollo Adlux Hospitals, Kochi. This 4th generation system empowers surgeons with enhanced accuracy and control. This cutting-edge technology will revolutionize our surgical procedures, ensuring unparalleled precision, safety, and exceptional outcomes for our valued patients. We are committed to providing the highest quality healthcare, and this remarkable addition further solidifies our dedication to innovation and excellence in medical care", says Mr. Sudarshan B, CEO of Apollo Adlux Hospitals.
While talking at the launch event, Dr. Elizabeth Jacob, Senior Consultant & HOD, Obstetrics and Gynaecology, and Dr. Urmila Soman, Senior Consultant, Minimally Invasive Gynaecology and Robotic Surgery at Apollo Adlux Hospitals said, "When we do gynaecological procedures like partial or radical hysterectomies through open surgery, we need to make large incisions, which increases the risk of surgical site infections. However, with robotic-assisted surgery, we just need to make small incisions which helps reduce the threat of surgical site infections in these procedures and prevent other infections during the patient's recovery." Dr. P Roy John, Senior Consultant & HOD, Urology at Apollo Adlux, said, "Robotic-assisted urology surgeries help the patient to return to their normal life in just a few days. With other forms of surgeries, it takes the patient around 6-8 weeks to recover, which increases hospital stay and costs to the patient." Dr. Manoj Ayyapath, Senior Consultant & HOD, Surgical Gastroenterology, and Dr. Kartik Kulshrestha, Consultant, Surgical Gastroenterology at Apollo Adlux Hospitals, together pointed out the significant impact of RAS in the field of gastroenterology, saying, "Treating GI cancers are much simpler with robotic-assisted surgery systems as these systems help with a magnified vision and easier movements, which helps preserve and improve lymph node yield and reduce nerve palsy rate."
Currently, the hospital provides RAS procedures such as TLH+BSO, Lap Pectopexy, and Lap Myomectomy in Gynaecology. Surgical Gastroenterology offers Lap Hemicolectomy, APR, LAR, Hepatectomy, Lap Cholecystectomy, Radical Cholecystectomy, TAPP, TEPP, Lap Fundoplication, Lap Inguinal Hernia Repair, Lap Umbilical Hernia Repair, and Whipple Procedure. Urology procedures include Lap Nephrectomy, Lap Adrenalectomy, Lap Prostatectomy, and Partial Nephrectomy.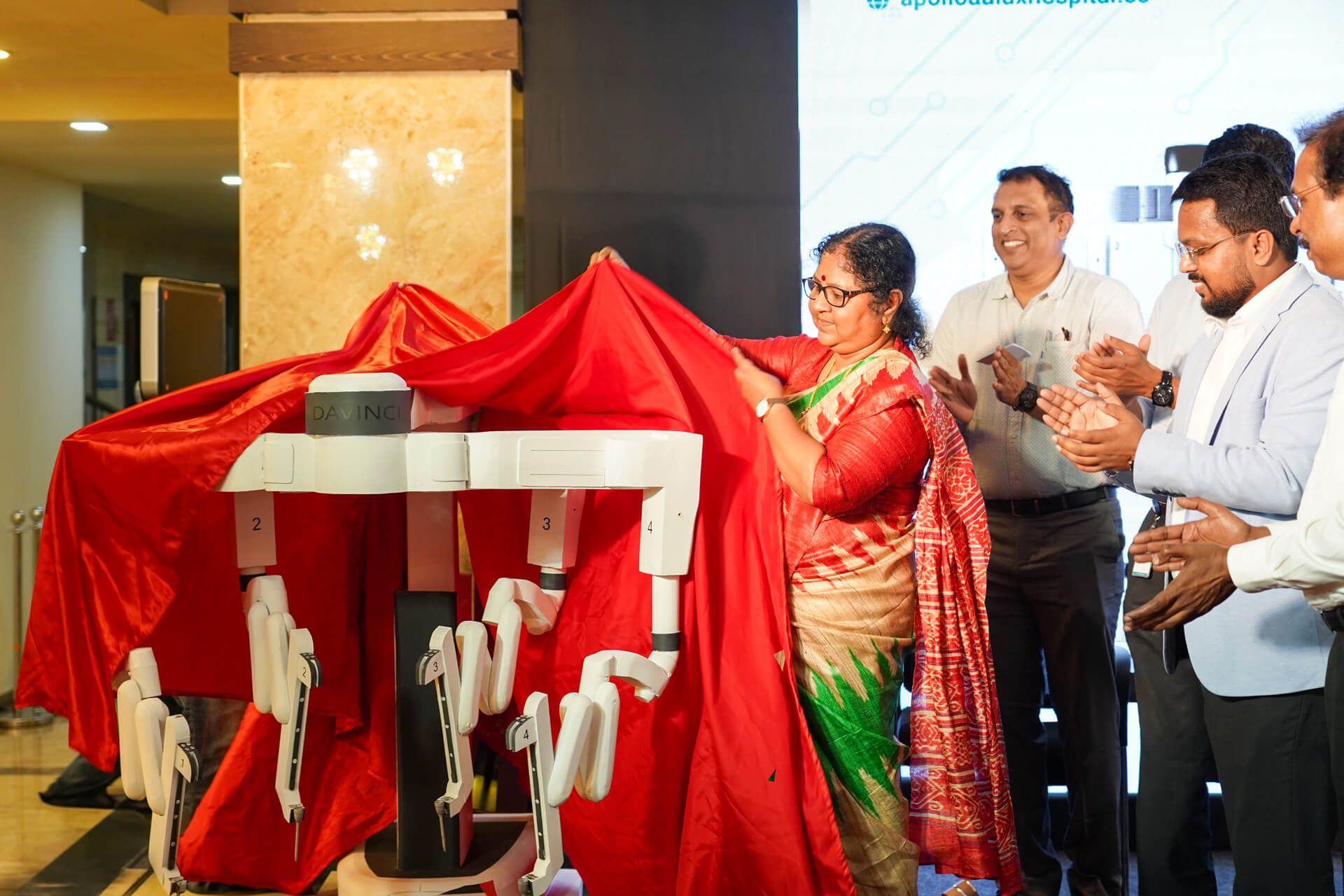 Posted by:
Apollo Hospitals
03 Aug,2023
Get the best of health related stories delivered to your inbox.
Apollo Multispeciality Hospitals Limited, which is a 100% subsidiary of Apollo Hospitals Enterprise Ltd. has acquired...
Date: 28 Sep,2023
Apollo Hospitals has launched India's first Comprehensive Connected Care programme; powered by Apollo's Connected Car...
Date: 06 Sep,2023
Apollo Hospitals has launched a Pan-India expansion of their one-of-a-kind connected care program, Apollo Connect. Wi...
Date: 05 Sep,2023