A baby from Vizag suffering from Biliary Atresia since birth treated at Indraprasatha Apollo Hospitals, Delhi leads a normal life today
Posted by Apollo Hospitals | 10 Apr,2017
Baby Bhavishya of Visakhapatnam who was diagnosed with Biliary Atresia 2 months after birth, underwent a liver transplant at Indraprastha Apollo Hospital, Delhi in 2009. Today she is going to school and leading a normal life said Apollo Hospitals Group Medical Director, Dr. Anupam Sibal.
Baby Bhavishya had developed jaundice soon after birth and in the second month after birth, she was diagnosed with biliary atresia, a rare condition seen in one in 12, 000 babies across the world. In this condition, there would be no connection between the liver and the intestine. Bile produced in the liver cannot reach the intestine and accumulates in the liver, causing liver damage and chronic liver failure. Children born with this condition require a surgery called Kasai's procedure within the first few weeks of life. Biliary drainage would be attempted by connecting the intestine to the under surface of the liver.
The success rate of this surgery varies from 30% to 60% and when it fails the only option for survival is a liver transplant. Dr. Sibal said that Bhavishya had undergone Kasai's procedure when she was 51 days old. Her jaundice however did not decrease and she developed progressive liver failure. She was referred to Apollo Hospitals, Delhi for a liver transplant and it was performed in February 2009 when she was 7 months old. Her maternal uncle was the donor and both of them recovered well.
"As many as 400 liver transplants are being performed in Apollo Hospitals across the country on an average every year. The liver donor can go home in 10 days and the patients would be discharged in a few weeks after the surgery. The donor can get back to work in a week. Liver regenerates very fast and 90% of it regenerates within 12 weeks" he said.
"Liver transplants are now also being done at the Apollo Hospital at Arivola in the city" said Dr. Sandeep Chatrath, CEO (AP & Telengana)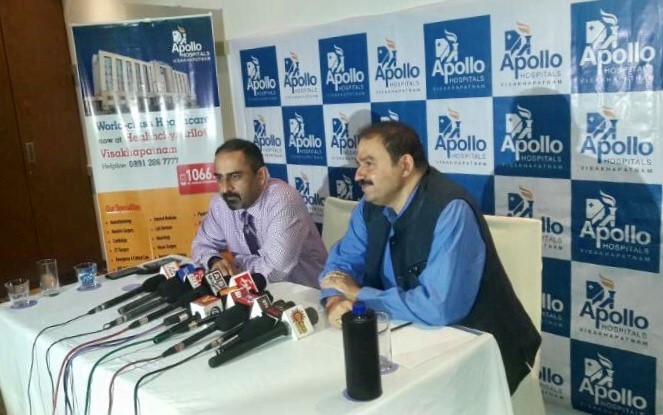 Posted by:
Apollo Hospitals
10 Apr,2017
Get the best of health related stories delivered to your inbox.
Adding another feather to its cap, Apollo Hospitals, Seshadripuram, Bangalore brings in India's very first prostate c...
Date: 23 Jan,2023
Mr. Vinod K Patel and Mr. Md Mansoor underwent successful liver transplants at Apollomedics Hospital Lucknow. Relativ...
Date: 23 Jan,2023
In a rare case of esophageal diverticulum, a 59-year-old man from Yangon, Myanmar underwent a successful robot assist...
Date: 12 Jan,2023