A 96-year-old paralysed patient successfully underwent spinal surgery at Apollo Hospitals, Navi Mumbai and was able to walk the next day.
Posted by Apollo Hospitals | 28 Jun,2022
Apollo Hospitals, Navi Mumbai, a leading tertiary care hospital, successfully performed a laminectomy with removal of the clot compressing the spinal cord on a 96-year-old paralysed female patient. She is one of the oldest people to undergo successful spine surgery. The procedure was performed over 2 hours by the team of doctors of Apollo Hospitals, Navi Mumbai. The patient could stand in an erect position the very next day of surgery.
Laminectomy is a surgery that creates space by removing the lamina — the back part of a vertebra that covers the spinal canal. This allows access to structures in and around the spinal cord. In this case, the surgery successfully removed the clot that was compressing the spinal cord.
Dr. Sunil Kutty, Consultant, Brain and Spine Surgery said, "It is extremely rare that such elderly patients are willing to undergo spinal surgery. Often, people are scared of spinal surgeries and have a perception that it would make them bed-ridden. But, here we have a 96-year-old who came to us on a stretcher, stood up and walked out of her bed the very next day of her surgery, defying the notion people carry in their minds about age as well as spine surgery. However, the patient and her relative's positive attitude and the patient's age not being a deterrent, were key factors in the success of the surgery for our team of neurosurgeons and anesthetists."
The 96-year-old patient, a resident of Uran, arrived at Apollo Hospitals Navi Mumbai with complaints of weakness in both lower limbs for 10 days, which resulted in her inability in walking and carrying out daily activities. She also had severe pain in her back radiating to her left leg.
An MRI of her spine showed severe compression in L1 and L2 lumbar spine with a displacement of the caudal nerve root (nerve roots that travel down the spine and connect to the other body parts). The neurosurgical team of Apollo Hospitals Navi Mumbai came together and successfully performed the spine surgery on the elderly patient.
An L1 laminectomy was performed and a haematoma (a pool of blood outside of a blood vessel) was found in the epidural space with a thickened ligamentum flavum (a short but thick ligament). The clot was removed and post-procedure, the patient was hemodynamically stable and made a speedy recovery.
Dr. Ravi Shankar, Joint Medical Director, said, "Spine surgery is a safe and effective treatment for people who need it. Although most people recover from back pain through exercise and healthy lifestyles, in this case, the age factor played a key role and surgery was the only viable option left to treat the paralyzed patient. However, spinal surgery, even in elderly patients, is a necessary treatment to improve the quality of life. We are glad that our neurosurgical team has put in their efforts to make this case a successful one."
Mr. Santosh Marathe, Regional CEO, said, "The cohesive efforts of everybody at Apollo – the nurses, Anaesthetists, the ICU, and other support staff – coupled with the facilities available at our hospital, result in such exemplary outputs. The patient's family was encouraging and trusted the doctors at Apollo to conduct this surgery. We are very happy with the result as the patient tolerated the procedure well and stood up the very next day. Apollo Hospitals, Navi Mumbai, a JCI accredited hospital has been performing very complex neurosurgical work for domestic & international patients. The hospital also handles complex head injury cases through its world class emergency services."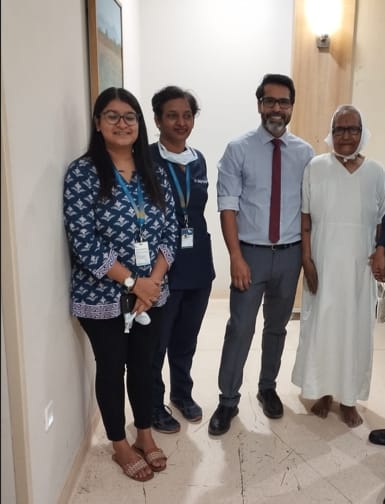 Posted by:
Apollo Hospitals
28 Jun,2022
Get the best of health related stories delivered to your inbox.
Doctors at Apollo Hospitals, Bengaluru have successfully conducted a Robotic Pediatric Cardiac Surgery on a nine-year...
Date: 03 Aug,2022
Apollo Hospitals, Navi Mumbai has successfully performed a minimally invasive procedure using a transcatheter techniq...
Date: 27 Jul,2022
Diagnosed with a rare condition, Synovial Chondromatosis, associated with the hip joint, a 50-year-old man from Afric...
Date: 27 Jul,2022