175 cases in the Advanced Fever Clinic successfully treated by Prof. Dr. T.V.Devarajan at Apollo First Med Hospitals, Chennai
Posted by Apollo Hospitals | 27 Jul,2015
At the event, the CD on "175 cases Advanced Fever Clinic" was released by Dr. Preetha Reddy – Executive Vice Chairperson, Apollo Hospitals and was received by Kavingnar Vairamuthu.
The CD on "Text Book of Medicine" was released by Prof. Dr. K. V. Thiruvengadam and was received by Dr. D. Shantharam – Vice Chancellor Tamil Nadu Dr. M. G. R. University. The CD & Book on "Poisoning Drug Over Dose" was released by Mr. R.S. Munirathinam – Chairman RMK group of colleges and was received by Mr. R. Sekar – I.P.S, Director General of Police – Vigilance / TANGEDCO Chennai.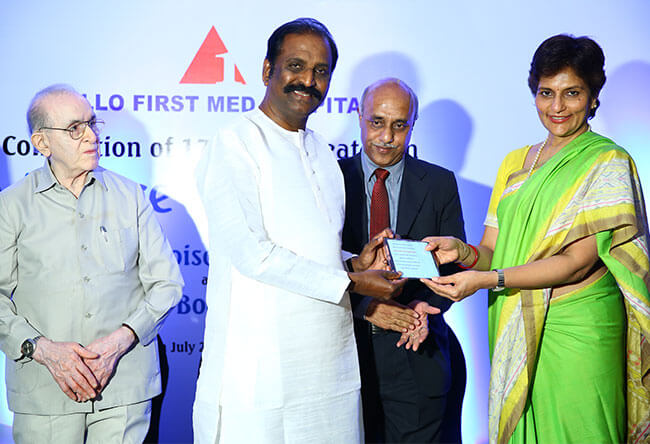 Posted by:
Apollo Hospitals
27 Jul,2015
Get the best of health related stories delivered to your inbox.
A 64-year-old gentleman from Fiji recently Robot-Assisted Total Arterial Bypass Surgery for Triple Vessel Coronary Ar...
Date: 16 Nov,2022
A 60-year-old man, citizen of Nigeria, successfully underwent a high risk and rare surgery for total femur replacemen...
Date: 16 Nov,2022
Apollo Hospitals, Seshadripuram, Bangalore has introduced India's very first Moses 2.0 Laser, an advanced and novel l...
Date: 14 Nov,2022