Press Clippings
Apollo Hospitals, Chennai initiates citywide vaccination drive, Tika Utsav.
Published Date April 13, 2021 Publication Makkal Kural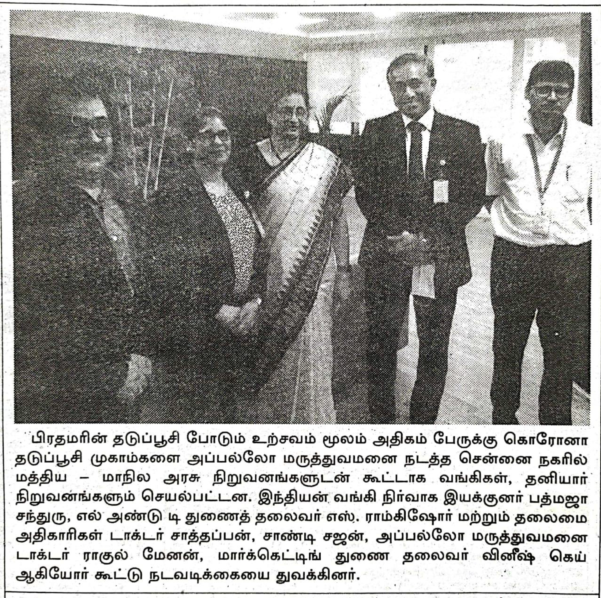 Building a healthier world can start with you: Respect the sacrifices of corona warriors and stop being negligent
Published Date April 12, 2021 Publication The Times of India
India Seeks Pfizer, J&J Vaccines with Fast-Tracked Approvals.
Published Date April 12, 2021 Publication Bloomberg Quint
India will fast-track approvals for Covid-19 vaccines approved by governments overseas in order to have a wider pool of shots as it struggles to control its soaring second wave of infections, effectively opening the door to shots made by Pfizer Inc. and Moderna Inc.
A government panel has recommended that inoculations approved by drug regulators in the U.S., U.K., European Union, Japan or which are listed in the World Health Organization, may be granted emergency use approval in the South Asian nation, according to a statement from the federal Health Ministry Tuesday.
India is inviting Pfizer, Moderna, Johnson & Johnson and others to seek emergency use approval of their vaccines as early as possible, V.K. Paul, who heads a panel advising Prime Minister Narendra Modi on the country's inoculation efforts, said at a press briefing Tuesday.
The decision comes a day after India reported another record surge in new Covid infections and granted emergency use approval for Russia's Sputnik V vaccine on Monday, making it the third shot approved by the nation as it races to control its pandemic. The country rolled out its vaccination drive on Jan. 16 with shots made by Astrazeneca Plc's local partner, Serum Institute of India Ltd., and Hyderabad-based Bharat Biotech International Ltd.
India is now the world's second worst-hit nation, having overtaken Brazil once again Monday with a sharp jump in daily new infections over the last 10 days pushing its total tally to nearly 13.7 million cases. On Tuesday the country reported 161,736 new cases and 879 deaths — more than four times the daily average in January.
Shares of Pfizer Ltd. surged as much as 7.8% to a 5-month high on the news from the Health Ministry.
"India clearly needs more vaccines to tackle the COVID surge," said Rohit Bhat, head of research at Mumbai-based B&K Securities. "The decision will help in this."
The country is facing an escalating health crisis as a deadlier second wave begins to overwhelm hospitals and crematoriums, forcing some states to impose partial lockdowns. Some parts of the country, including Maharashtra where financial hub Mumbai is based, are also facing vaccine shortages.
An expedited process for foreign-made vaccines, waiving the need for local bridging trials ahead of approvals, will hopefully ease the shortfall. Pfizer's attempts to get emergency authorization in India without running clinical tests in the South Asian nation were initially rebuffed. The bridging trials can now follow after the vaccines are cleared for use.
But it's not immediately clear how quickly new vaccines will arrive in India.
While the new rules allow shots to be imported into the country "that all depends on the international demand and where those companies have made commitments," said K. Srinath Reddy, adjunct professor of epidemiology at the T.H. Chan School of Public Health at Harvard University and president of the New Delhi-based health think-tank Public Health Foundation of India. "The next one or two months is going to be a bit of an uncertain situation in terms of the total amount of vaccines that will be available."
As infections numbers soar public health experts and business leaders have also said the country needs to widen the pool of people it's inoculating and give a larger role to the private sector. Currently only those above 45 are eligible, while the government controls vaccine purchases.
"I think what the government can really do to open up and increase vaccination is give the corporate sector the ability to buy the vaccine," according to Ms. Suneeta Reddy, Managing Director of Apollo Hospitals Enterprise Ltd., the country's largest private health care network. "I think the minute they do that they reduce their burden of having to vaccinate all of India."
Private hospitals keen on vaccine role
Published Date January 3, 2021 Publication The Hindu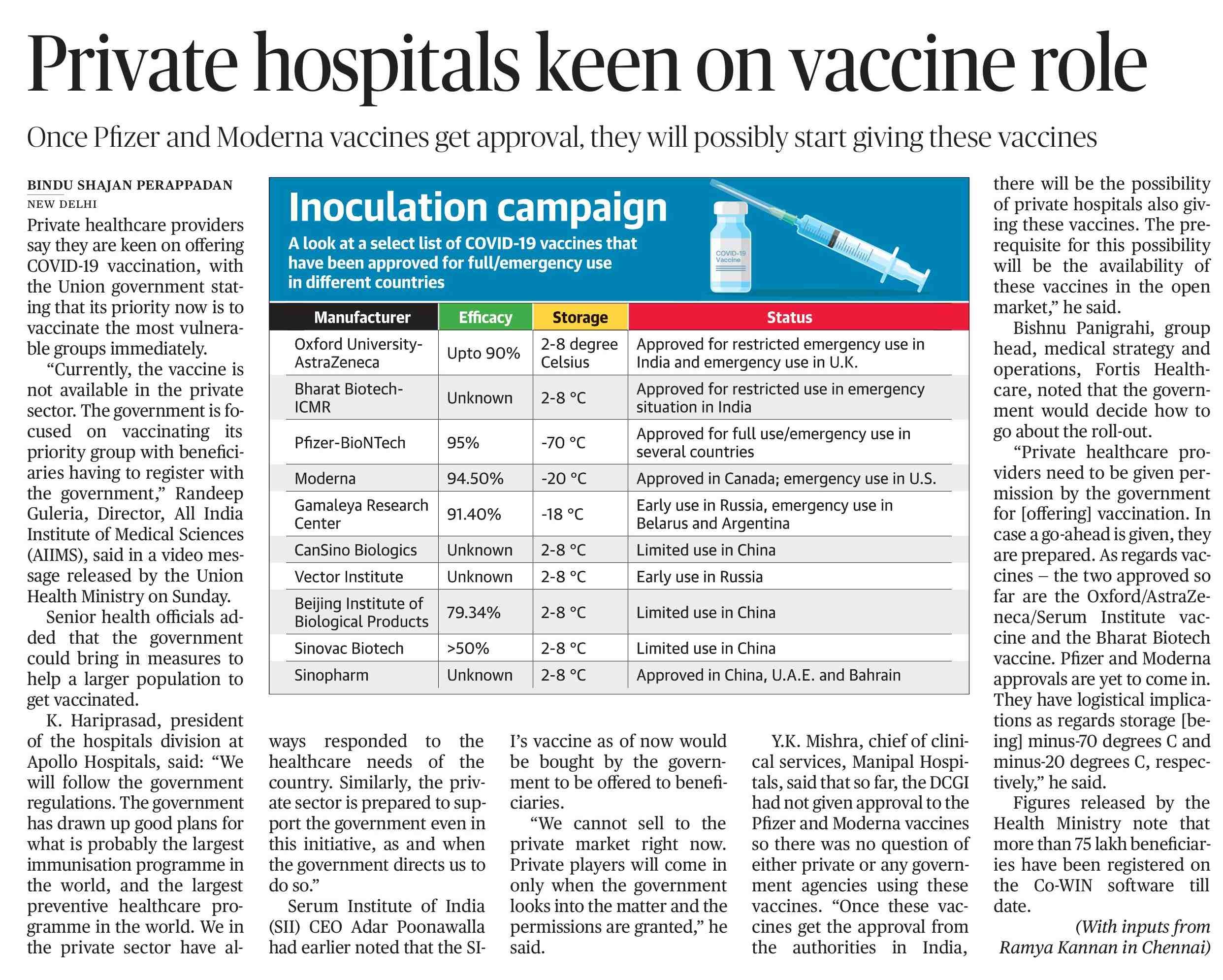 Ready to take the Vaccine shot? Yes or Nah!
Published Date December 13, 2020 Publication Deccan Chronicle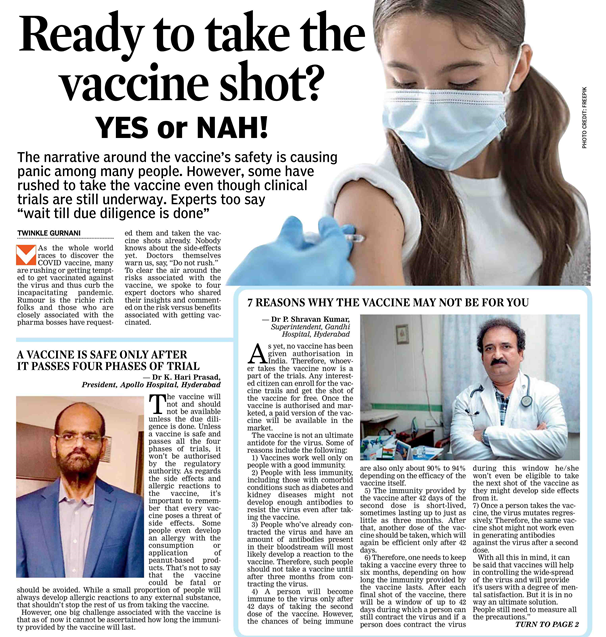 CSIR-CCMB, Apollo Hospitals announces collaboration to develop cost-effective COVID-19 testing kits.
Published Date December 10, 2020 Publication Business World
The CSIR-Centre for Cellular and Molecular Biology (CCMB) and the Apollo Hospitals Enterprise Limited have announced a collaboration for joint manufacturing and commercialisation of an innovative dry swab test, Direct Amplification rapid RT-PCR (DArRT-PCR) – for SARS-CoV-2 detection.
The test that will be available across the country through the network of Apollo Hospitals, will focus on increasing the manufacturing and commercialisation of the tests jointly, a release issued on Thursday said.
As per the release, the DArRT-PCR test helps in rapid, safer and more cost-effective SARS-COV-2 testing. The centres collecting samples can send dry nasal or oropharyngeal swabs to testing centres without any requirement for imported and costly Viral Transport Medium.
"As people are getting back to their normal lives and businesses, it is important for us to ramp up our testing for the coronavirus. The virus will be here for some time, it seems, and those who test more frequently will be able to contain the impact of COVID-19 better. Cheaper, rapid, accurate and easy to use tests as these are the need of the hour. With Apollo and its vast network of hospitals and health services, we expect impacting many lives towards better health," said Dr Rakesh Mishra, Director, CSIR-CCMB.
"We are glad to collaborate with CSIR-CCMB in this path-breaking initiative of a more rapid, easy to use and accurate testing option and work to make it available nationwide. The Apollo Hospitals Group has always been at the forefront of cutting-edge medical technology and a pioneer in implementing the latest advances for the benefit of patients," said Dr Sangita Reddy, Joint Managing Director, Apollo Hospitals Group.
"Co-creating and commercialising an Indian solution in line with our prime minister's vision of Atmanirbhar Bharat is an important landmark for Apollo Hospitals," added Dr Sangita Reddy.
Don't be confused between Covid & Winter Flu
Published Date November 23, 2020 Publication The Times of India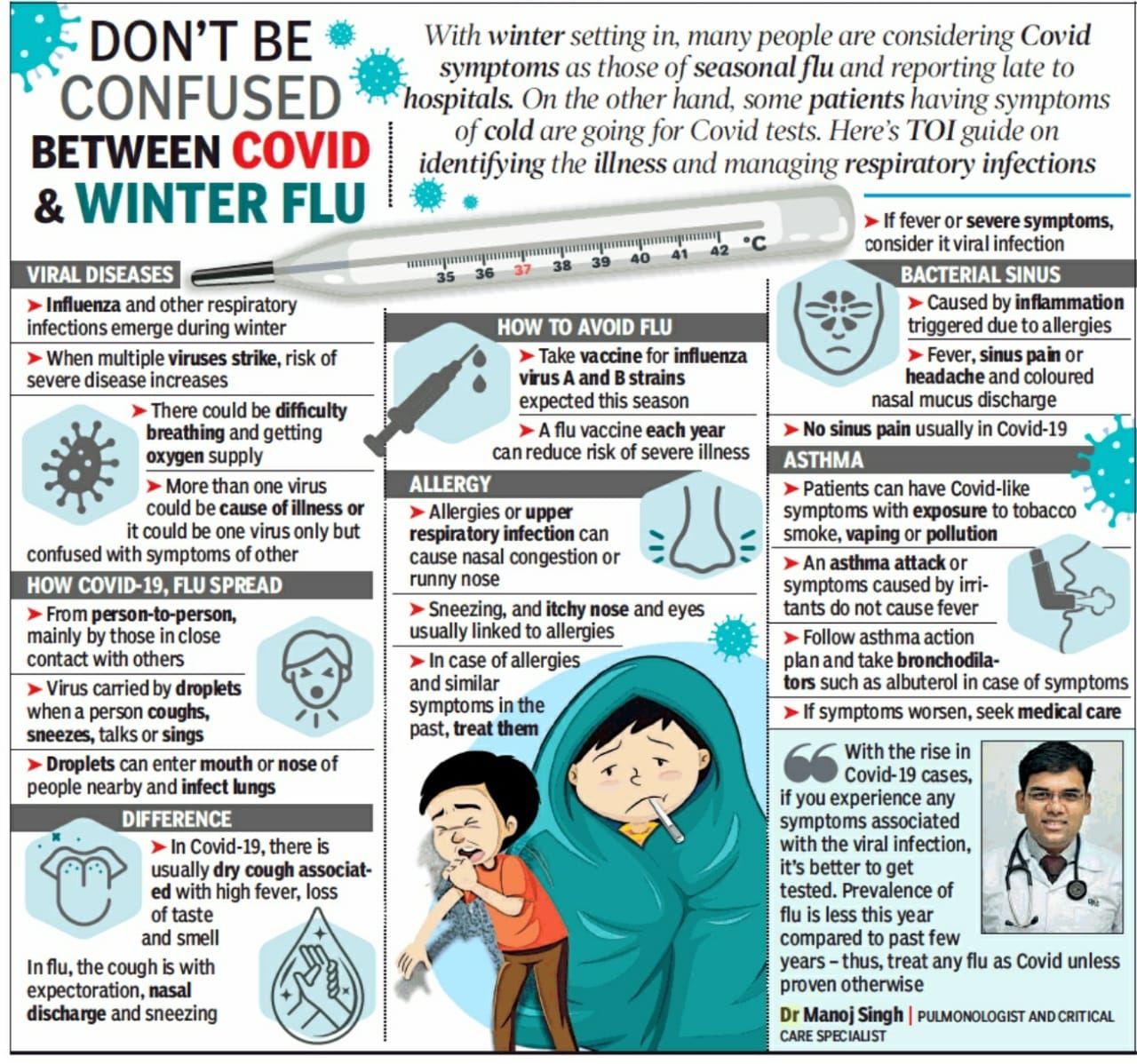 Covid with comorbidity ups stroke risk
Published Date October 21, 2020 Publication Ahmedabad Mirror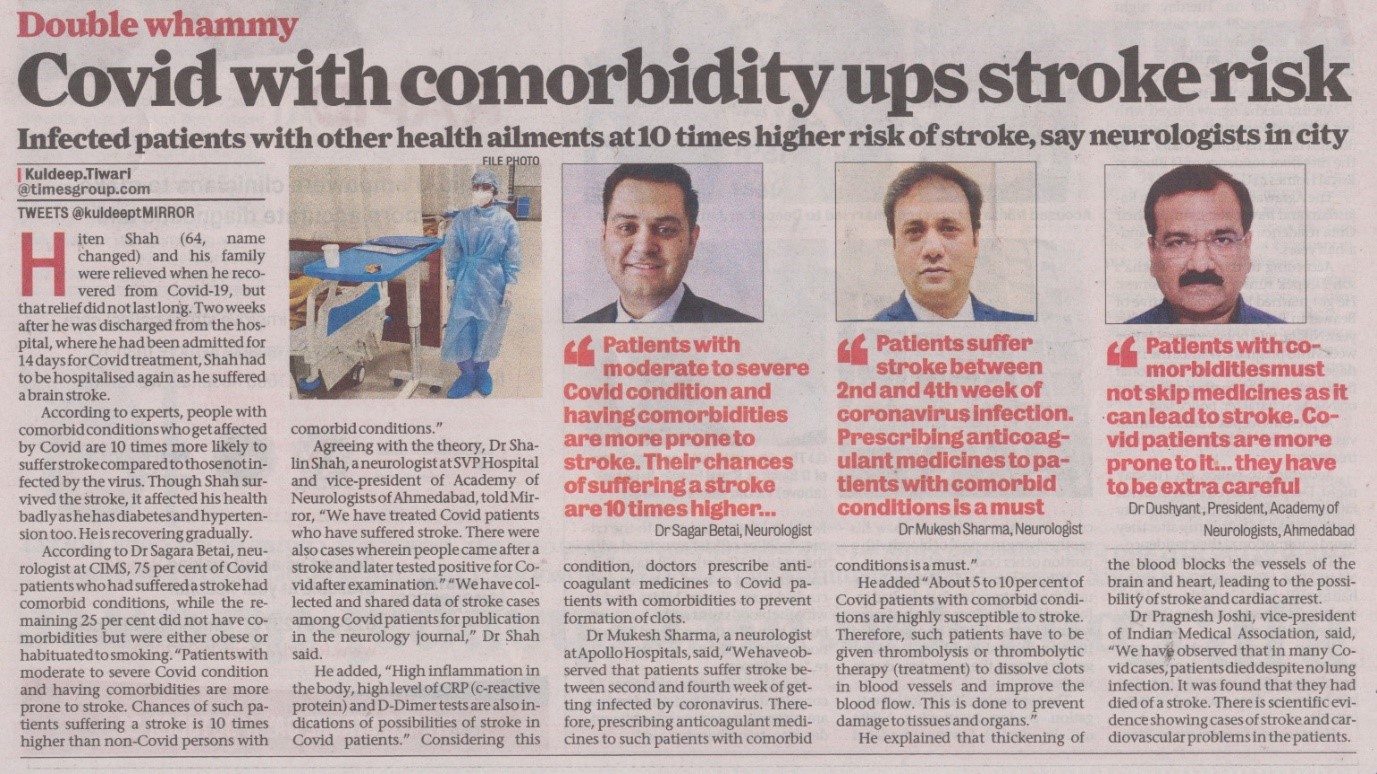 Apollo Hospitals launches post-covid recover clinics across network
Published Date October 20, 2020 Publication Ahmedabad Mirror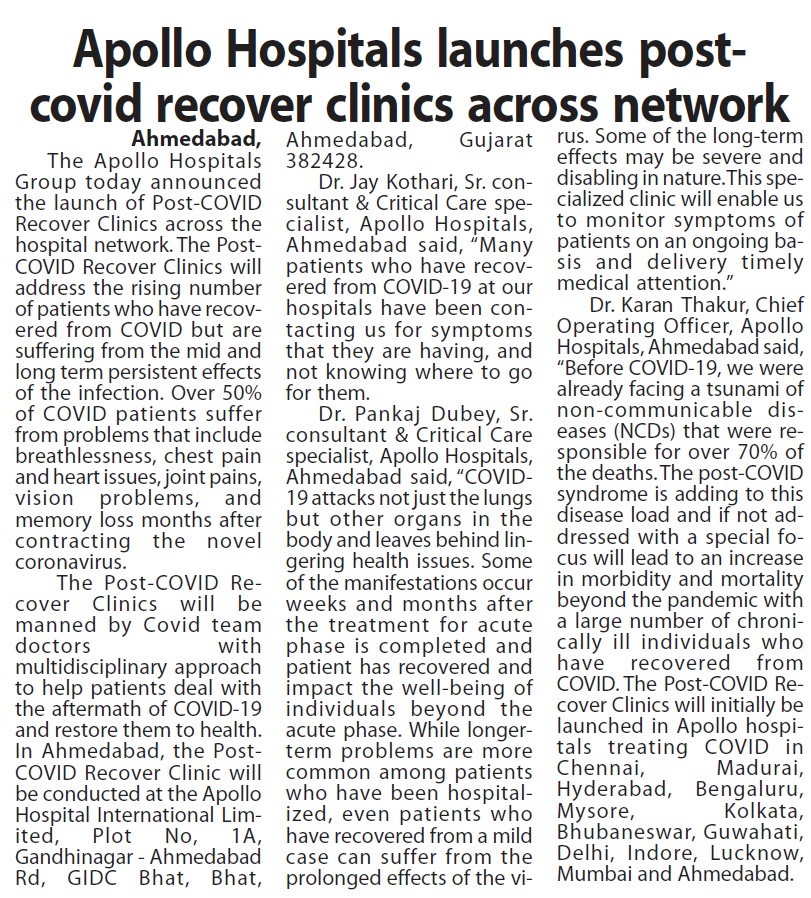 Breathing trouble and cough not always being symptoms of COVID-19 but also probable indicators of lung cancer.
Published Date August 17, 2020 Publication Sangbad Pratidin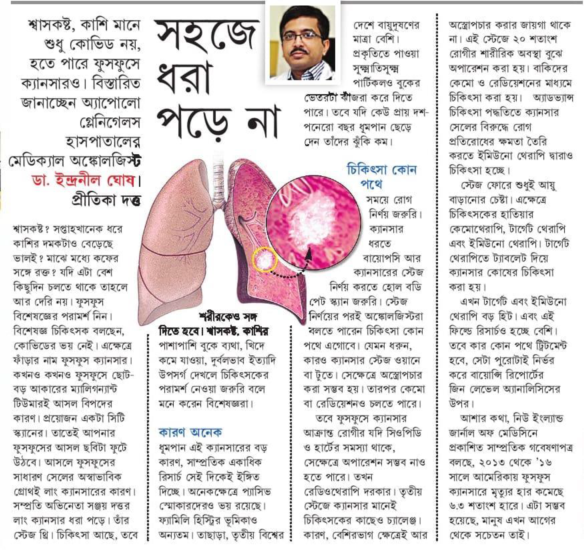 Covid fears forcing many to give vital treatments a miss
Published Date August 17, 2020 Publication Hindustan Times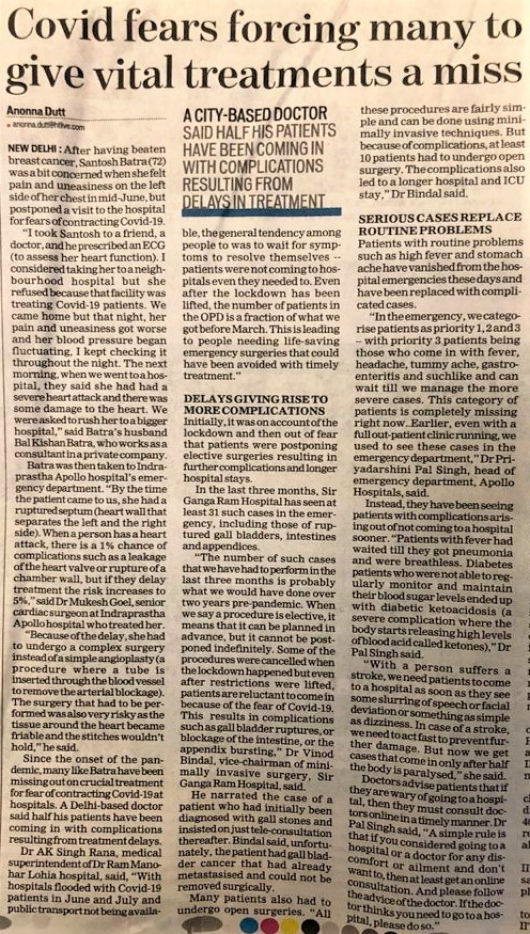 COVID-19 patients in Karnataka given blood thinners to prevent clots
Published Date August 16, 2020 Publication The New Indian Express
Covid itself is a thrombogenic disease and it precipitates clot formation. The clot in the lungs can be partial or complete.
One of the effects of Covid is clot formation which can affect the heart or lungs of a patient.
Due to this, doctors are prescribing blood thinners, like aspirin, for moderate and severe corona patients, both during treatment and for two to four weeks post recovery as well.
"Depending on the severity of infection, there can be inflammation of blood vessels. This causes a clot in the leg veins that can move to the lungs. This is called Pulmonary Embolism and is life-threatening. If it blocks the lung arteries, the whole circuit gets blocked and the blood cannot get purified," said Dr Ranjan Shetty, HoD and consultant, Interventional Cardiology, Manipal Hospitals.
Covid itself is a thrombogenic disease and it precipitates clot formation. The clot in the lungs can be partial or complete. Another effect of coronavirus is the inflammation of heart muscles called myocarditis, which leads to heart failure.
"Cardiac involvement in terms of heart attacks or heart failure is seen in 20-25 per cent of Covid patients. Therefore, early use of blood thinners like Ecosprin, antithrombotics like unfractionated Heparin or low molecular weight Heparins are paramount in preventing these complications during treatment," said Dr Rajpal Singh, Director-Interventional Cardiologist, Fortis Hospital.
Dr Singh added that these medications are continued for four to six weeks after discharge and should be taken only on prescription.
The probability of clot formation is higher if the severity of Covid is higher as well, said Dr Girish Navasundi, Senior Consultant, Cardiologist, Apollo Hospitals.
"The less mobile a patient is, longer the clot lasts. Patients are given injectable blood thinners for two weeks during Covid treatment, as this is when there is active multiplication of the virus and direct damage to the body. They are vulnerable to clots even post-discharge, especially in the 45 and older age group," Dr Navasundi said.
70% of patients admitted with Covid overweight/obese: Doc
Published Date July 23, 2020 Publication The Times of India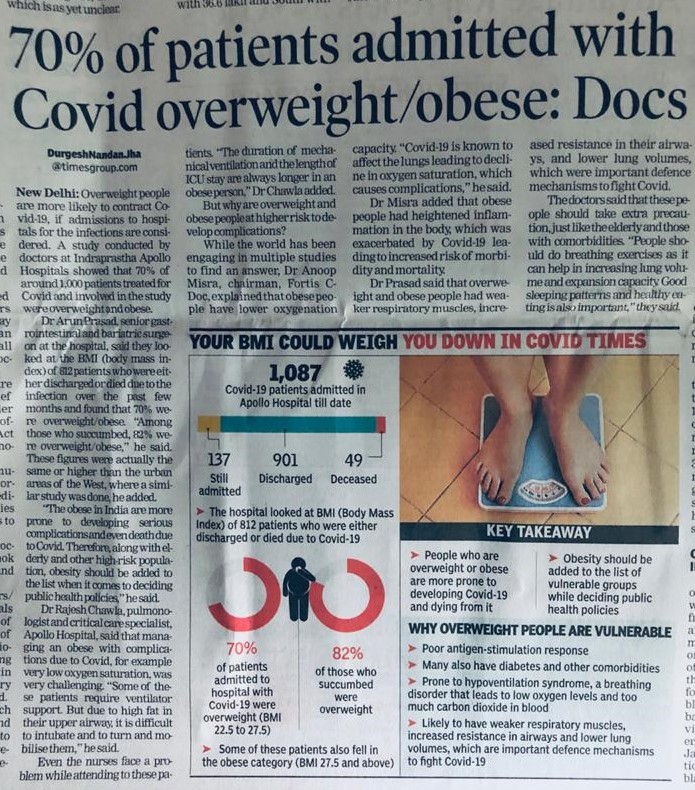 Two brothers of Apollo Gleneagles Hospital, Kolkata donate plasma for Covid patients
Published Date July 21, 2020 Publication Abptakmaa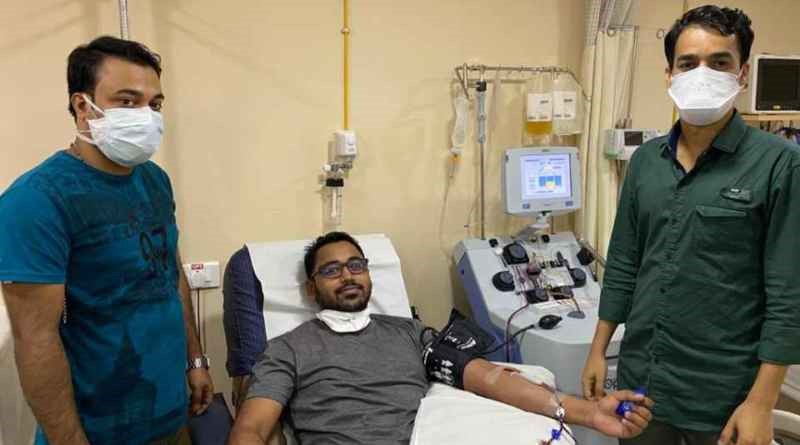 Two friends from college who happen to be brothers in the nursing department of Apollo Gleneagles Hospitals, Kolkata donated their plasma today and made a contribution to the fight against Covid-19.
Amit Sarkar, 26, and Ratnadeep Bhowmik, 27, are both from Tripura but they had become friends while they were in Bangalore studying for a diploma in nursing. The friendship grew. They joined Apollo Gleneagles together in 2015 and, as luck would have it, contracted Covod-19 together in April 2020.
Corona, however, gave them little trouble beyond sore throat and they have joined back on duty since. Taking an interest in the disease, however, they learnt about Plasma Therapy and volunteered to donate their plasma, which now contained antibodies against Covid-19 pathogen.
The wish expressed to their supervisor quickly became reality as Apollo Gleneagles is part of the Plasma Trial of the Indian Council of Medical Research (ICMR).
"We were lucky that we did not have severe symptoms but we would like to help others who become critically ill because of the disease," said Amit. Ratnadeep explained that plasma collection itself was a simple process just like blood donation and took around one hour, during which time about 500ml of plasma was collected, and by a process called apheresis, the blood with all other components but the plasma was reinserted into his vein by the same needle.
The two became the fourth and fifth employees of the hospital to donate plasma during the ongoing pandemic. According to Dr. Sudipto Sekhar Das, Senior Consultant and Head of the Department Transfusion Medicine, the results of plasma therapy or COVID Convalescent Plasma (CCP) Therapy to treat critical COVID patients at Apollo Gleneagles have so far been impressive.
"We have got very good results in the two cases where we used plasma therapy so far. In one case, a 27-year-old patient came out of ventilation after 72 hours of the therapy and was discharged the week after. Later, a 62-year-old man who was diabetic and hypertensive as well came out of ventilation in four days and we could send him home in the next seven days," said Dr. Das.
"When the plasma is transfused to the recipient, the Anti-COVID antibodies play a crucial role in virus clearance and are essential in protecting against the disease and restraining in the infection," he added.
Remdesivir: As good as a silver bullet for city doctors
Published Date July 27, 2020 Publication Bangalore Mirror
Doctors in Bengaluru are increasingly depending on Remdesivir to treat covid-19 patients because they say it helps patients suffering from breathlessness. But there's good news and some not-so-good news on that front. While the drug has received a lot of positive reviews, it is in short supply in the city.
What is Remdesivir
Dr Satyanarayana Mysore, HOD Pulmonology of Manipal Hospitals explains that Remdesivir works as an antiviral medication. "It acts by interfering with the viral enzyme. This drug has been trialled for Ebola, MERS, SARS and covid-19 infection. It helps limit viral replication and is usually effective in the early days of infection. There are definitive criteria from Indian Council of Medical Research (ICMR) for the initiation of the medication," he said.
Dr Masood Ali Khan, intensivist from Sagar Hospital, agrees. He said they are using Remdesivir for in-patients with severe respiratory illness. "It is used for patients whose oxygen saturation is below 94 per cent. My personal experience with using Remdesivir has been quite good. Many of my patients have benefited with this medication. It works best when given to moderately to severely ill patients and more so if given during the first week of the illness," he said.
Young patients have responded well to the drug, said Dr Aravinda GM, Consultant – Internal Medicine, Manipal Hospitals Jayanagar. "It helps improve oxygenation and reduces the chances of needing ventilators. Best results are likely when used between Day 3 and Day 5 when desaturation begins," he said.
Cost advantage
The three-day course of Remdesivir entails two vials of the drug given to the patient per day. A patient needs a total of six vials over the course of three days. Each vial costs Rs 5,000 when purchased from a drug distributer but the cost is only Rs 3,200 when supplied by the government. A patient spends Rs 30,000 just on Remdesivir if it is from a private distributor while he spends Rs 19,200 if it is supplied by the government, for a three-day course, said a doctor.
Private hospitals face shortage With patients reacting positively to the drug, Dr Mysore said that the demand for Remdesivir had increased. "So the government is stocking up on the medication and distributing it to private hospitals on a need basis. This is to prevent hoarding by private companies or pharmacists," Dr Mysore added.
Talking about its scarcity, Dr Vinay from Supra Hospital in South Bengaluru said, "I have brought the issue to the notice of the government. We need Remdesivir and it is in short supply. We have conveyed it to all our suppliers that we need this drug," said Dr Vinay.
Dr Jagadish Hiremath, CEO, Ace Suhas Hospital said, he was in talks with pharmaceutical companies to directly procure the drug. "However, there is a waiting time of a week or two to get the medicine. If the patient needs Remdesivir immediately, we ask the patients' family to help us get the drug from private distributors. We hope that government intervention will solve the problem of shortage," he said.
Dr Ravindra Mehta, Senior Consultant Interventional Pulmonologist, Apollo Hospitals Jayanagar, said, the government is looking at the supply issue but has not issued any proper guidelines so far. "The government is looking at producing more of this drug under the government quota," he said.
Dr Prakash Doraiswamy, Sr. Consultant – Critical Care & Anae­sthe­siology, Aster CMI Hospital, said, the drug was tested and given a compassionate license for use by the FDA (The Food and Drug Administration). "Many trials have shown that recovery is faster with the effective use of Remdesivir in covid treatment. It helps reduce viral load and the burden of illness. With the decrease in viral loads, it will decrease injury to lungs and this helps to recover from breathlessness. But, the main treatment for breathlessness is still oxygen, steroids and blood thinners," he said.
State Medical Education Minister Dr Sudhakar K said, "A decision was taken in the task force meeting that the supply of this drug to private hospitals will be regulated by the government to check black marketing and hoarding."
Managing Comorbidities During COVID-19 Pandemic
Published Date July 24, 2020 Publication Doctor NDTV
COVID-19: People with comorbidities should understand their symptoms and immunity, and get a thorough check-up and consultation done. Here are more tips to maintain your health during the pandemic.
The rapid outbreak of the COVID-19, arising from the severe acute respiratory syndrome coronavirus 2 (SARS-CoV-2) infection, has gripped the world with fear and uncertainty due to the nature of the virus and the lack of a vaccine so far. The novel virus is something unprecedented for humanity and that means that developments and studies are taking place concurrently with us battling this pandemic. While the question about a single, effective cure remains largely unanswered, there are developments in studies which give proper information on the symptoms, prevention and relationship of comorbidities with COVID-19.
By now scientists and researchers' world over have confirmed the fact that immunity is a key factor that affects the risk of contracting the virus and recovery from the disease, and that the focus should for now be on immunity building till we have a confirmed cure. The research around immunity also shows how co-morbidities are related to COVID-19 as it was found that a high number of patients who tested positive and had moderate to severe symptoms, showed presence of some underlying co-morbidity among which obesity, diabetes, hypertension, and other cardiovascular and cerebrovascular diseases were more prevalent.
One of the major reasons is that in older people and those with pre-existing conditions, there is a diminishment of the virus-fighting RNA that helps attack viruses in the human body. This is a likely factor why these groups are also identified as high-risk due to weak immunity.
In these cases, there are additional health problems like obesity, weakness, respiratory problems and low levels of energy which create an environment in the body wherein the virus can thrive. In Mumbai, about 80% of the COVID-19 victims had some co-morbidities. Additionally, age-related comorbidities too have impacted the figures due to changes in immunity response in the human body due to increasing age. Lower immunity also results in prolonged recovery periods, and in many cases, can even lead to complications. So, it becomes important for those with existing conditions as well as medical practitioners to make sure that this high-risk bracket is enabled to take preventive measures.
Firstly, the most important thing is to be aware and identify what you're going through. Understand your symptoms, your immunity and get a thorough check-up and consultation done. Many hospitals provide virtual consultation or tele- consultations. Proper knowledge of the diseases is crucial in planning out preventive strategies and monitoring progress. A balanced diet that helps in controlling blood pressure, sugar levels and helps combat obesity is vital to build immunity and avoid entering the high-risk list. Regular exercise while maintaining social distancing is ideal for those who are at a higher risk of contracting the virus. Regularly monitoring of your health and taking the required medication on time are also very important.
Apart from these steps taken on an individual level, medical professionals should also try to encourage everyone to follow general preventive measures. As India's healthcare system is overburdened, each person must do their bit to stay safe and keep others safe. Prevention is the most effective weapon and those with pre-existing and underlying medical conditions should be encouraged to follow five basic rules at all times – diet, exercise, monitor, medication and hygiene. Apart from these, if someone who is high risk suspects that they have symptoms, they should immediately consult a doctor. We have online consultations that make it safer and easier to take an opinion over a call. These options should be utilized as a delay in getting proper treatment in such cases could sometimes be detrimental to the patient's health. So follow preventive measures but also take prompt action when necessary. Only then will we effectively combat COVID-19 at the earliest!
(By Dr Bharat Agarwal, General Physician, Apollo Hospitals, Navi Mumbai)
Without a vaccine, we can never fight COVID-19: Dr Prathap C Reddy, Founder & Chairman of Apollo Hospitals Group
Published Date July 13, 2020 Publication The New Indian Express
The effort should be made to conduct more tests, and there should be a systematic treatment for the Covid-19, said Dr Prathap C Reddy, founder-chairman of Apollo Hospitals, in a conversation with Prabhu Chawla, Editorial Director, The New Indian Express and author and senior journalist Kaveree Bamzai on TNIE's Expressions, a series of live webcasts with people who matter.
Do you think our focus on Non-Communicable Diseases (NCDs) has led to this situation?
Also, currently, patient with other conditions are not getting attention… It was anticipated that the second decade will see NCDs grow enormously. 80 per cent of the deaths will be from the NCDs… The World Economic Forum said the cost burden for the world will be 30 trillion dollars and 4 trillion dollars for India. If you control NCDs, the advantage is there will be GDP growth. The stress should be on NCDs as they are all preventable.
The allegation is that the private sector is becoming very expensive.
Hospitals — primary, secondary and tertiary — all have a certain amount of additional infrastructure and expenditure. Some states have fixed a charge when it comes to Covid-19 for room care and ICU. But they have forgotten the majority of the patients in the ICU has co-morbidities, and they have to be treated for these, too. That is an additional expense.
Why are more private hospitals not adopting villages?
It's not that people are not doing. They are doing charitable work. As technology started coming in, they found it difficult to fund technology and fund that.
What kind of support do you expect from the government?
The scenario in healthcare is going to be post-Covid-19. The individual must be taught what is good healthcare. This decade has given us a huge advantage in healthcare to make a diagnosis and correct them. In India, we could reverse NCDs in a majority of cases. We need to double our number of doctors, triple the number of nurses and quadruple the number of paramedics. They also have to increase the number of colleges.
There is a theory that you don't need more medical colleges. Do you agree?
We need more beds but for training, we need much more. The huge advantage in training in India can use them.
What is the future of home delivery of healthcare?
The future is immense. Telemedicine advice has great progress.
Have we reached the peak of Covid-19?
Unless a vaccine comes, we can never fight the disease. In India, our problem is the people who are travelling without knowing they have the disease.
Do you think the migrant crisis could have been handled better?
The lockdown did not help the migrants. It aggravated their problem.
No need to panic, but be alert if pregnant
Published Date July 11, 2020 Publication The Times of India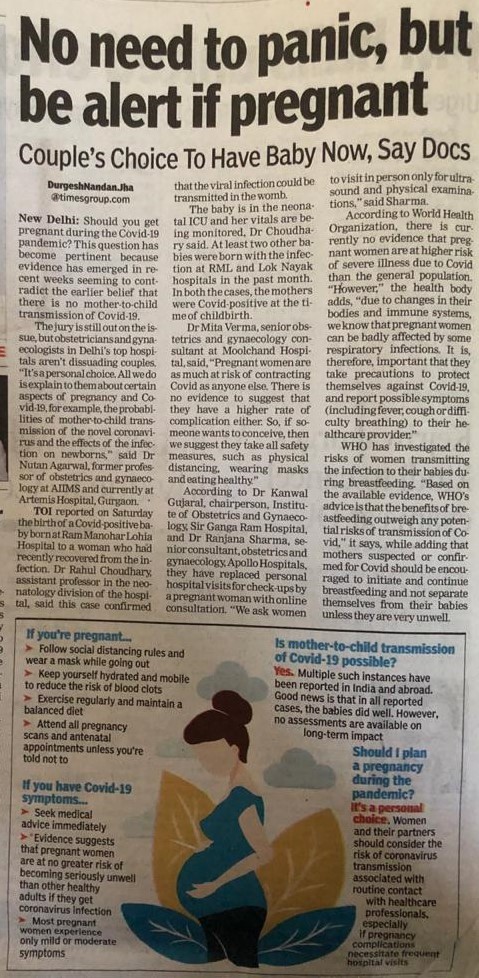 What does a COVID-19 antibody test really tell you?
Published Date July 8, 2020 Publication Vogue India
Now that India is a few months into the coronavirus outbreak, conversation about taking COVID-19 antibody tests to test your status is getting more common. The WHO is considering it to be a badge of immunity for now, but what are they, and are they completely accurate? With private labs across India offering antibody testing for anyone who wants it, knowing the details before high-tailing it to the nearest lab is important. We spoke to Dr Behram Pardiwala, Internal Medicine Expert, Wockhardt Hospital and Dr Laxman Jessani, Consultant, Infectious Diseases, Apollo Hospitals, Navi Mumbai for their take.
What is antibody testing?
"When you have an infection, the bug is called an antigen. To fight this antigen, the body makes antibodies which are proteins, causing an immune response to the infection. There are three types of antibodies present in the body, of which, those which react immediately after the antigen has been detected are called IgM [immunoglobulin] antibodies. Long term immunity results in IgG antibodies," says Pardiwala. These provide some protection from getting the disease again, or an improved means of fighting it.
Another, more promising alternative that may be gaining speed? Antigen testing. "It looks for specific proteins found in the virus," says Dr Jessani "It's a reliable test that will detect the presence of the virus in the body by directly identifying the genetic material and the infection," he says.
Antibody tests can tell you if you've been exposed to the virus
For those taking an antibody test, doctors are looking to see if the person has been exposed to the COVID-19 virus in the past. If you test positive for those antibodies a month or more after you were exposed, it suggests that you probably did have COVID-19 in the past.
Antibody tests have always been used to check if the body has developed an immune response and resistance to diseases such as Hepatitis B post-vaccination. "Vaccines are developed with this principle. Vaccinations give a small amount of virus into the body of the person which will not cause the disease but set an immune response. Once the antibodies are produced, even when you are exposed to the virus, you won't develop the infection as the antibodies are fighting the infection," says Dr Jessani.
However, they can't tell you if you're immune forever
There is conflicting research about building immunity to the virus in the long term. Some experts say that having antibodies may provide some protection against getting it again, but does not prove that having it once can be a stopgap to ever contracting it again.
They can help track the spread of the virus
With many asymptomatic COVID-19 patients getting out of the strict lockdown, the antibody test may now prove crucial to check how many people may have been exposed to the virus while they were unaware. "Antibody tests are more useful for surveillance (to understand the immune response and status of the community) and is not to be used as a diagnostic tool," says Dr Pardiwala.
They can be used to test for plasma therapy
"Antibody tests are also being done for experimental convalescent plasma therapy where the antibodies of those who have recovered from COVID-19 are transferred to help fight the virus and provide protection to the recipient," Dr Jessani sums up.
87-year-old woman, her nonagenarian husband in Delhi defeat COVID-19
Published Date July 8, 2020 Publication Business Insider
An octogenarian woman in Delhi and her 90-year-old husband suffering from Alzheimer's disease have recovered from the coronavirus infection and discharged from hospital.
Doctors at a city hospital where the elderly couple were treated said that their recovery from COVID-19 in the face of high mortality rate in the older population globally due to the infection is a ray of hope to other patients.
On May 25, the 87-year-old woman was rushed to the hospital after fracturing her hip, and she was advised immediate hip replacement surgery.
Before the surgery, she was tested for COVID-19 and was found positive. Following this, her family too underwent tests and her husband was found to have contracted the viral disease.
The couple was initially admitted at Indraprastha Apollo Hospital under the supervision of Dr Nikhil Modi, Senior Consultant of Respiratory, Critical care and Sleep Disorder, Institute of Critical Care, of the facility. Their vitals were regularly monitored, provided the required line of treatment and they made remarkable improvement within the first 10 days.
As soon as the woman tested negative, Dr Yatinder Kharbanda, senior consultant and orthopaedic surgeon, performed a successful total hip replacement procedure.
"People who are at an advanced age and have multiple comorbidities are the ones under maximum threat of COVID 19 and fatalities due to it. Their immune system gets degraded so much over the years that they become more vulnerable to infectious diseases," he said.
Also, due to pre-existing conditions like heart disease, geriatric syndrome (fall frailty, dementia and impaired mobility) lung ailments, diabetes or kidney disease their body's ability to fight infectious diseases weakens with time.
"In this case, the elderly woman was facing a lot of difficulties due to her fractured hip. We put her in traction with heavy bouts of cough and clogged throat. A team of doctors and nurses worked hard to provide medical care," Dr Modi said. The team in the critical care unit was kept on standby in case any complication arose.
"Simultaneously though her husband had mild symptoms, but given his age and multiple comorbidities, it was important for us to monitor his condition every minute," he said.
Dr Kharbanda said, "Multiple health challenges pose a great risk to patient's life. In such cases, patients can undergo a lot of trauma and shock which might affect the recovery process."
But defying all odds, the couple was discharged from the hospital on June 22.
Covid reaction: Some city kids get kawasaki-like disorder
Published Date July 7, 2020 Publication The Times of India

Adult vaccination: Boosting immunity
Published Date July 6, 2020 Publication Deccan Herald

Telemedicine takes off, clinics on cloud nine
Published Date July 4, 2020 Publication The Times of India
Sitting at his Mira Road home, Mohsin Khan tapped his cellphone and out popped on his screen, his gastroenterologist perched in front of his laptop staring down at Khan from a few miles away in south Mumbai. The awkwardness subsided after a minute or two. Following a brief chat, Khan saw his phone transform into a DIY medical tool as the doctor-on-camera guided Khan's finger to move up, down, poke and prod his own abdomen before sending out a photograph of the prescription handwritten and signed on his official notepad. The routine took about ten minutes and Khan recovered two days later.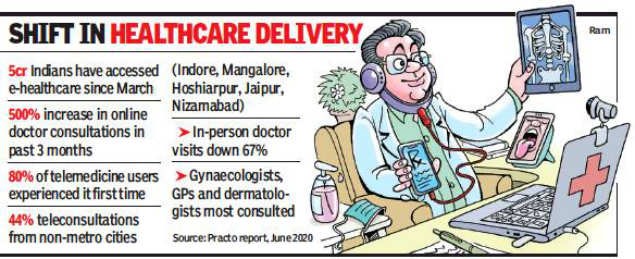 "It did feel strange at first," said Khan, reminiscing about the "doctor's touch" to check his pulse or peer into his mouth for telltale signs. But a lot could still be accomplished over video, he admitted. "At a time when you can't risk sitting for hours in a waiting room where another patient might transmit the coronavirus, it's a huge relief."
Khan is part of a growing number of people switching to audio-visual technology to hook up with a doctor as the coronavirus fans out across the country, rendering hospitals and doctor's chambers a no-go zone.
Developed decades ago to serve far-flung rural populations — virtual healthcare, also called telemedicine, digital health, or remote care over video, phone and web based platforms — has found a fresh lease of life in this pandemic.
Taking heed, health care providers are rapidly laying the groundwork for clinics in the cloud; and maladies — once, a waiting room's worth of problems — are now being tackled online, rather simply for those with a smartphone and speedy Internet.
With artificial intelligence at the core of these virtual visits, Mahim's PD Hinduja Hospital developed its own teleconsultation software that it launched in April, shortly after the lockdown while Apollo Hospitals in February launched Apollo 247, a virtual consultation platform that provides round the clock access to their doctors over video, audio or text. If the in-house technology team at HN Reliance Hospital in Girgaon helped familiarize doctors with their virtual OPD, doctors at Hinduja had to undergo a three- day training on handling audio, video and chat including mock calls. These virtual platforms have been handling 200 to a 1000 virtual calls in a day with gynaecologists, GPs and dermatologists being the top draw.
A video call can last for five minutes to 20 after a patient schedules an appointment with a doctor of choice and pays the charges for a virtual consultation mandated to be the same as a physical consultation. Before the virtual visit, they receive a call explaining the log-in process and how to upload past medical records, scans and prescriptions.
For Dr Rahul Gupta, a Senior Cardiologist with Apollo Hospitals, preparing for a video appointment with a patient is a lot like setting up a television broadcast. His chosen spot is the study table in his bedroom positioned next to the window that allows for ample sunlight to stream through when he slips into his blazer and sits down for a virtual visit.
"A different level of care and etiquette is needed during remote consultations. For instance, eye contact is important. That's a reason why I had to adjust the lighting in a way so they feel connected when I'm looking at them and helps me appear fresh and bright when they see me through the webcam. A dim, dark and cluttered environment can be unsettling for a patient," says Gupta. "As my comfort with on-cam patients grew, I did away with the blazer but you can't get too casual. It's important to be properly attired because it enhances patients' faith in your discipline."
While the virtual system helps beam in a doctor from several miles away for a quick prescription or piece of advice, older adults may find the digital system difficult to navigate, feels Vishakha Kamat from Vile Parle who recently helped her septuagenarian mother navigate a screen-to-screen interaction with her nephrologist. "Given how doctors' chambers are magnets for the contagion, it helps that a video call is the closest you can get to a traditional doctor-patient interaction but for someone of my mother's age who isn't tech savvy or doesn't have a smartphone, it can be challenging unless there's someone to assist."
But with fears running high, people are jumping on board quickly with telemedicine as much as it is the centrepiece of the way physicians are treating everyday illnesses. A new study by the health tech platform Practo — based on 5 crore Indians who accessed healthcare online between March and May — shows how virtual care appointments increased by 500% since March and 80% of all telemedicine users were experiencing it for the first time, signalling a possible long-term shift in healthcare delivery.
The origin of telemedicine can be traced back to the year 2000 when the Indian Space Research Organization (ISRO) made a modest beginning with a pilot project using satellite communication to link Chennai's Apollo Hospital with a rural hospital in the Chittoor district of Andhra Pradesh. Over the next few years, ISRO's telemedicine facilities helped the government and some private players connect offshore islands and remote districts with major specialty hospitals in the cities.
Despite being around for close to two decades, virtual healthcare remained in a nascent state, given the ambiguities around it. Gaps in legislation and uncertainty of rules posed a risk to its practice, and both doctors and patients mostly stuck with the ways medical care has forever been delivered — in-person appointments. The pandemic changed that.
In a significant move this year, the Medical Council of India (MCI) permitted the practice of telemedicine by its registered doctors and released fresh guidelines on March 25, prepared in partnership with NITI Aayog. The new advisory incorporated in the MCI Code of Medical Ethics as an amendment to the Indian Medical Council (Professional Conduct, Etiquette and Ethics) Regulations, 2002 offer much-needed clarity on protocols related to physician-patient relationship as well as on issues of liability and negligence.
"While this has enabled doctors to continue their practice remotely, the MCI is in the process of developing an online telemedicine course which will be mandatory for all medical practitioners to take after three years in order to tele-consult in the future," says Maharashtra Medical Council president, Dr Shivkumar Utture.
While the new guidelines have allayed past apprehensions with virtual healthcare, there may be new grey areas in ethics, warns Dr Anant Bhan, an expert on bioethics. "The nuances of physical examination and empathy are such that not everything can be done virtually. A medical practitioner will have to use discretion to determine when telemedicine may not suffice and ask for in-person review," he says, in order to guard against the risk of misdiagnosis. "But there's a risk benefit calculus in medical ethics and given the need for safety at the moment, telemedicine is important for medical care."
(Patient names changed on request for privacy)
Does proning help COVID-19 patients to improve oxygen levels?
Published Date July 4, 2020 Publication The New Indian Express
As the medical fraternity continue to figure out ways to prevent COVID-19 deaths, 'Proning' is one such technique, that has received acknowledgement from both government and private hospitals in Chennai.
What is proning? As the word suggests, it simply means to make a patient lie in the prone position, with chest and belly facing downwards. Doctors believe this position helps in improving the oxygen flow in critical patients, making them less likely to be intubated or require ventilator support.
Health Secretary J Radhakrishnan said that lately, the government hospitals in the city have been following this. "We have been seeing good results in KMC and RGGGH and it is being done under the supervision of senior allopathy doctors," he told New Indian Express.
Explaining the process, Infectious Diseases Specialist Dr Subramanian Swaminathan of Gleneagles Global Health City, said that proning is an age-old technique, normally used on patients with severe respiratory illnesses.
He added that when a person is in a prone position, owing to gravity, air moves up to the air-sacks. "This helps in better distribution of oxygen to lungs and other parts of the body," said Dr Swaminathan.
Since the progression of COVID is not catastrophic, this may result in some amount of improvement in patients in not requiring ventilator support. Proning is widely followed in other private hospitals too and doctors say it has given good results. Dr Anantha Subramanian, Consultant Pulmonologist with Kauvery Hospital says that out of the 400 Covid-19 patients treated in the hospital, at least 60 to 70 per cent people were put in the prone position. "It was also tried on many patients aged above 60 and definitely they showed good improvement," he said.
Dr Subramanian said that the candidates for proning are those who have an oxygen saturation of 94 or below, and people with hypoxia too. "People who have spinal issues, neurological weakness and those who are uncomfortable are kept away from this," he added.
Recently, a statement from the Apollo Hospitals, too said that five patients who had severe breathing issues, including 65 and 72 year-olds, returned home safely after this mechanism was followed.
While anecdotal evidence of its efficacy come up, there are still no Randomised Control Trials for the success of proning on Covid-19 patients.
In a small cohort study published in the peer-reviewed Jama Internal Network Journal in the US, 25 patients, who required intubation, were studied for proning. In that, oxygen levels of 19 people improved above 95 per cent after one hour of prone position while oxygen levels of six patients did not improve.
Subsequently, out of the 19, seven required intubations and five out of the six, whose oxygen levels were low needed intubation. Totally, 12 were intubated out of the 25 finally, and three died in that.
In India, doctors from AIIMS in Jodhpur are conducting a larger study on proning, which is expected to go on till October.
Doctors, however, said that proning must not be solely relied on for improvement but other forms of treatment too must compliment it.
"Checking viral load in CT scan, steroids and usage of Tocilizumab is also part of the process," said Dr Swaminathan.
Patients with hypoxia respond well to proning
Published Date July 3, 2020 Publication DT Next
As a large number of COVID patients are critical due to hypoxia (absence of enough oxygen in the tissues to sustain bodily functions), private hospitals use awake proning as an effective method to reduce the need of ventilation. Several patients, including a 72-year-old man, was saved without intubation using awake proning and further medical support.
As the infection intensifies, many patients with hypoxia become more critical even with oxygen supplementation. But awake proning has proved to be effective. Awake proning is having patients lie on their stomach or on the side. This method has been remarkably effective in boosting the blood oxygen saturation levels in COVID-19 patients who have hypoxia.
Dr Ebenezer, Senior Consultant and ICU incharge at Apollo Hospitals, said, "When patients lie on their back, the fluid in the lungs in Acute Respiratory Distress Syndrome accumulates at the bottom of the lungs. The heart and other abdominal contents further compress the lung region leading to non-uniform ventilation. Through proning, patients' body is parallel to the ground, thus giving more room for the lungs without any compression. Awake proning eliminates the need for intubation and ventilatory support in some patients".
A 72-year-old man with underlying COPD was admitted with a poor lung condition and severe hypoxia. He managed with non-invasive ventilator using proning and routine supportive treatment. After further treatment and medical support, he was discharged after forty days.
The doctor added that some patients in critical condition become progressively hypoxic and breathless requiring some form of support and assistance for which oxygen is provided through a non-invasive ventilator called High Flow Nasal Cannula.
A 55-year old man with several comorbidities, including diabetes, hypertension and cardiac conditions, tested positive for COVID-19 and developed acute respiratory distress syndrome. The patient was hypoxic and was stabilised over a period of one week using awake proning at a private hospital in Alwarpet.
Similarly, a 40-year-old diabetic patient who was admitted with severe hypoxemia was successfully treated through awake proning and intubation was avoided. He was treated with required drugs and adhered to the proning protocol and recovered successfully.
However, patients with belly fat and obesity have difficulty in lying down on their stomach. "Many refuse to follow proning protocol or find it difficult to adhere to it. We use pillows on their back and under the armpits to make them comfortable on their stomach and it brings out significant improvement in the patient by helping with uniform oxygenation ensuring complete ventilation across all the organs," said Dr Vijayalakshmi B, senior consultant, infectious diseases, Kauvery Hospital, Chennai.
Doctors follow a protocol of making them sit in a 60-degree angle for two hours, lie on each side for two hours and then their face towards the bed for two hours as a cycle for 12-18 hours, depending on which part of the lung is affected.
In any patient requiring more than 4 litres of oxygen, awake proning protocol is employed. This simple non-invasive technique can eliminate the need for ventilation in some COVID-19 patients, she added.
Heart ailments being ignored in virus infection fear
Published Date July 2, 2020 Publication The Telegraph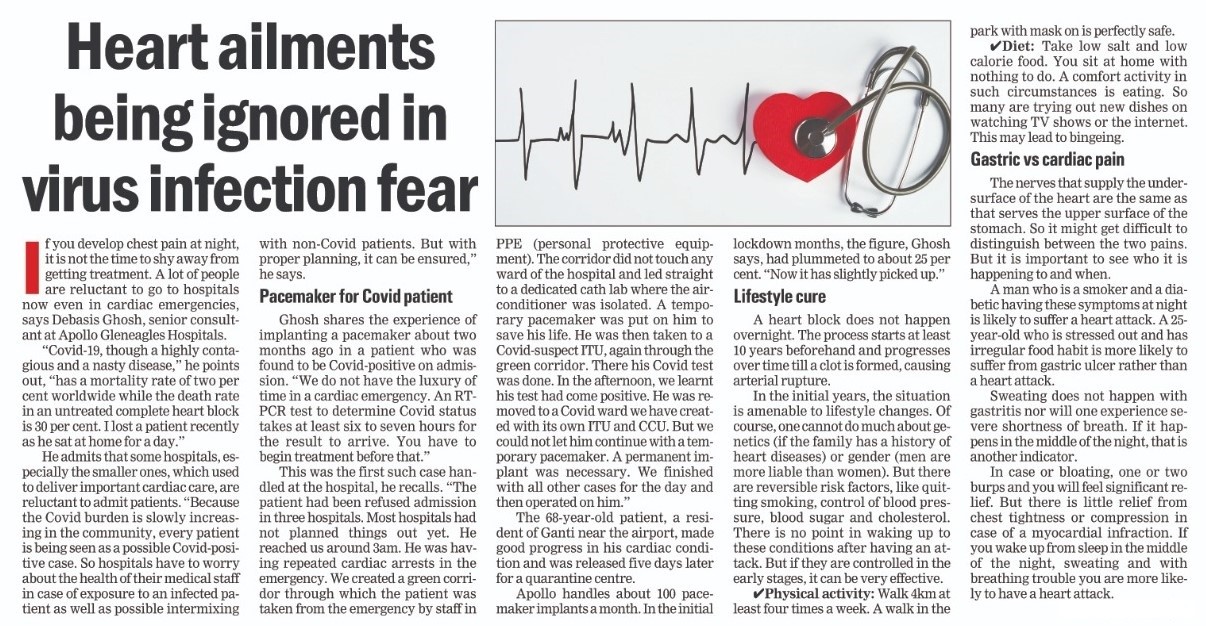 Sanitise-Mask-Social distancing alongwith RT-PCR testing must to combat corona: Experts at FICCI roundtable
Published Date June 7, 2020 Publication Morning India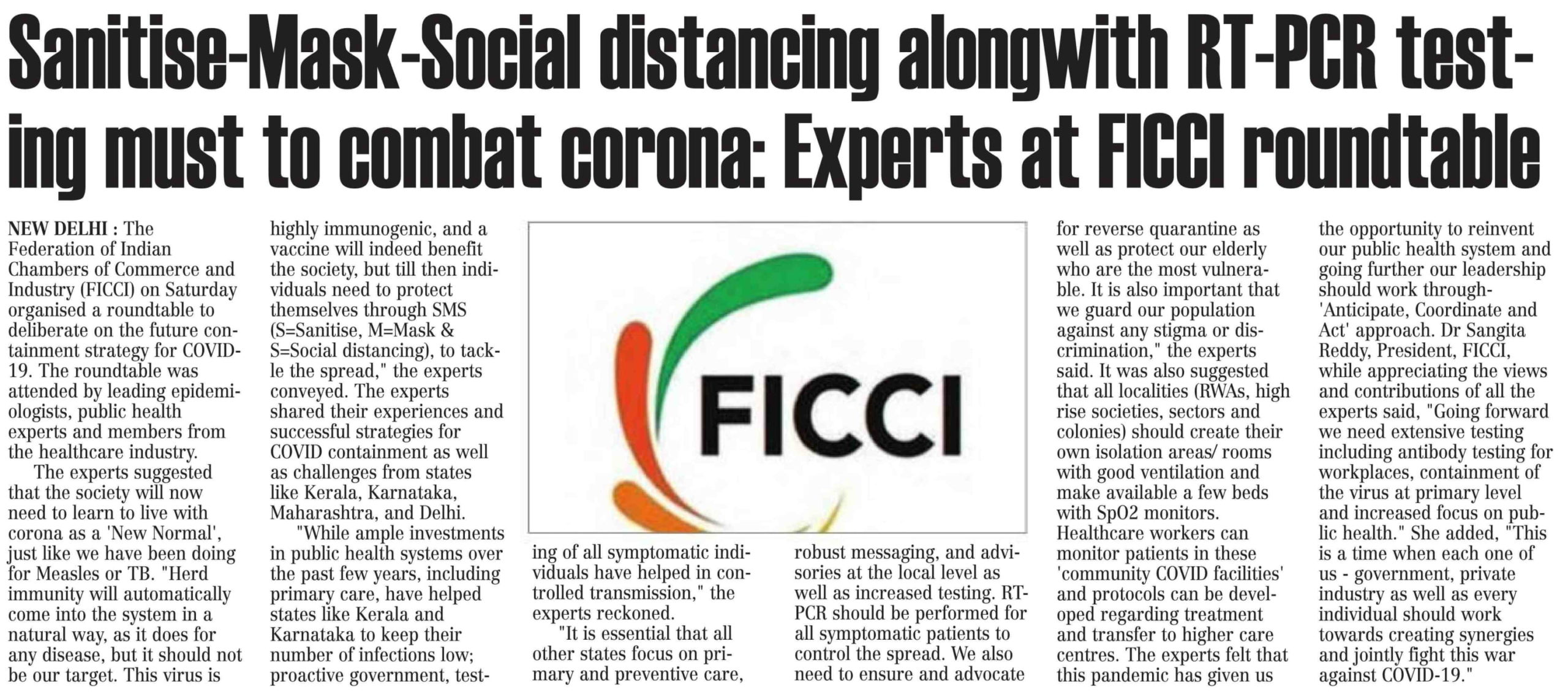 Dr. Prathap C Reddy, Founder & Chairman, Apollo Hospitals Group hails nurses for tackling Covid
Published Date May 11, 2020 Publication Drug Today
Dr Prathap C Reddy, Founder & Chairman, Apollo Hospitals Group, has lauded the contribution of nurses in tackling Covid-19.
On International Nursing Day, Dr Reddy said, "On the occasion of International Nurses Day, we recognize the selfless spirit and unceasing efforts of the nurses at Apollo Hospitals and other healthcare institutions to help patients under any circumstances. Our nurses are standing shoulder to shoulder with the doctors in facing the Covid pandemic."
"We are proud of the dedication shown by our nurses. It is the care that they give with a warm reassuring smile that helps patients overcome their health challenges. From the simplest to the most challenging cases, our nurses are there by the patient's side taking care of every small detail to ensure a successful recovery," added Dr Reddy.
Addressing panic has been a major challenge
Published Date May 7, 2020 Publication THE HINDU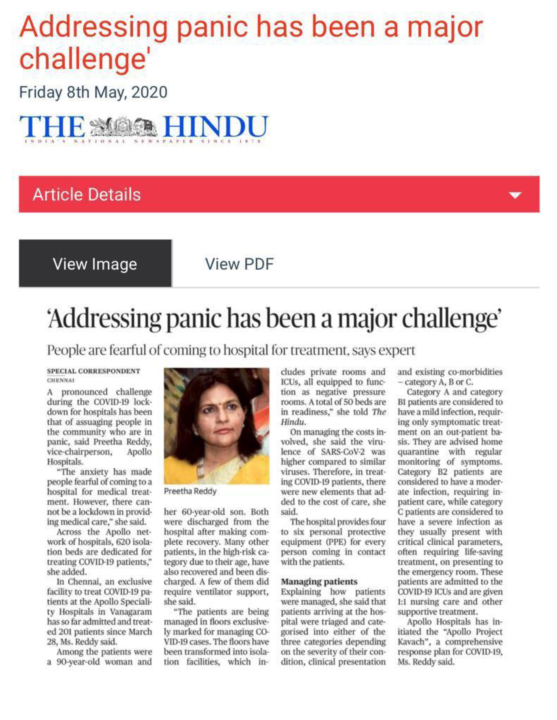 Apollo launches Sanjeevani Telehealth Seva for non-COVID patients in Bhopal, Indore
Published Date May 5, 2020 Publication Business Standard
Leading tele-health service provider Apollo TeleHealth's Foundation has launched a toll-free call service Sanjeevani Telehealth Seva for non-COVID patients in Bhopal and Indore. The toll-free call service, launched on April 30, will help patients with non-COVID-19 related issues seek timely medical help at a time when non-emergency OPDs have been suspended by many hospitals, a release from Apollo Hospitals Group said.
Bhopal and Indore are the two districts most seriously hit by the COVID-19 pandemic in Madhya Pradesh. The Sanjeevani Telehealth Seva project is being executed along with Bharat Financial Inclusion Limited (recently merged into IndusInd Bank) under their CSR initiative. The toll-free number (1800-103-7378) was immediately flooded with queries, receiving over 200 calls within a few hours of being launched. Over 1,000+ calls have been received till now, with about 9 per cent of them being non-clinical calls and termed generic, it said.
With the COVID-19 outbreak hindering the conventional doctor-patient consultations, a large number of patients have been left in the lurch. Many patients living with serious conditions such as cardiovascular disease and diabetes need ongoing treatment and regular medical consultation.
Ms. Sangita Reddy, Joint Managing Director, Apollo Hospitals Group, said the doctors will proactively help patients to the best of their abilities. The tele-health service will offer specialist consultations under nine specialties — general medicine, gynaecology, dermatology, orthopaedics, endocrinology, ENT, paediatrics, ophthalmology and cardiology.
Govt lists curbs to be eased on Apr20
Published Date April 19, 2020 Publication Hindustan Times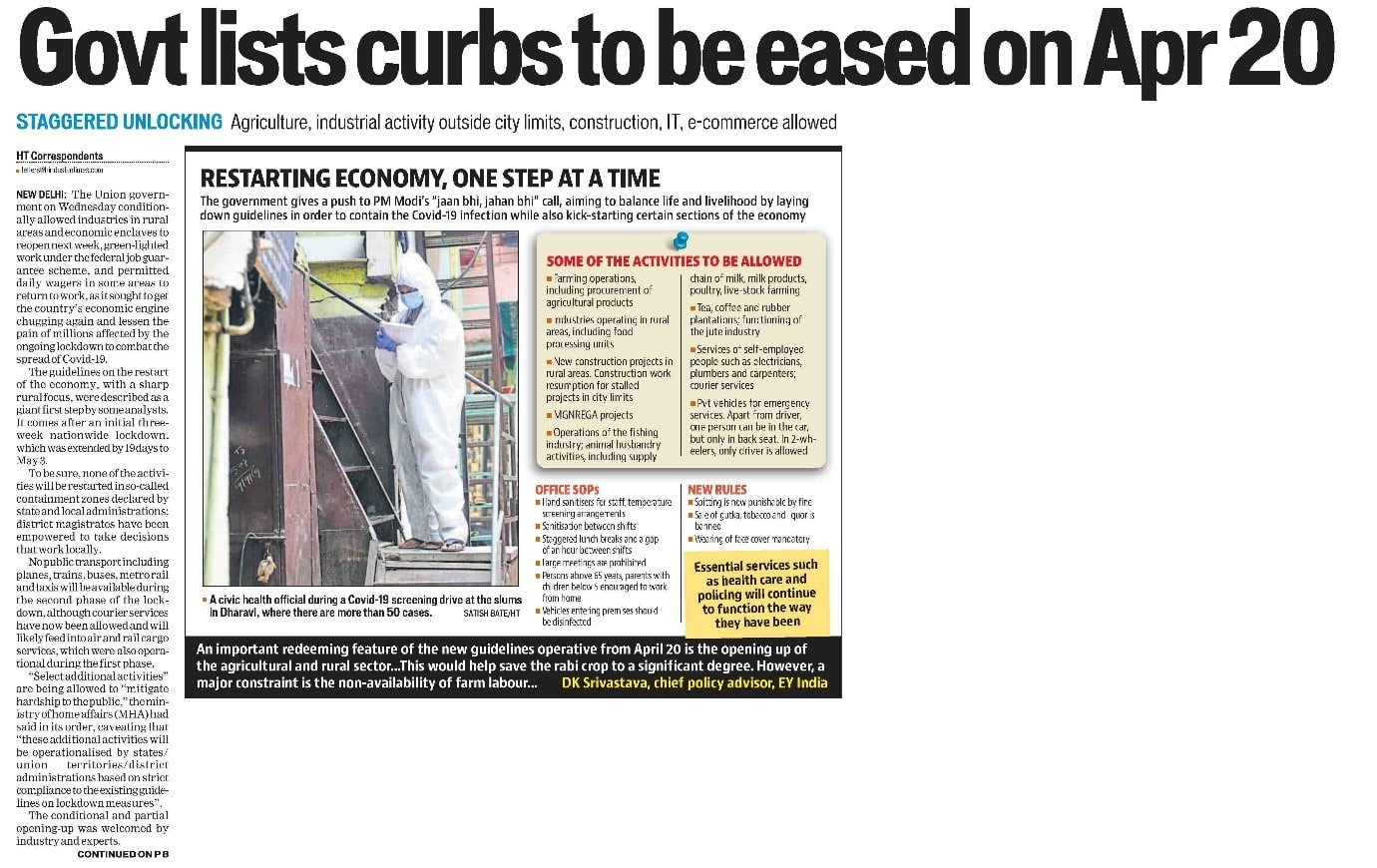 How to use modern treatment for corona? Online webinar with global Indian physicians
Published Date April 14, 2020 Publication Makkal Kural
India Inc supports move, seeks sops
Published Date April 13, 2020 Publication Financial Express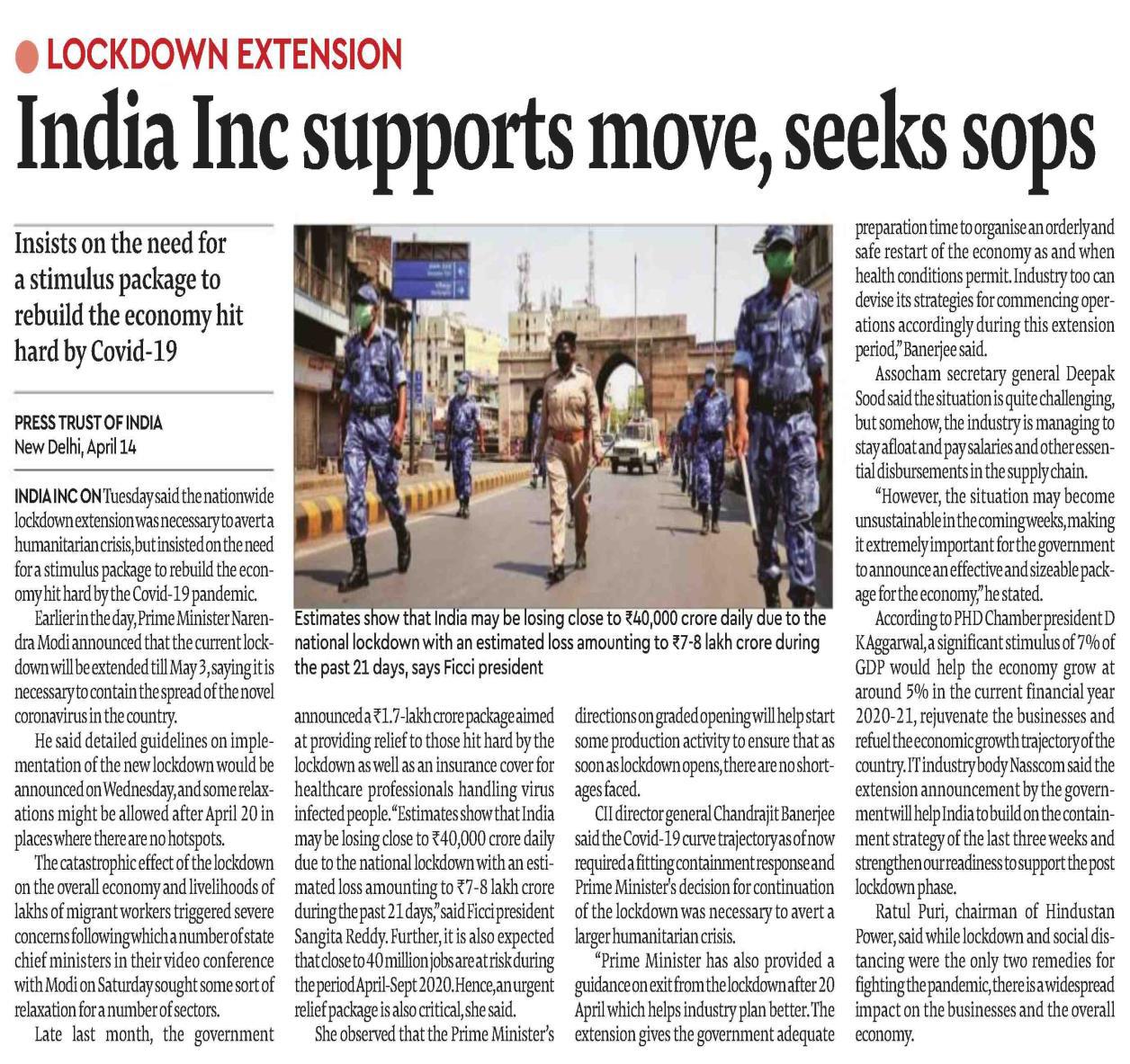 Dr. Prathap C. Reddy, Founder & Chairman, Apollo Hospitals Group appreciates contribution by healthcare workers, sends them motivational message
Published Date April 2, 2020 Publication eHealth Network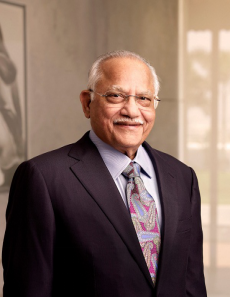 Dr Prathap C Reddy, Founder and Chairman, Apollo Hospitals Group today made an emotional appeal to the healthcare fraternity to come forward and be the answer to every prayer and fulfil their need to serve and save people. He urged all his fellow healthcare workers, the front line warriors to be the pillars of strength in this difficult time. He saluted their spirit and acknowledged the contribution of each and every healthcare worker; from doctors to the delivery personnel on the field and also thanked their family members for their support. He lauded the Hon'ble Prime Minister's bold decision of the lockdown and beseeched each of us to lock our fears away and make it a success.
Chairman's message:
"Namaste!
We support the bold lockdown decision taken by our Honorable Prime Minister Modi ji and we must lock every fear away and make it a success. His acknowledgment of healthcare workers as "true tapaswis" is indeed a great motivation for all of us, and I urge all my fellow healthcare workers, the front line warriors to be the pillars of strength in this difficult time.
I salute the spirit of each doctor, the nurses, the technicians, paramedical staff, supporting staff and administrators. And the unsung heroes who we never think about like the manufacturers, the transporters, the delivery boys who are ensuring that essential medication, food and diagnostic services are available for all of us on the front line to treat you all.
Many thanks to the family members of the healthcare workers whom I really appreciate. We have displayed immense faith and courage in supporting them to carry on their duties. You must be very proud of them as they go to work.
Tomorrow when you step out of your homes, tell yourself, your family and your neighbors that they need not worry because you and many like you are facing this situation to fight this crisis for them. I urge all my healthcare fraternity to come forward and once again be the answer to every prayer and fulfil our duty, the duty to serve and save people.
God bless the nation. Jai Hind! "
Dr. Prathap C Reddy,
Founder and Chairman,
Apollo Hospitals Group
Nationalising hospitals not a solution: Dr. Sangita Reddy, Joint Managing Director, Apollo Hospitals Group
Published Date April 1, 2020 Publication The Times of India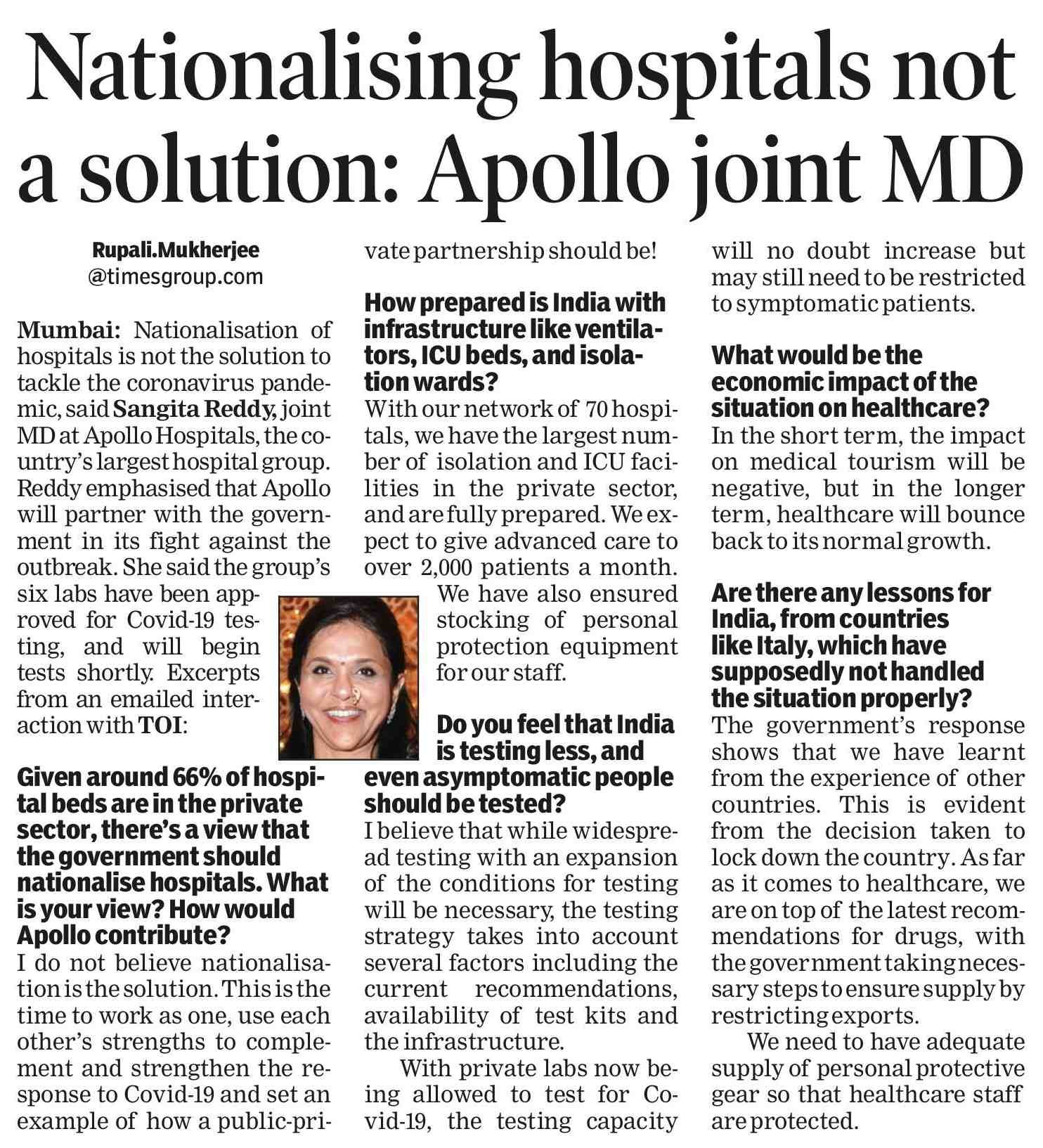 India Inc May Lose $26 Billion A Week Due To Lockdown
Published Date April 1, 2020 Publication Business Standard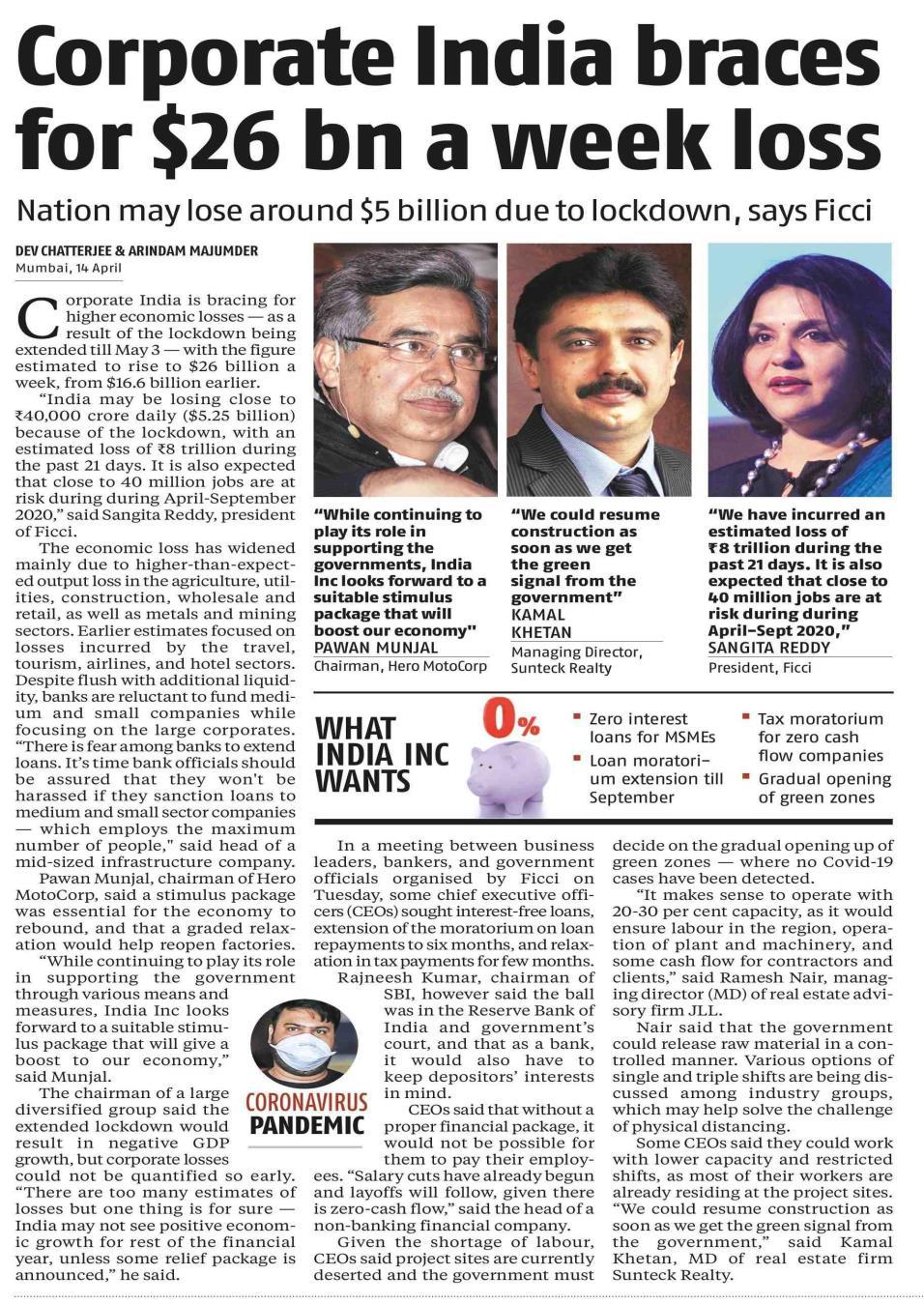 India Inc Cheers Partial Opening Up, Says it will Help Chart Exit Strategy
Published Date April 1, 2020 Publication The Times of India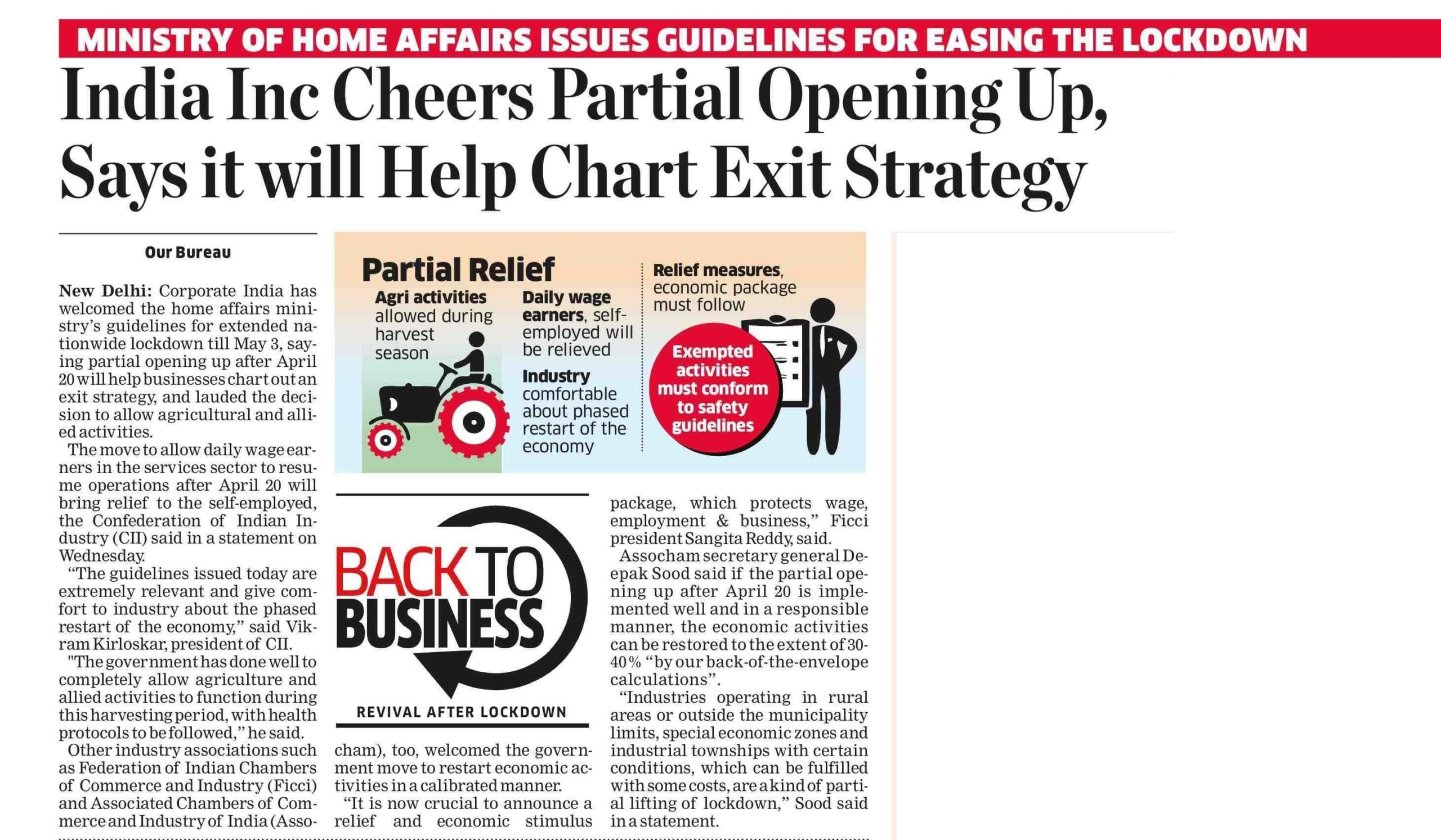 India Inc prepares wish list to reboot
Published Date April 1, 2020 Publication Hindustan Times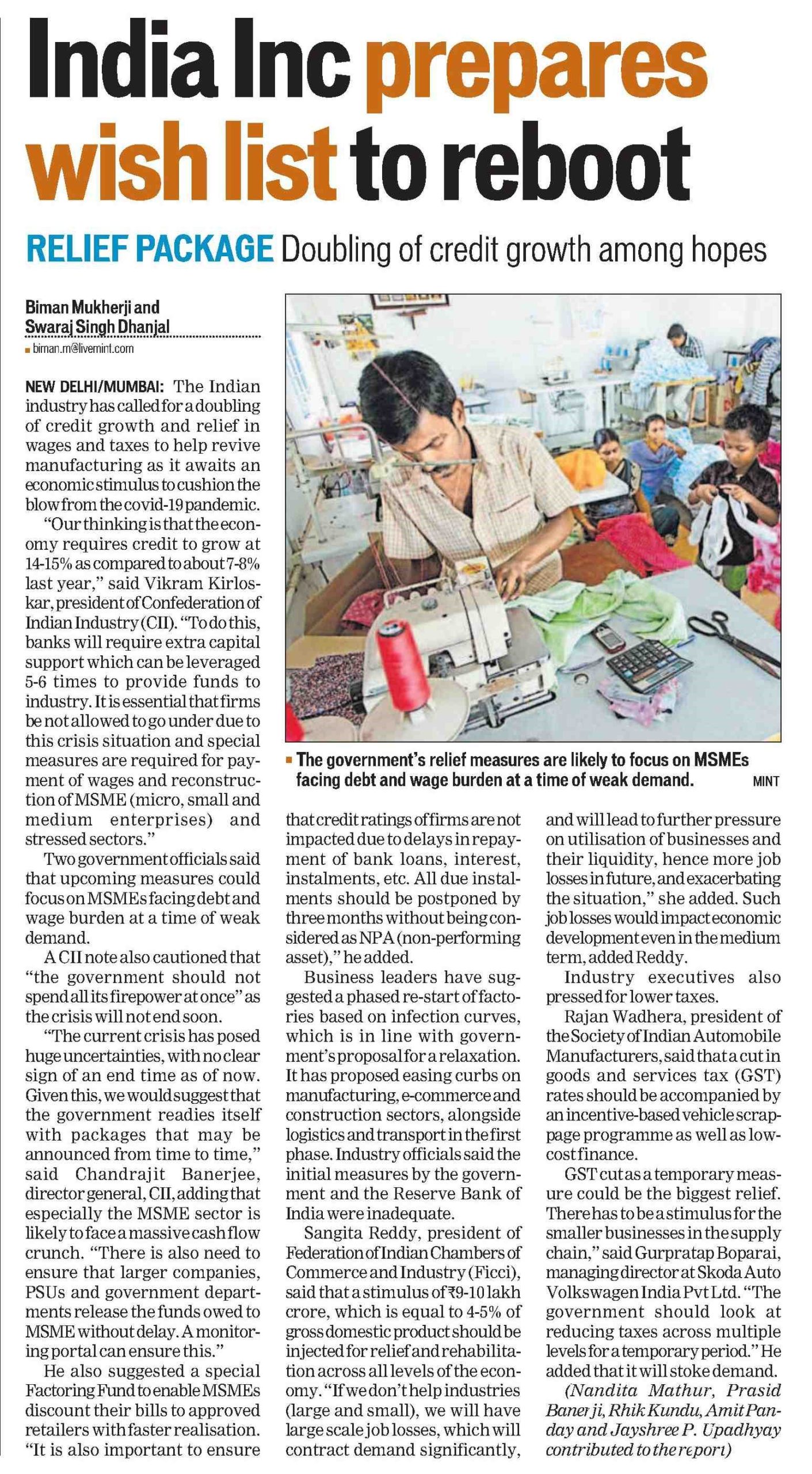 A Near-Death Experience for Private Hospitals, Too
Published Date April 1, 2020 Publication The Economic Times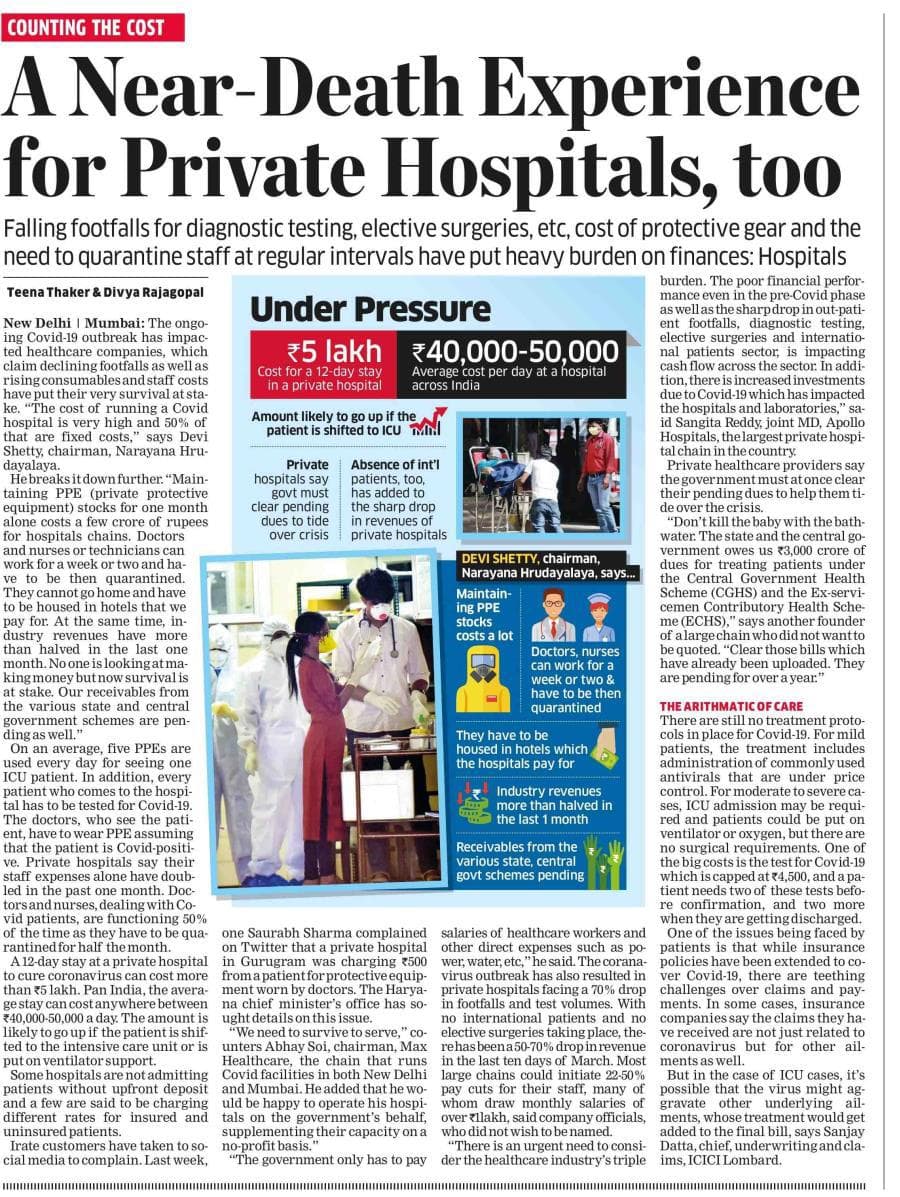 40m jobs at risk: Ficci boss Reddy
Published Date April 1, 2020 Publication The Times of India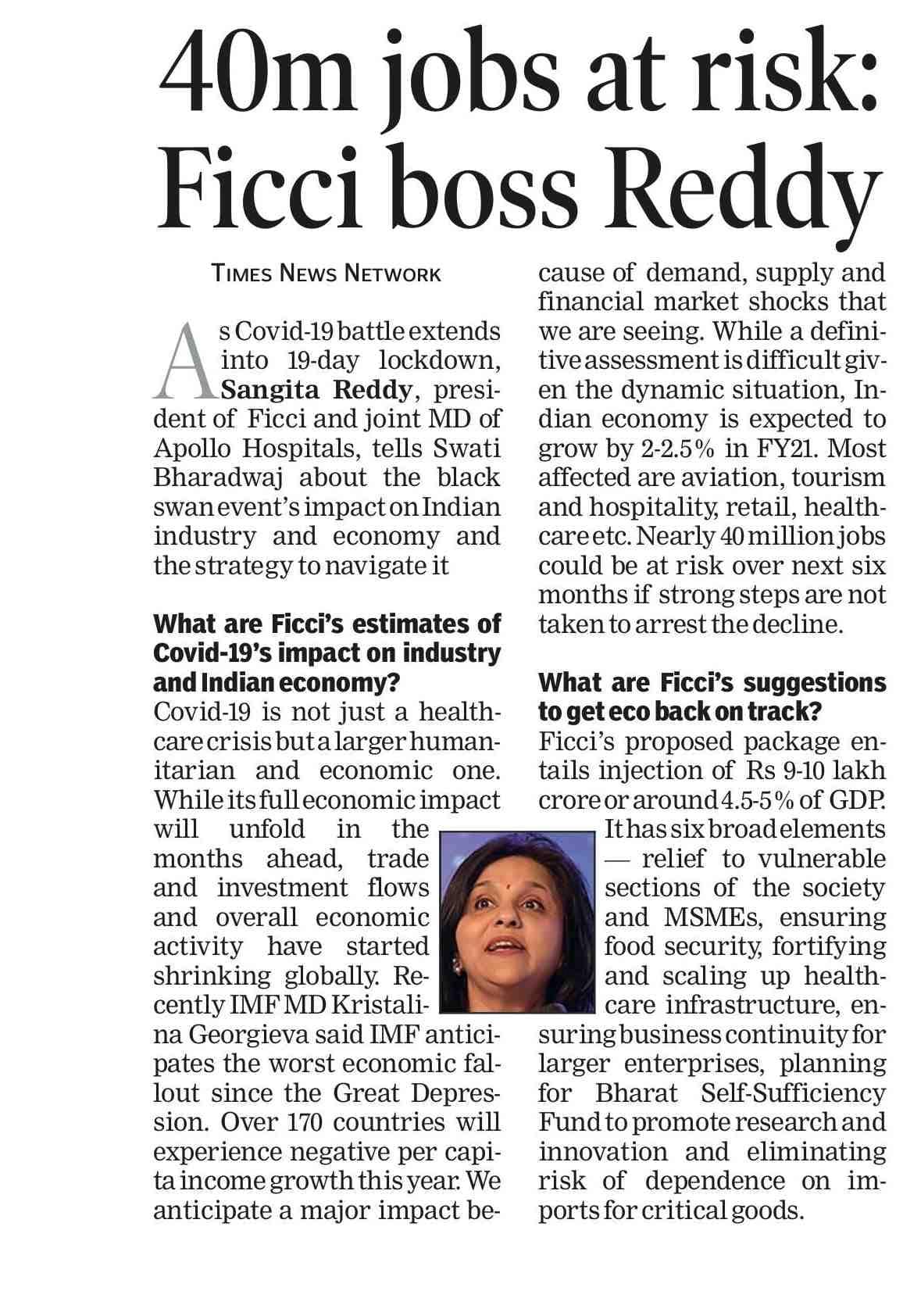 Fighting COVID-19 with facts not fear: How India can get back to work after coronavirus lockdown
Published Date April 1, 2020 Publication Business Today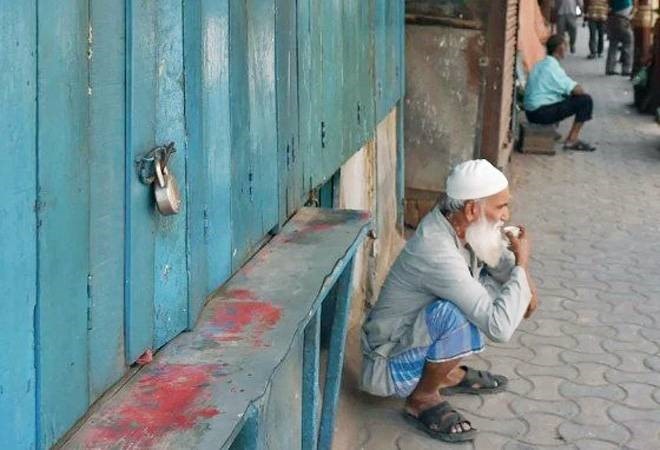 The tsunami of novel coronavirus has impacted most business sectors from aviation to hospitality, from real estate to apparel, from agriculture to poultry, from petroleum to shipping
It is an understatement to say that our world has changed dramatically over the last few months. The novel coronavirus pandemic has resulted in unimaginable loss to the global economy and the loss of human lives has been unprecedented in an era of global peace. Not only are the numbers alarming but, the speed at which the challenges have emerged is intimidating. Governments and health professionals are constantly calibrating the response to this pandemic and frequent strategic adjustments are being done. We are now in lockdown, exploring novel medical treatments and are on the hunt for a vaccine that will stop this virus in its tracks. And since the scenario is grim, doctors, scientists, and governments are working on an accelerated mission mode.
Unprecedented losses
First, let us get an understanding of the economic impact of the novel coronavirus. The Asian Development Bank has estimated that the global economic cost of the virus is a whopping $2 to $4 trillion. Going by the damages estimated by some legal firms, the figure goes up to an unimaginable $6.5 trillion. Back home, the economy is being battered as well. Under complete lockdown less than a quarter of India's $2.8 trillion economy is functional. We are expected to lose over Rs 32,000 crore ($4.5 billion) every day during the lockdown.
Huge human cost
While the impact of novel coronavirus on businesses has been devastating worldwide, the human cost has also been staggering. In India, those with savings and access to shelter and food have managed to weather the storm albeit with difficulty. However, the impact on a large proportion of the 40 million migrant labourers, those who provide the muscle to power India's construction, agriculture and other sectors, has been especially heart-wrenching. After the extension of lockdown on April 14, in a desperate bid to get home, vast numbers of migrants started to move. With no public transport available, lakhs of labourers started trudging home along the highways. Some were coaxed to stay at government shelters where food and shelter were provided and many others were convinced to return to their place of work and stay put. Helped by local communities and government agencies, they have managed to cope with the lockdown. The saga of their journeys will be told over time and there will be plenty to learn from their experience.
Green shoots
The tsunami of novel coronavirus has impacted most business sectors from aviation to hospitality, from real estate to apparel, from agriculture to poultry, from petroleum to shipping. The list is long and comprehensive and no sector has been spared. Yet the captains of the industry are cautiously upbeat about the recovery
First priority – defeating COVID-19
So, is there any light at the end of the tunnel, and where do we go from here? We may be stating the obvious but it is worthwhile reiterating that the greatest challenge before us is tackling the effects of the COVID-19 pandemic. The top priority is finding a way to defeat or neutralise the effects of the virus. All other battles can be handled once we cross this particular challenge. Thanks to the timely action initiated by our government, India, has outperformed most other countries in slowing down the pandemic.
Racing to build infrastructure at great cost
Despite the early setbacks, the response from our healthcare sector, both private and government, has been robust and proficient. Testing has been ramped up quickly and more than half a million samples have been tested as of April 22 throughout the country. Nationwide a total of 586 hospitals have been marked as dedicated COVID-19 hospitals with a capacity of over 100,000 isolation beds and 11,500 ICU beds reserved for coronavirus patients. At Apollo, we have 590 dedicated negative pressure beds for COVID-19 patients across our hospitals and in partnership with leading corporates and hotels chain, Project Stay I (Isolation) rooms have been created, with readiness to scale to up to 5000 if needed. Using extraordinary innovation, train compartments have been prepared to serve as isolation wards and our military too is prepared for an untoward eventuality. Doctors, nurses, administration, and support staff have shown that they can rise spectacularly to the occasion. All this has come at a great financial cost to the entire sector. Unless the health sector is supported generously, it will not be able to deliver its full potential. The next phase of human development will depend on ensuring that our population is a healthy and prudent investment in the health facilities will make that a greater reality.
Get set, go
Next, we must focus on re-booting the Indian economy. For the past few years there has been a decline in India's GDP growth rates and the problem has been further exacerbated by the COVID-19 pandemic. The Indian economy is expected to languish in the 1% to 2% zone next year. When the crisis ends, and when the economy starts running again, the first few countries to get off the starting block will be at an advantage. Can the industry manage to get up and start sprinting on its own? No, every government in the world will have to lend their industry a hand. We in India will need a high octane financial boost. But we all know that governments have taken a beating as far as tax revenues and foreign remittances are concerned. Therefore, governments will have to focus on those sectors that will deliver the biggest bang for the buck.
Getting India to work again
Luckily for us, our agricultural backbone that accounts for almost 14% of our GDP can recover quickly and in fact, grow next year. But they must be supported by logistics and storage. The expected normal monsoon this year will help the sector maintain its momentum. Once the threat of the virus recedes, the service industry, the number one contributor to our GDP will start cruising again. We cannot underplay the impact of the COVID-19 pandemic but unlike geophysical disasters and wars, the physical infrastructure of the industry has survived without damage. Therefore, most industries can quickly become operational if they have the labour force back and the working capital to restart their business.
Sectorial boost
The Micro, Small and Medium Enterprises (MSMEs) sector, which contributes to 30% of India's GDP, is one of the key drivers of the Indian economy. Today, almost all MSMEs are out of action due to the lockdown, they are unable to pay their employees and several don't have the financial resources to re-start their businesses. The government is contemplating a Rs 20,000 crore relief package for this sector. The other sectors that need help urgently are tourism, aviation, automobile, and real estate. These sectors will put people back to work and build some traction in the recovery of our economy. This may all sound simple, but obviously there is no easy fix to this unprecedented crisis. What is most important for us is to get people safely back to work and that will be possible only when we can provide the best possible healthcare to our citizens, as there cannot be a lockdown on medical care, ever. The COVID-19 pandemic and the consequent situation has shaken us all, but what we need now is a judicious mix of optimism and caution. Civilisation has endured several crises in its history which we have put behind us, we will overcome again. This too shall pass.
Corporate join hands in fight against Covid
Published Date March 30, 2020 Publication Business Standard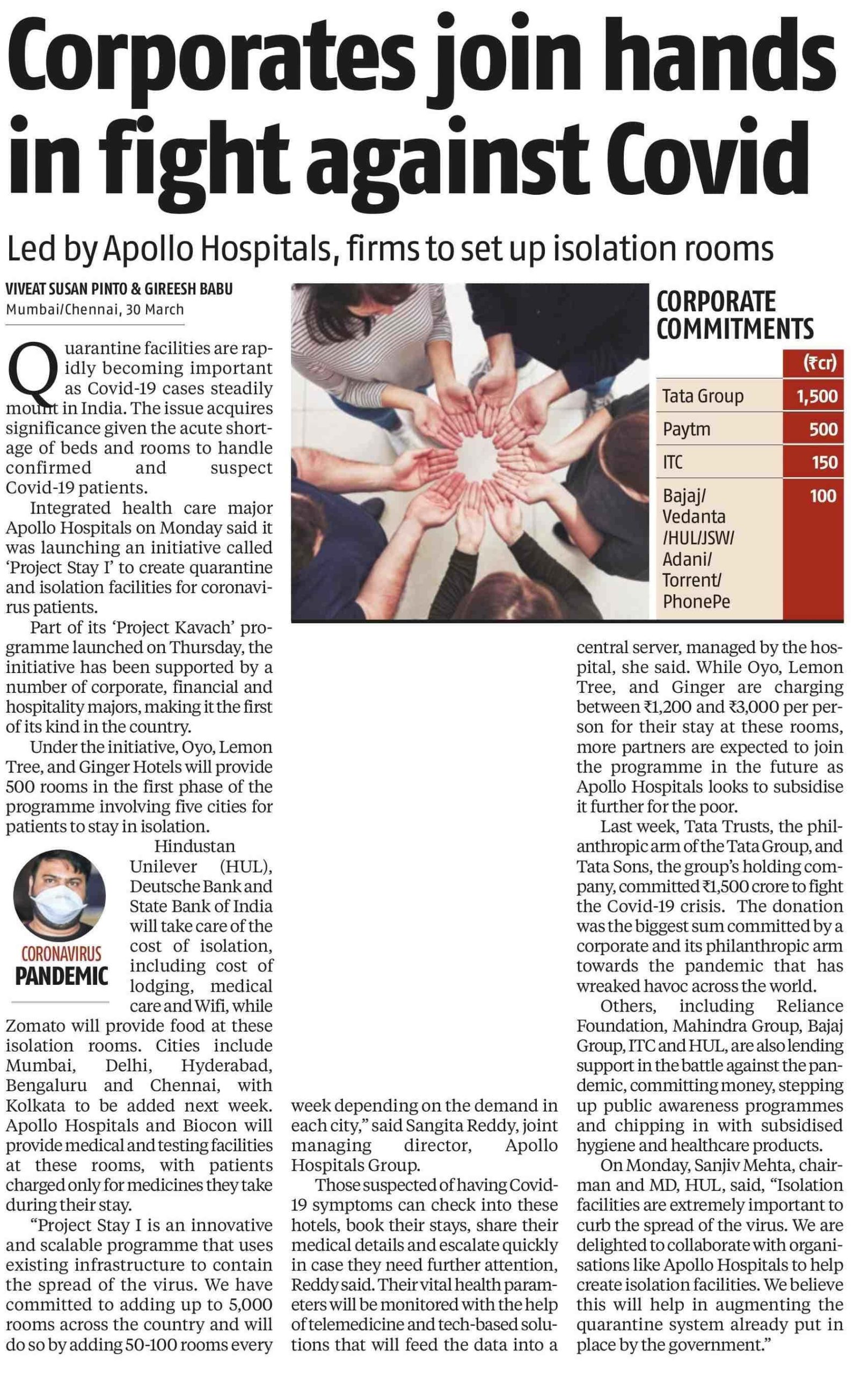 Apollo Hospitals partners with hotels for isolation rooms
Published Date March 30, 2020 Publication Financial Express

Apollo-led Group Cos to Help Govt with Covid Care
Published Date March 30, 2020 Publication The Economic Times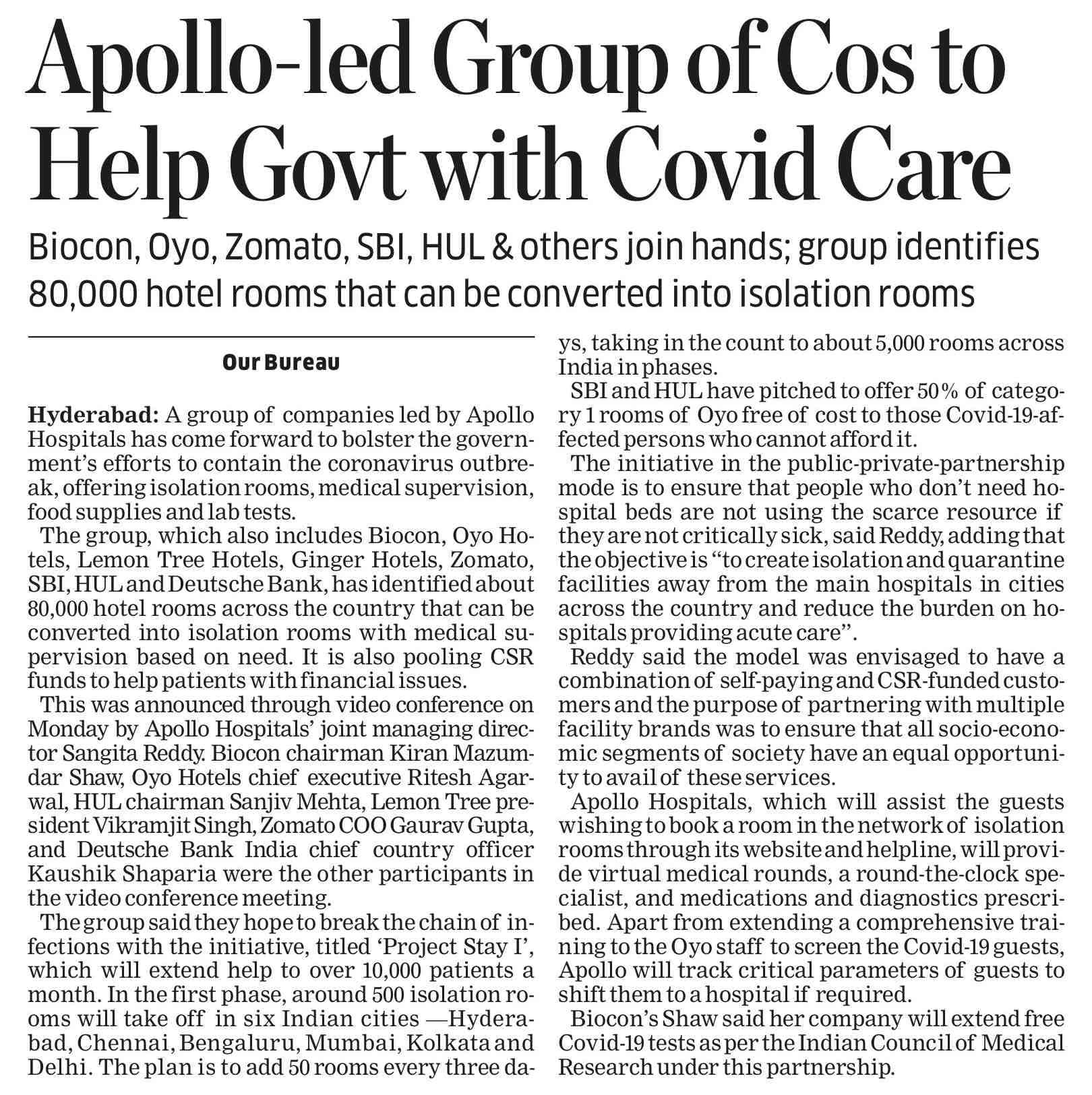 Apollo Hospitals partners OYO,Lemon Tree, Ginger Hotel to setp 5000 isolation rooms
Published Date March 30, 2020 Publication The Hindu Business Line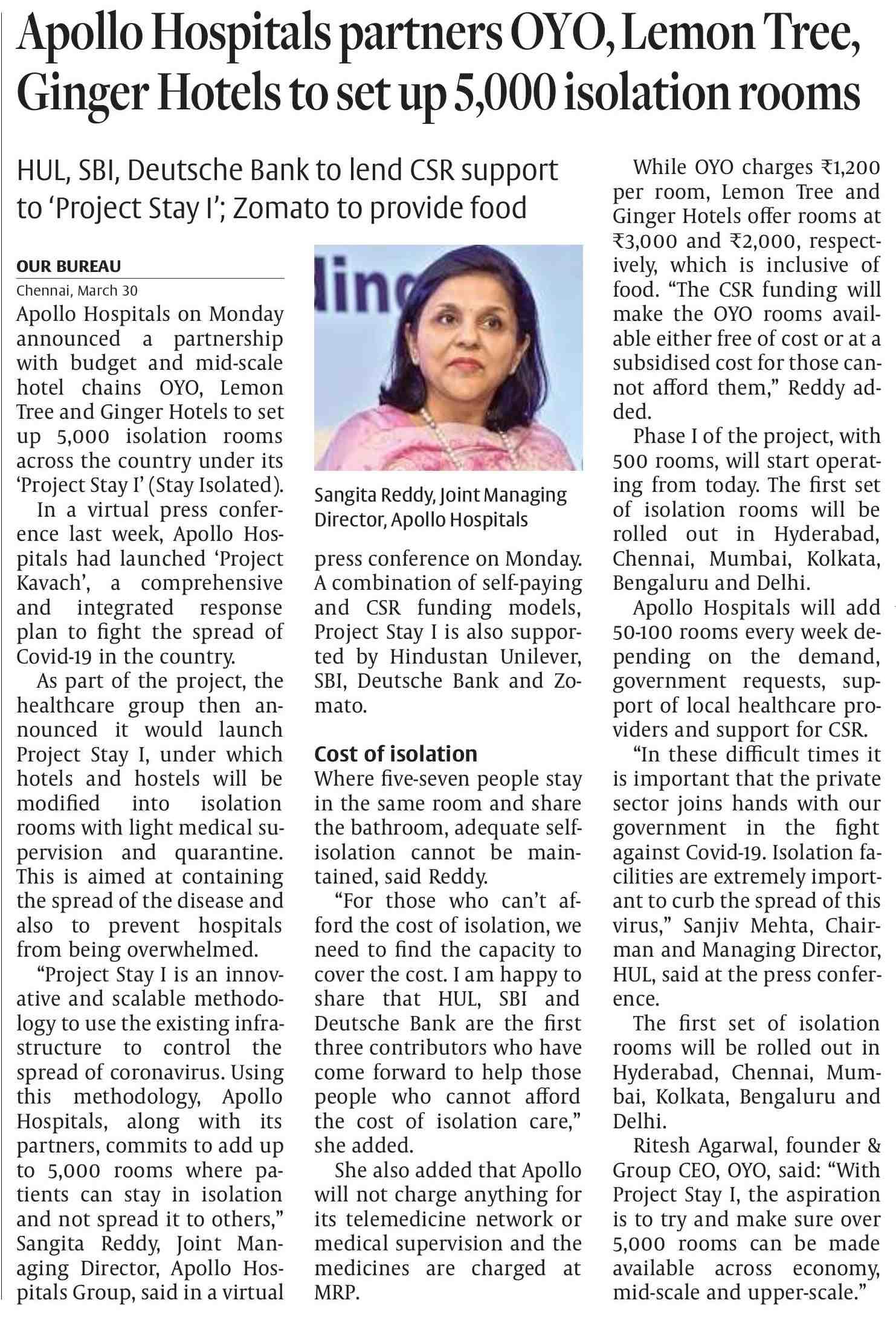 Pvt isolation spaces pop up across cities
Published Date March 30, 2020 Publication Deccan Chronicle

Apollo ties up for 5k isoloation rooms
Published Date March 30, 2020 Publication Telangana Today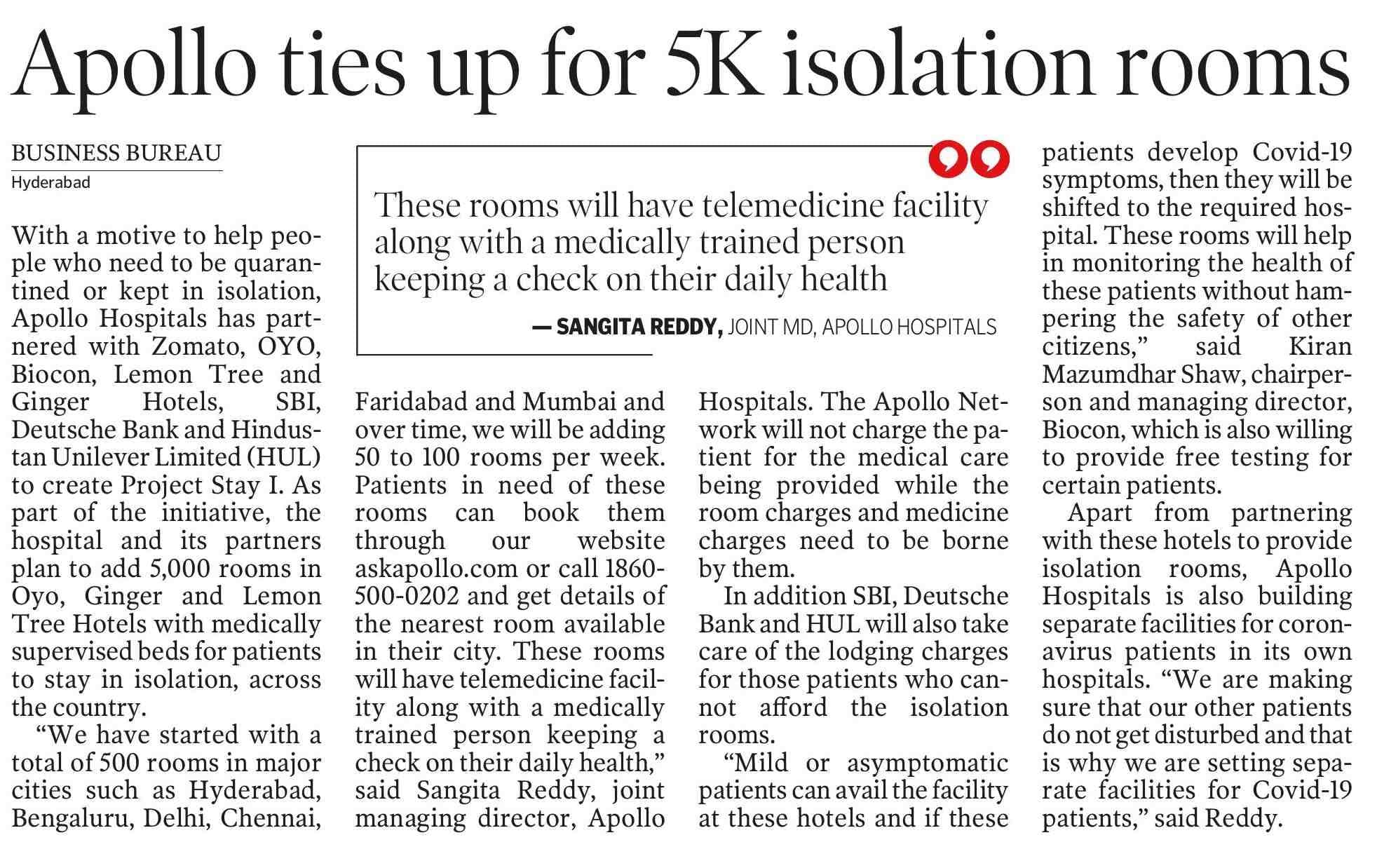 Apollo ties up with hotels to ready rooms
Published Date March 30, 2020 Publication The Hindu

Apollo rolls out project to support isolation care
Published Date March 30, 2020 Publication The Hindu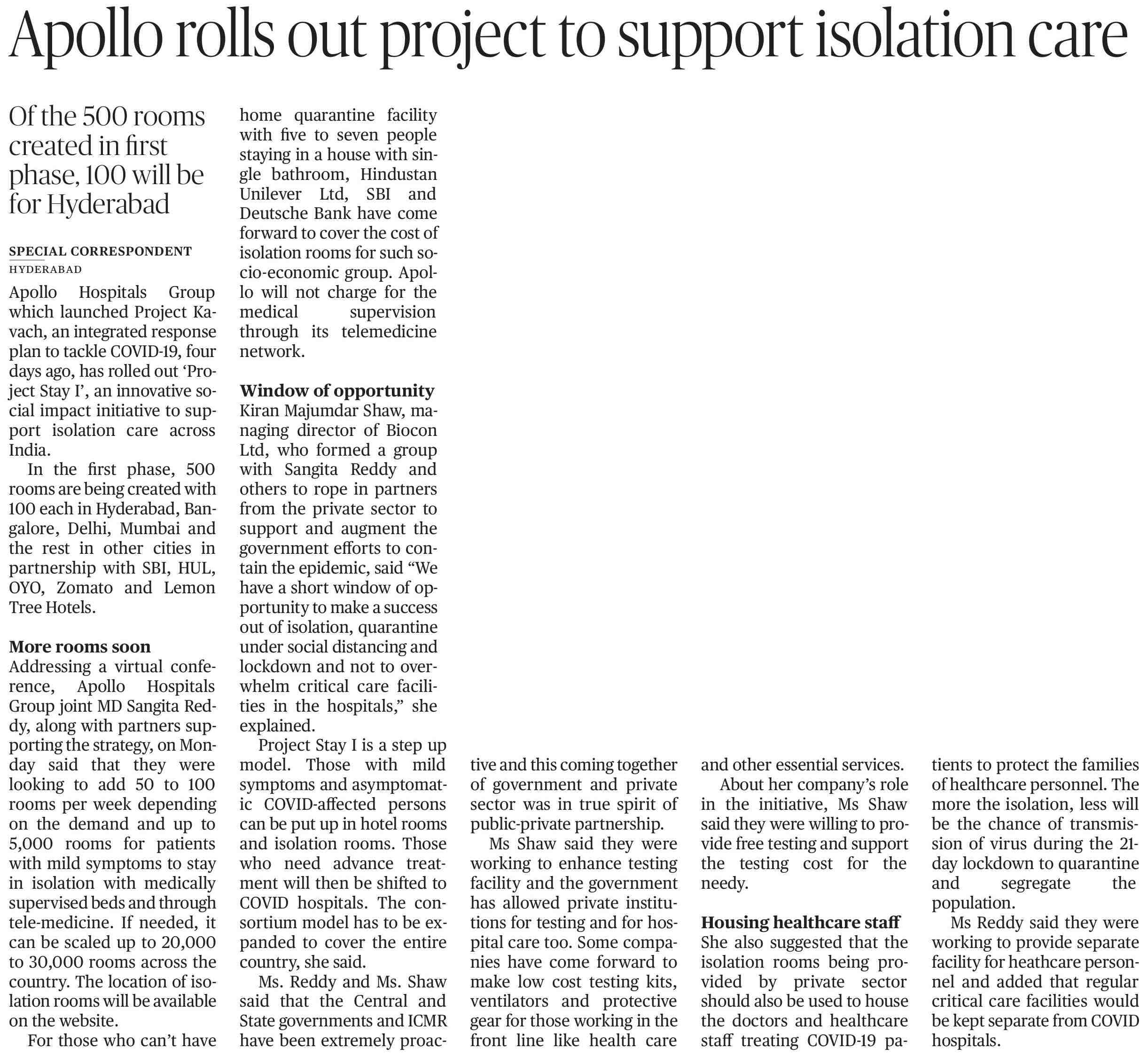 Private hospitality players do their bit
Published Date March 30, 2020 Publication The Hindu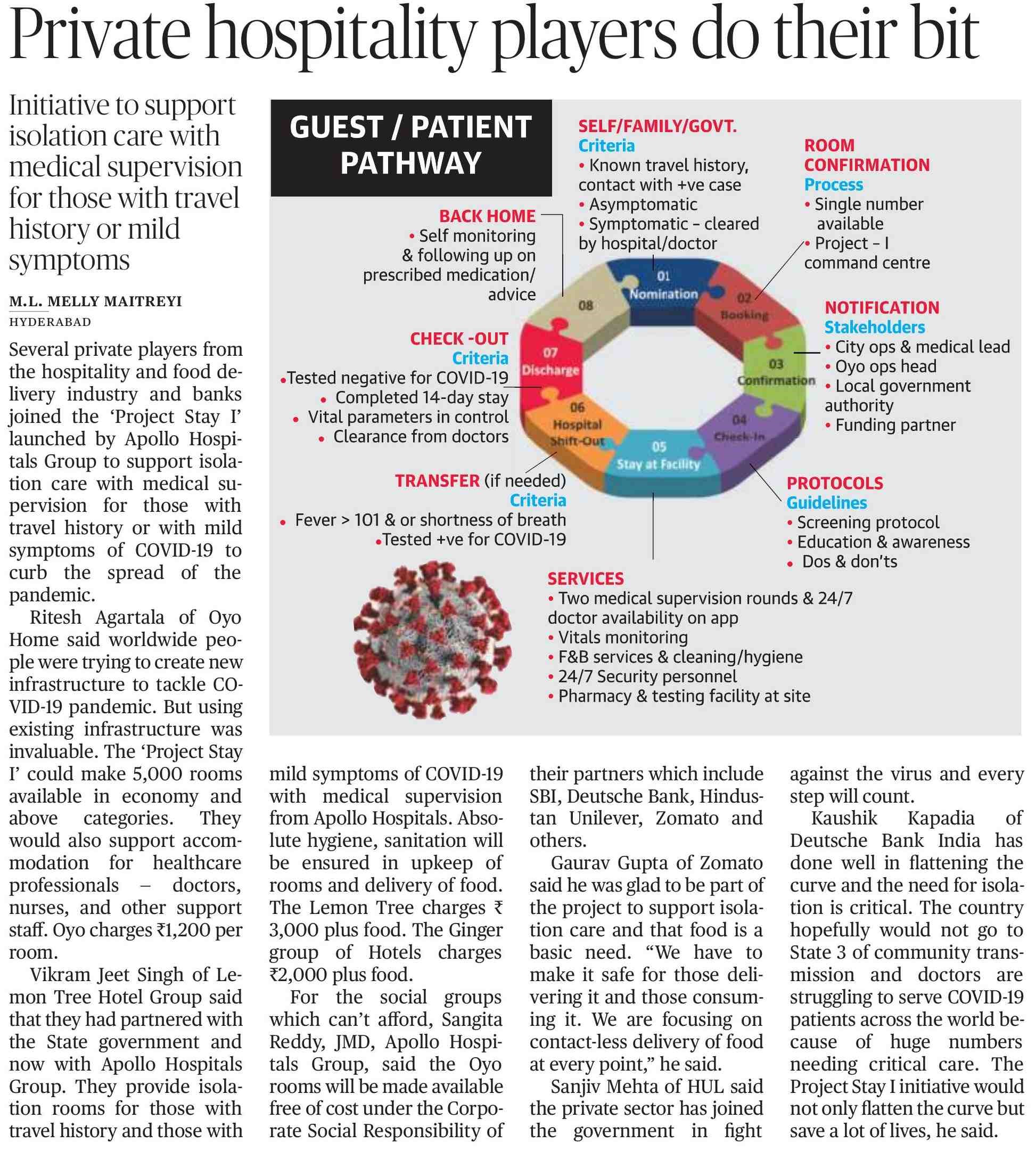 Apollo Hospitals ties up with hotels to add 5k isolation beds
Published Date March 30, 2020 Publication The New Indian Express

Many hotels in city turn into quarantine centres
Published Date March 30, 2020 Publication The Pioneer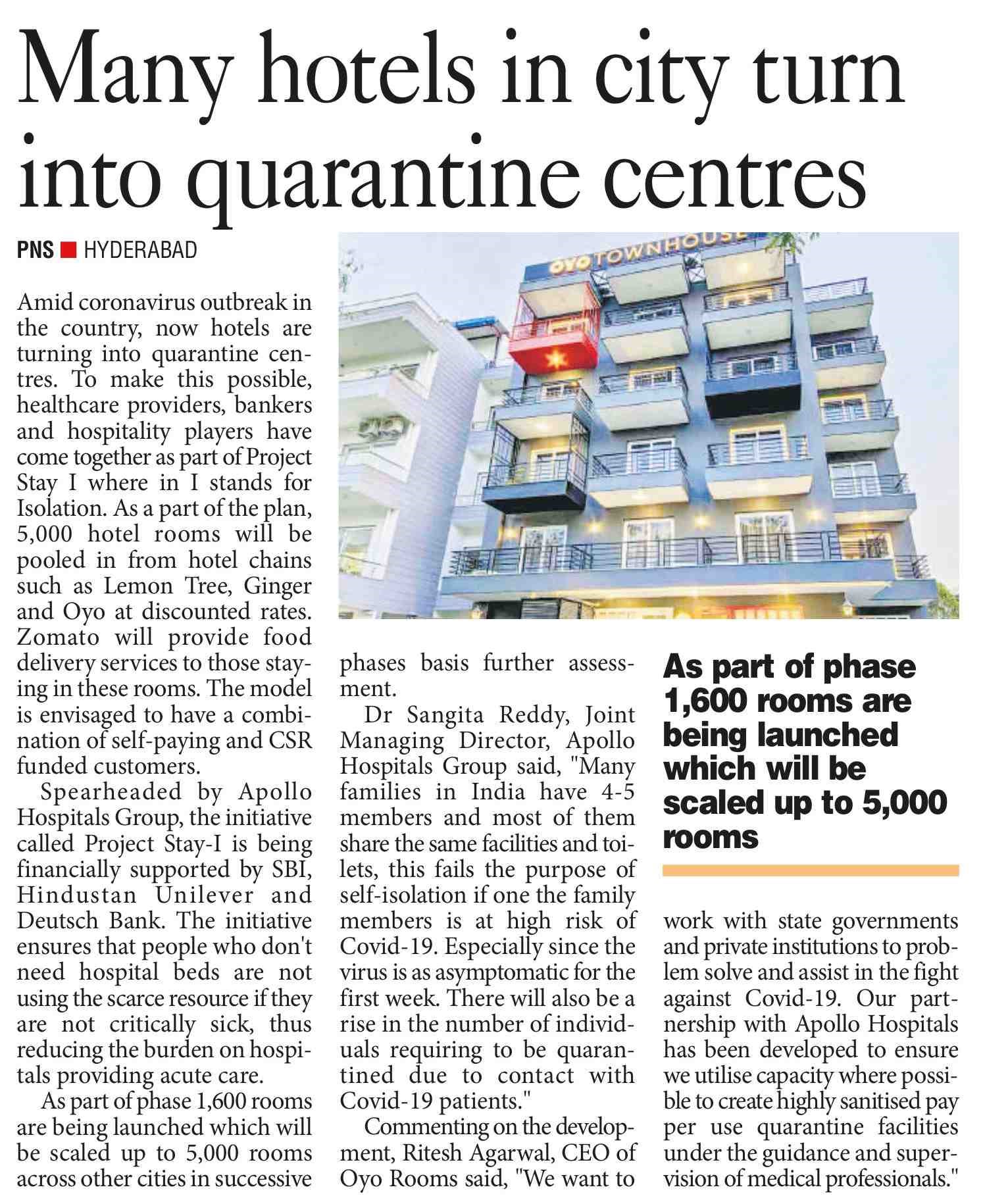 Hotel, hospitals & delivery app unite
Published Date March 30, 2020 Publication The Telegraph

Apollo to set up 5k hotel isolation rooms
Published Date March 30, 2020 Publication The Times of India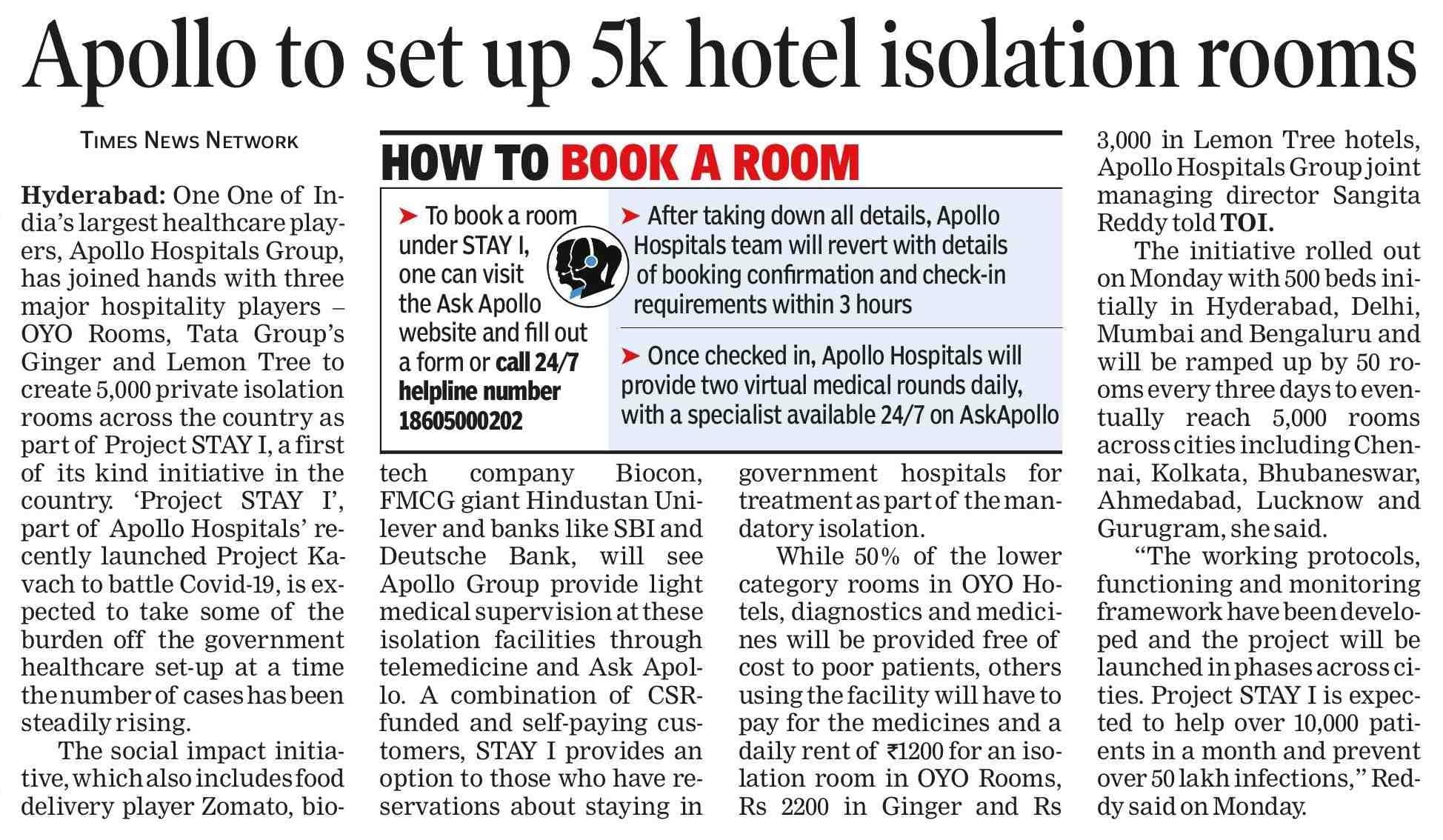 Private hospitals seeks 'infection hotspot' list
Published Date March 29, 2020 Publication The Telegraph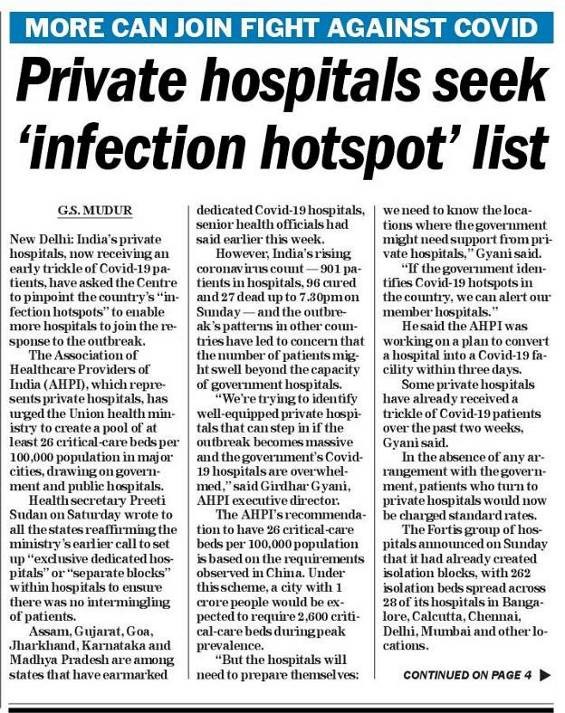 A moment for national unity
Published Date March 18, 2020 Website Mint
A moment for national unity
A new genre of patriotism is emerging in response to the Covid-19 crisis and the least we must do is embrace healthier lifestyles SARS-CoV-2 is testing the world and certainly its largest democracy. Hence, the Indian Prime Ministers clarion call to "prepare, but not panic" was apt and responding to it, hundreds of thousands of Indians have risen to the occasion and are working tirelessly to meet the challenge. As I write this, close to 1.5 million travellers have been screened across our airports, a massive taskforce is fumigating and cleaning public places, state governments and local bodies are enforcing quarantine measures and thousands of medical professionals are working 24×7, taking care and testing people coming into hospitals and medical facilities.
It is truly humbling to witness the solidarity, compassion and resolute dedication of a collective force, persevering to beat the situation. So, it would be amiss if we do not salute these unsung heroes, who are fighting a stealthy enemy, sacrificing their comfort and even personal needs at times. I do believe that we are witnessing a new genre of patriotism, as each of these fine Indians is rising above the call of duty to serve the people of their homeland, and protecting precious lives.
Alongside, millions of Indians are now at home as schools, colleges and offices are closed. They are studying online, working from home and its a new way of life for most.
Imaginably, there are complaints of feeling cooped up, many are experiencing isolation and yet, interestingly to beat the blues, a lot of new healthy habits are taking shape. Many have started reading books, they are playing board games, spending more time with the family, attempting to cook healthy food and are even taking up a new hobby.
Celebrities are posting videos sharing their fitness techniques to exercise on the terrace and are encouraging their millions of followers to follow suit. At this time, we must also be cognizant of our existing health conditions and not ignore them. It has been observed that pre-existing medical conditions put a patient at higher risk of increased severity and poorer clinical outcome. This especially applies to the non-communicable diseases (NCDs) such as diabetes, cancer, heart disease, and chronic respiratory diseases. The prevalence of NCDs is also growing at pandemic-like proportions and represents a major challenge to our collective tomorrow.
According to WHO data, these chronic diseases are the leading cause of death globally and responsible for more than 70% of deaths worldwide. The four big risk factors responsible are tobacco, unhealthy diet, physical inactivity and harmful use of alcohol. In addition, major metabolic risk factors are obesity and raised blood pressure, blood glucose and blood cholesterol levels. This is an opportune time to embrace tools such as yoga to stay active and fit while restricted to the house. We must live healthy and beat stress. I would urge every Indian and people around the world as well to embrace this new way of living. As the adages go, there is nothing more valuable than life itself and good health is our greatest wealth. Therefore, in gratitude, lets take a moment every day to thank all those who strive to save lives and make our lives special.
(Ms. Preetha Reddy, Executive Vice-Chairperson, Apollo Hospitals)
Dr Baskar live session in News18 Tamil
Dr. Baskar, Consultant – Critical Care, Apollo First Med Hospitals, Chennai talks about COVID-19 in a live session on News18 Tamil.
Children's health issues during Covid-19
Dr Meena Thiagarajan, Neonatologist, Apollo Children's Hospital was live session on Parentune, talking about children's health issues during Covid-19.
Part 1 - How to tackle the Pandemic present in 2020
Dr. Shalini Janardhan, Psychiatrist, Apollo Hospitals, Chennai talks about How to tackle the Pandemic present in 2020 – Part 1.
Part 2 - How to tackle the Pandemic present in 2020
Dr. Shalini Janardhan, Psychiatrist, Apollo Hospitals, Chennai talks about How to tackle the Pandemic present in 2020 – Part 2.
Interview of Ms. Preetha Reddy, Executive Vice Chairperson, Apollo Hospitals Group
Exclusive interview of Ms. Preetha Reddy, Executive Vice Chairperson, Apollo Hospitals Group in Thanthi TV about COVID-19 and lockdown.
Corona Virus - Stay Protected.
Dr. Syamasis Bandyopadhyay, Consultant – General Physician and Director Medical Services at Apollo Gleneagles Hospitals, Kolkata on following the basic rules during COVID-19.
Dr. P Senthur Nambi on measures to prevent the spread of Coronavirus.
Apollo Hospitals, Infectious disease specialist Dr. P Senthur Nambi talks about the measures to prevent the spread of Coronavirus on Times Now news.